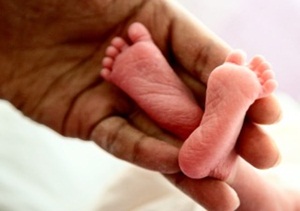 In an Imperial College London study of almost 700 pregnant women who received a cervical cerclage designed to prevent preterm labour, the use of one type of suture over another was associated with three times higher risk of stillbirth and almost twice the risk of preterm birth.
The findings suggest that the suture may disrupt the vaginal microbiome and spur inflammation, one of the major risk factors for preterm birth.
The results have helped launch a clinical trial in the UK reassessing the safety of the suture in women who undergo the procedure, known as cervical cerclage, which is performed about 2m times annually. With common childhood diseases like diarrhoea and measles now kept in check, preterm birth has emerged as the leading cause of death in children under five years old, claiming more than 1m lives worldwide each year.
Women with a weak or short cervix, often due to previous preterm labour or surgery for cervical cancer, are at risk of premature birth. A common preventative treatment is cervical cerclage, which sews the cervix closed to keep the baby inside longer during pregnancy.
Two types of suture – material monofilament and multifilament braided – are used for the procedure. Evidence for one stitch being better than the other is lacking, but most surgeons prefer the braided suture because it is stronger and easier to work with.
The suture material used may be critical because cervical cerclage can raise risk of vaginal infection, which is thought to cause preterm births. Previous studies have linked disruptions in the vaginal microbiome, the bacterial community residing in the vagina that plays a key role in reproductive health, to poor pregnancy outcomes, but until now have been limited to animal models or associative studies, according to Dr David MacIntyre at the Imperial College London.
MacIntyre and colleagues now find that in 678 women in the UK, those who received cervical cerclage using the braided suture, compared to the monofilament suture, were three times more likely to experience nonviable births and almost two times more likely to undergo preterm labour.
Further study revealed that the braided suture, perhaps because of its larger size or mesh-like structure, spurred the growth of diverse bacteria and stunted that of Lactobacillus species, which are important to maintaining a healthy vaginal microbiome. These perturbations were accompanied by an inflammatory response in women receiving the braided cerclage. In contrast, the monofilament cerclage had little impact on the vaginal microbiome or inflammation.
Of the 2m cervical cerclages performed each year, about 80% use the braided suture. The authors estimate that a switch from the braided to the monofilament suture used in cervical cerclages would prevent about 170,000 preterm births and 172,000 foetal losses each year worldwide.
Abstract
Preterm birth, the leading cause of death in children under 5 years, may be caused by inflammation triggered by ascending vaginal infection. About 2 million cervical cerclages are performed annually to prevent preterm birth. The procedure is thought to provide structural support and maintain the endocervical mucus plug as a barrier to ascending infection. Two types of suture material are used for cerclage: monofilament or multifilament braided. Braided sutures are most frequently used, although no evidence exists to favor them over monofilament sutures. We assessed birth outcomes in a retrospective cohort of 678 women receiving cervical cerclage in five UK university hospitals and showed that braided cerclage was associated with increased intrauterine death (15% versus 5%; P = 0.0001) and preterm birth (28% versus 17%; P = 0.0006) compared to monofilament suture. To understand the potential underlying mechanism, we performed a prospective, longitudinal study of the vaginal microbiome in women at risk of preterm birth because of short cervical length (≤25 mm) who received braided (n = 25) or monofilament (n = 24) cerclage under comparable circumstances. Braided suture induced a persistent shift toward vaginal microbiome dysbiosis characterized by reduced Lactobacillus spp. and enrichment of pathobionts. Vaginal dysbiosis was associated with inflammatory cytokine and interstitial collagenase excretion into cervicovaginal fluid and premature cervical remodeling. Monofilament suture had comparatively minimal impact upon the vaginal microbiome and its interactions with the host. These data provide in vivo evidence that a dynamic shift of the human vaginal microbiome toward dysbiosis correlates with preterm birth.
Authors
Lindsay M Kindinger, David A MacIntyre, Yun S Lee, Julian R. Marchesi, Ann Smith, Julie AK McDonald, Vasso Terzidou, Joanna R Cook, Christoph Lees, Fidan Israfil-Bayli, Yazmin Faiza, Philip Toozs-Hobson, Mark Slack, Stefano Cacciatore, Elaine Holmes, Jeremy K Nicholson, TG Teoh, Phillip R Bennett
Science Mag material
Science Translational Medicine abstract