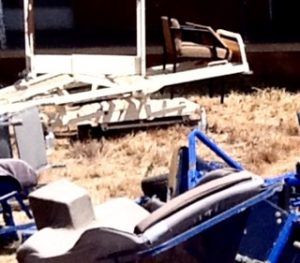 In a situation described by Health Minister Dr Aaron Motsoaledi as 'madness', junior doctors in Limpopo are performing neurosurgery, newborns are sharing incubators mothers are having to nurse on the floor because of the shortage of beds.
Junior doctors are performing brain surgery on patients in Limpopo state hospitals as a healthcare crisis spirals further out of control. And, reports The Times, this week doctors told doctors told how newborn babies had to share incubators and mothers were left to nurse their newborn infants on the floor because of a shortage of beds. Some babies were born with cerebral palsy because there was no paper for heart-rate monitors, so doctors did not realise the unborn baby was in distress.
Several patients had died waiting for surgery or for beds to become vacant, they said. One patient told how she had been tied to a bed before undergoing a procedure with no anaesthetic. Another told of nurses refusing to bring him a bedpan for three hours because they were having a party.
According to the report, Health Minister Dr Aaron Motsoaledi described the situation as "madness" and said rebuilding the state health sector in the province would be a long process. "Now it's all about correcting the damage that was done. We don't want to go back and clean up the damage, we want to do it correctly from the beginning," he said.
The report notes that the shortage of specialists is so severe in Limpopo's state hospitals that junior doctors are performing neurosurgery. A doctor at Pietersburg Hospital – who completed community service just three months ago – said: "What am I supposed to do? Let people die? We have a consultant neurosurgeon, but when there's an emergency head trauma and he's not here, I have to go into theatre. I try my best. I know how to perform the basic procedures but I'm not a surgeon and sometimes people die." There are eight doctors employed by the hospital and one contracted specialist, a neurosurgeon, who works from 8am to 11am on weekdays.
Doctors from several hospitals in the province are quoted in the report as saying that babies were sharing incubators and mothers nursing their infants on the floor due to a shortage of beds. "Sometimes babies are born with cerebral palsy because there was no paper for the heart rate monitor, so doctors did not pick up that the foetus was in distress," said one doctor.
Doctors said scores of patients were dying from treatable injuries, and they were being forced to lie to families to stem the growing tide of lawsuits against the province, the value of which stands at R3.7bn. Corruption, historical debt and under-budgeting are some of the reasons cited for the dire situation.
Former health MEC Norman Mabasa said in the report that while he was in charge between 2012 and 2013, corruption had been rife. "There is mismanagement of hospitals and medicine supply depots. The department needs to be able to get rid of people who don't do their jobs."
A doctor at Pietersburg Hospital said he and his colleagues were forced to play God and make life or death decisions due to a lack of specialists, ventilators, heart rate monitors, incubators, theatres, CT scanners, ECG machines and other crucial basic equipment. A doctor at Letaba Hospital near Tzaneen said the hospital's generator had failed during a power outage two years ago. "We had patients on ventilators and we could only save so few because you need two hands to ventilate manually and we found ourselves choosing who to save. There are days when I regret becoming a doctor even though it was my dream."
A doctor at Mokopane Hospital outside Polokwane said two months ago a 20-year-old patient with a brain tumour had been sent to Pietersburg Hospital for a potentially life-saving operation. "He died. He was waiting for the operation and because there was only one operating theatre he died. Maybe he could have been saved. I don't know – we never gave him a chance." At WF Knobel Hospital, a doctor who works with cancer patients said: "I've seen patients wait month after month to be seen by a specialist. I've seen people decay. I've seen cancer consume them alive. This is a serious injustice to our people."
South African Medical Association provincial chairman Seshoka Muila, who works at Pietersburg Hospital, said in the report: "These challenges did not start today or yesterday. The department must take responsibility and provide us with the basic life-saving tools and a better working environment for the sake of our people."
Full report in The Times