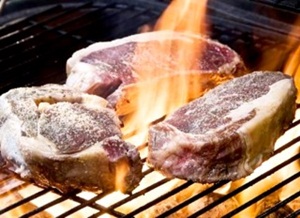 Meat in the modern diet offers surplus energy and is contributing to global obesity to the same extent as sugar, found two University of Adelaide analyses.
Comparative anatomy and human evolution experts from the University's School of Medicine have been studying the correlation between meat consumption and obesity rates in 170 countries.
"Our findings are likely to be controversial because they suggest that meat contributes to obesity prevalence worldwide to the same extent as sugar," says Professor Maciej Henneberg, head of the biological anthropology and comparative anatomy research unit.
"In the analysis of obesity prevalence across 170 countries, we have found that sugar availability in a nation explains 50% of obesity variation while meat availability another 50%. After correcting for differences in nations' wealth (Gross Domestic Product), calorie consumption, levels of urbanisation and of physical inactivity, which are all major contributors to obesity, sugar availability remained an important factor, contributing independently 13%, while meat contributed another 13% to obesity.
"While we believe it's important that the public should be alert to the over-consumption of sugar and some fats in their diets, based on our findings we believe meat protein in the human diet is also making a significant contribution to obesity," Henneberg says.
The research has been conducted by PhD student Wenpeng You, who recently presented the findings of his work at the 18th International Conference on Nutrition and Food Sciences in Zurich, Switzerland. "There is a dogma that fats and carbohydrates, especially fats, are the major factors contributing to obesity," You says.
"Whether we like it or not, fats and carbohydrates in modern diets are supplying enough energy to meet our daily needs. Because meat protein is digested later than fats and carbohydrates, this makes the energy we receive from protein a surplus, which is then converted and stored as fat in the human body."
You says there have been several other academic papers showing that meat consumption is related to obesity, but the authors have often argued that it's the fat content in meat that contributes to the problem. "On the contrary, we believe the protein in meat is directly contributing to obesity," You says.
Henneberg says: "It would be irresponsible to interpret these findings as meaning that it's okay to keep eating a diet high in fats and carbohydrates. Clearly, that is not okay, and this is a serious issue for our modern diet and human health.
"Nevertheless, it is important that we show the contribution meat protein is making to obesity so that we can better understand what is happening. In the modern world in which we live, in order to curb obesity it may make sense for dietary guidelines to advise eating less meat, as well as eating less sugar," he says.
Abstract 1
Background: Excessive energy intake has been identified as a major contributor to the global obesity epidemic. However, it is not clear whether dietary patterns varying in their composition of food groups contribute. This study aims to determine whether differences in per capita availability of the major food groups could explain differences in global obesity prevalence.
Methods: Country-specific Body Mass Index (BMI) estimates (mean, prevalence of obesity and overweight) were obtained. BMI estimates were then matched to mean of three year-and country-specific availability of total kilocalories per capita per day, major food groups (meat, starch, fibers, fats and fruits). The per capita Gross Domestic Product (GDP) and prevalence of physical inactivity for each country were also obtained. SPSS was used for log-transformed data analysis.
Results: Spearman analyses of the different major food groups shows that meat availability is most highly correlated with prevalence of obesity (r = 0.666, p < 0.001) and overweight (r = 0.800, p < 0.001) and mean BMI (r = 0.656, p < 0.001) and that these relationships remain when total caloric availability, prevalence of physical inactivity and GDP are controlled in partial correlation analysis. Stepwise multiple linear regression analysis indicates that meat availability is the most significant predictors of prevalence of obesity and overweight and mean BMI among the food groups. Scatter plot diagrams show meat and GDP adjusted meat are strongly correlated to obesity prevalence.
Conclusion: High meat availability is correlated to increased prevalence of obesity. Effective strategies to reduce meat consumption may have differential effects in countries at different stages of the nutrition transition.
Authors
Wenpeng You, Maciej Henneberg
Abstract 2
Background: The public have been educated that sugar intake should be minimized to avoid obesity, but no such recommendation regarding meat exists. We used FAO published comparable sugar and meat availability data to examine if they both contribute to obesity prevalence to the same extent.
Methods: Country-specific Body Mass Index (BMI) estimates of obesity and overweight were obtained. These were matched with country-specific per capita per day availability of major food groups (meat, sugar, starch crops, fibers, fats and fruits), total calories, per capita Gross Domestic Product (GDP PPP), urbanization and physical inactivity prevalence. Fisher's r-to-z transformation and Beta (B) range (B ± 2 Standard Errors) overlapping were used to test for potential differences between correlations and regressions results respectively. SPSS 22.0 was used for log-transformed data analysis.
Results: Pearson correlation showed that sugar and meat availability significantly correlated with obesity prevalence to the same extent (r=0.715, p Multiple linear regression analysis indicated that sugar and meat availability were the two most significant predictors of obesity prevalence in both Enter (B=0.455, SE=0.113, p Conclusion: Sugar and meat availability comparably contribute to global obesity prevalence. Dietary guidelines should also advocate to minimize meat consumption to avoid obesity.
Authors
Wenpeng You and Maciej Henneberg
University of Adelaide
BMC Nutrition abstract
Journal of Nutrition & Food Sciences abstract