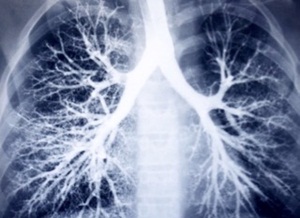 The first new asthma pill for nearly 20 years has the power to significantly reduce the severity of the condition, a study led by the University of Leicester has found.
"This new treatment, Fevipiprant, could likewise help to stop preventable asthma attacks, reduce hospital admissions and improve day-to-day symptoms- making it a 'game changer' for future treatment," said Professor Christopher Brightling, NIHR senior research fellow and clinical professor in respiratory medicine at the University of Leicester, who led the study at the NIHR Respiratory Biomedical Research Unit, based at the Glenfield Hospital in Leicester.
The research was funded by Novartis Pharmaceuticals, National Institute for Health Research (NIHR) and the EU (AirPROM), and is described by the lead researcher as "a game changer for future treatment of asthma."
Fevipiprant (QAW039) significantly decreased the symptoms of asthma, improved lung function, reduced inflammation and repaired the lining of airways. The drug is currently being evaluated in late stage clinical trials for efficacy in patients with severe asthma, according to ClinTrials.gov.
A total of 61 people took part in the research. One group was given 225mg of the drug twice a day for 12 weeks and the other participants were assigned to a placebo group. Fevipiprant and the placebo were added to the medications the participants were already taking.
The study was designed primarily to examine the effects on inflammation in the airway by measuring the sputum eosinophil count. The sputum eosinophil is an inflammation measurement of a white blood cell that increases in asthma and is used to assess the severity of this condition.
People who do not have asthma have a percentage of less than one and those with moderate-to-severe asthma typically have a reading of about 5%. The rate in people with moderate-to-severe asthma taking the medication was reduced from an average of 5.4% to 1.1$ over 12 weeks, according to the study.
Brightling said: "A unique feature of this study was how it included measurements of symptoms, lung function using breathing tests, sampling of the airway wall and CT scans of the chest to give a complete picture of how the new drug works. "Most treatments might improve some of these features of disease, but with Fevipiprant improvements were seen with all of the types of tests.
"We already know that using treatments to target eosinophilic airway inflammation can substantially reduce asthma attacks.
"This new treatment, Fevipiprant, could likewise help to stop preventable asthma attacks, reduce hospital admissions and improve day-to-day symptoms- making it a 'game changer' for future treatment."
Future treatment of human disease will increasingly move from a 'one size fits all' approach to one of tailoring the treatment to the individual patient.
Summary
Background: Eosinophilic airway inflammation is often present in asthma, and reduction of such inflammation results in improved clinical outcomes. We hypothesised that fevipiprant (QAW039), an antagonist of prostaglandin D2 receptor 2, might reduce eosinophilic airway inflammation in patients with moderate-to-severe eosinophilic asthma.
Methods: We performed a single-centre, randomised, double-blind, parallel-group, placebo-controlled trial at Glenfield Hospital (Leicester, UK). We recruited patients with persistent, moderate-to-severe asthma and an elevated sputum eosinophil count (≥2%). After a 2-week single-blind placebo run-in period, patients were randomly assigned (1:1) by the trial pharmacist, using previously generated treatment allocation cards, to receive fevipiprant (225 mg twice per day orally) or placebo, stratified by the use of oral corticosteroid treatment and bronchoscopy. The 12-week treatment period was followed by a 6-week single-blind placebo washout period. The primary outcome was the change in sputum eosinophil percentage from baseline to 12 weeks after treatment, analysed in the intention-to-treat population. All patients who received at least one dose of study drug were included in the safety analyses.
Findings: Between Feb 10, 2012, and Jan 30, 2013, 61 patients were randomly assigned to receive fevipiprant (n=30) or placebo (n=31). Three patients in the fevipiprant group and four patients in the placebo group withdrew because of asthma exacerbations. Two patients in the fevipiprant group were incorrectly given placebo (one at the mid-treatment visit and one throughout the course of the study). They were both included in the fevipiprant group for the primary analysis, but the patient who was incorrectly given placebo throughout was included in the placebo group for the safety analyses. Between baseline and 12 weeks after treatment, sputum eosinophil percentage decreased from a geometric mean of 5•4% (95% CI 3•1–9•6) to 1•1% (0•7–1•9) in the fevipiprant group and from 4•6% (2•5–8•7) to 3•9% (CI 2•3–6•7) in the placebo group. Compared with baseline, mean sputum eosinophil percentage was reduced by 4•5 times in the fevipiprant group and by 1•3 times in the placebo group (difference between groups 3•5 times, 95% CI 1•7–7•0; p=0•0014). Fevipiprant had a favourable safety profile, with no deaths or serious adverse events reported. No patient withdrawals were judged by the investigator to be related to the study drug.
Interpretation: Fevipiprant reduces eosinophilic airway inflammation and is well tolerated in patients with persistent moderate-to-severe asthma and raised sputum eosinophil counts despite inhaled corticosteroid treatment.
Authors
Sherif Gonem, Rachid Berair, Amisha Singapuri, Ruth Hartley, Marie F M Laurencin, Gerald Bacher, Björn Holzhauer, Michelle Bourne, Vijay Mistry, Ian D Pavord, Adel H Mansur, Andrew J Wardlaw, Salman H Siddiqui, Richard A Kay
University of Leicester material
The Lancet Respiratory Medicine article summary