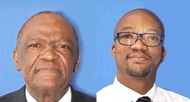 Just days after his 63rd birthday James Swart walked into a Pretoria hospital for an operation to remove a tumour near his kidneys that was supposedly causing his high blood pressure. He called his wife, Lilian, at 7am on the day of his operation at Steve Biko Academic Hospital. "I'm going in now," he said. "I'll see you later." The next day, on 19 February, 2014, he lay dying on the operating table and his family were given 15 minutes to say goodbye to the unconscious patient.
According to a Sunday Times report, two surgeons, Professor Letlhogela Ntlhe and Dr Mpho Sandamela, who performed two procedures on Swart, are now facing charges of culpable homicide in the Pretoria Magistrate's Court.
Experts now say there probably never was any tumour, and an inquest found that the doctors had been negligent because they failed to do basic tests which would have revealed this.
Lilian said her husband was given a CT scan, on the basis of which the two doctors told him he had a tumour on one of his adrenal glands. They said this was the cause of his high blood pressure. But, the report says, two experts – a state pathologist and a specialist surgeon – who investigated the cause of death found that simple blood and urine tests would have shown the presence of such a tumour.
The state pathologist, Dr Ryan Blumenthal, reported the cause of death was abdominal surgery with complications and said the autopsy turned up no obvious signs of a tumour. "Neither myself, nor the National Health Laboratory Service's department of anatomical pathology, could find any distinct signs of tumour. Therefore the diagnosis … appears to have been unlikely," Blumenthal said.
He said that further specialist opinion was needed, and recommended that the docket, hospital notes and autopsy report be forwarded to the Association of Surgeons of South Africa.
A member of the association, Dr Dean Lutrin, concluded that there had been negligence and said the failure to carry out the blood and urine tests was a "major breach of standard of care". "Had this patient had these tests done, they would have been normal and the patient would not have been treated as if he had a (tumour)," Lutrin said. He found that Swart died because of the operation and that he had been at high risk for major complications from surgery because he had significant kidney dysfunction and hypertension. Lutrin said Ntlhe, who performed the first operation, had left Sandamela – a trainee – unsupervised to perform the second operation. This, he said, may have been an error in judgment.
The report quotes attorney Hickley Hamman, who represents both doctors, as saying they had made their first court appearance on 23 July last year. "We received a copy of the docket for the first time on 1 October. We are presently gathering further information and finalising our investigations. At this stage we intend defending the matter," Hamman said.
The two doctors continue to practise, the report says.
The Health Professions Council of South Africa is investigating a complaint of unprofessional conduct against Ntlhe and a hearing is scheduled for 11 and 12 April 11. The doctors are due in court again on 5 April, the report says.
Full Sunday times report (subscription needed)