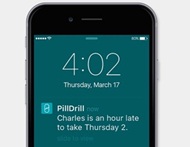 Medisafe, a company with offices in Boston, Massachusetts and Haifa, Israel is releasing a new smart pill management system that keeps tabs on when you take your meds and reminds you when you don't, says a Medgadget report. The Medisafe iConnect lets you choose to use the Bluetooth equipped iCap, that screws onto regular pill bottles instead of the original caps, or the iSort weekly pill organiser that also talks to your smartphone or tablet over a Bluetooth wireless connection.
The report says the devices recognise when the pills have been accessed and make note of that. This is uploaded to the Medisafe app that shares it with family members and your physician via the cloud. You can create a schedule for all your pills on the app and when it's time to take them it will remind you on your phone and if you miss the schedule, that can also be shared with others on your list.
The iCap will cost $20 while the iSort is $50 and both come with the free app.
Also, the PillDrill is a new gadget that's coming to market intended to help people take their medications on the prescribed schedule. According to a Medgadget report, it includes the PillDrill Hub, two weeks of pill strips, a dozen scanning tags, a matching app, and the "Mood Cube" for recording how you feel.
You can either program a pill schedule using the app or online via a browser, but there's also a nifty feature that automatically recognises your schedule. Simply stick the tags onto the bottles with your meds and swipe them near the Hub every time you ingest those medications. After a while the PillDrill memorises your pattern and begins issuing reminders if you fail to take the drugs at the right time.
The report says you can either use your own bottles or use the supplied pill strips, depending on what you prefer. The strips have little containers inside which the drugs are placed and also come with integrated proximity tags that you swipe every time you access the pills.
To help keep family members updated on your overall well-being, simply swipe the Mood Cube across the PillDrill Hub with the emoticon that matches how you feel. The system shares this and any drugs not taken on schedule with those you allow access to the data via the PillDrill app.