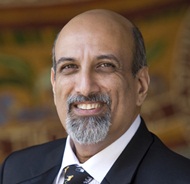 Professor Salim Abdool Karim is the latest recipient of the South African Medical Research Council's (SAMRC) Platinum Medal, a lifetime achievement award, given to an outstanding scientist who has contributed substantially to improving health through research and helped build the foundations of health research in the country for future generations, says a Daily News report.
An accomplished scientist who has dedicated more than 30 years to social justice, human rights activism and scientific research, Karim has made several important breakthroughs ranging from treatment for HIV-TB co-infected people to new approaches to prevent HIV infections.
Commenting on his current research, which focuses mainly on innovative technologies to prevent HIV, he said in the report: "We won't stop HIV in young women tomorrow…. but it has to be part of our long-term vision". He said: "Impressive progress in scientific discovery, resource mobilisation, political commitment and implementation has been achieved, but young women in Africa still have high HIV rates. Each day there are about 1,000 new infections in South Africa."
The report says Karim – vice-chancellor for research at the University of KwaZulu-Natal and professor in clinical epidemiology at the Mailman School of Public Health at Columbia University – also established the award-winning research institute, Caprisa. And he chairs the Scientific Expert Panel of the Joint UN Programme on Aids, UNAids and is a member of the World Health Organisation's HIV-TB Task Force and the WHO Expert Panel on Sexually Transmitted Infections and HIV.
Full Daily News report