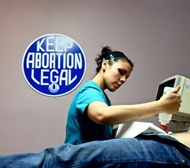 A US Appeals Court decision this week that could force many of Texas' remaining abortion clinics to close for good has raised hope that the Supreme Court will be forced to provide some clarity on the fuzzy legal standard it had set for judging abortion laws.
A report in The New York Times says abortion rights groups have been leery in recent years of taking their battles to the increasingly conservative Supreme Court. But this week, faced with the full effect of what they call an onerous 2013 Texas law, they say they have little choice but to press for strong action from the top. "It's time for the Supreme Court to step in and make it clear that the constitutional protections for abortion services are real," said Nancy Northup, the president of the Centre for Reproductive Rights, a legal group that is defending Texas clinics and other abortion providers that feel under siege across the country. "All of this is heading toward a major, major Supreme Court case on abortion rights," she said, with the Texas case a likely contender.
Ultimately, the rights groups seek a Supreme Court decision that would do more than reaffirm the right to abortion to the point that a foetus is viable, but would also define more forcefully when a regulation is an illegal undue burden. This kind of ruling is needed, the groups say, because states are creating ever more roadblocks to abortion, like waiting periods, 20-week limits and costly building rules.
In about three weeks, if the law is allowed to take full effect, the number of clinics would fall to nine or 10 in one of the country's largest states, making access especially difficult for rural women.
On Wednesday, the clinics asked the appeals court to further delay enforcement of the 2013 law to prevent further clinic closings and "irreparable harm" while they appeal to the Supreme Court. If, as expected, the court does not grant that stay, the groups will ask the Supreme Court to issue a stay while it considers whether to hear the case.
The stay would require the votes of five justices.
Anti-abortion leaders and politicians said the law's provisions were intended to enhance patient welfare. But major medical associations say these measures do not benefit patients. The clinics and their supporters say the law is a barely disguised effort to curb abortions.
Full report in The New York Times