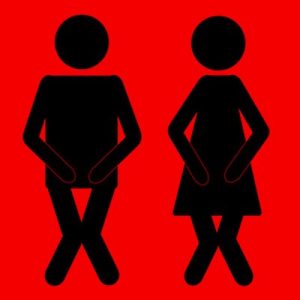 A simple question in a US telephone survey at a stroke created a new diagnosis: overactive bladder disorder, writes MedPage Today. And a new market worth $3bn a year. But the critics call it 'disease mongering'.
In 2001, a drug company funded automated telephone survey asked adults a simple, uncomfortable question: How often do you go? The results produced a striking number: nearly 17% of adults in the US had a simple answer: too often. A MedPage Today report says just that simply, 33m people had a new diagnosis: overactive bladder disorder – and a massive new market for drug sales was born.
The report said: "Last year, sales of drugs to treat overactive bladder reached nearly $3bn, even though some experts say the condition is best managed without drugs at all.
At the center of the issue are two researchers, known as the 'godfathers' of the condition: Dr Alan Wein, a urologist at the University of Pennsylvania, and Dr Paul Abrams, of the University of Bristol in England. The two named the condition, developed a definition for it, and organised drug company-sponsored conferences to advocate for using drugs to treat it."
The report notes that, according to federal reports on drug company payments, both have longstanding financial ties to companies that market overactive bladder treatments, including more than $60,000 that Wein received in the last three years alone. But even Wein concedes the initial estimate, drawn from the national survey he and Abrams co-authored, "overstates the market."
The report says Dr Kari Tikkinen, a urologist and clinical epidemiologist at the University of Helsinki in Finland, conducted his own analysis in 2007 using a detailed questionnaire sent by regular mail to 6,000 people in Finland. He found that the prevalence was closer to 8%.
The report says Tikkinen, who received no drug company funding for his research, said labeling patients with minimal symptoms as having a disease "risks causing healthy people to consider themselves sick, and exposes them to needless drug side effects." And that scenario is exactly what happened, according to a MedPage Today/Milwaukee Journal Sentinel investigation.
While overactive bladder is not a life-threatening condition, the drugs used to treat it have been included in more than 12,000 adverse event reports to the US Food and Drug Administration (FDA) since 2013. That includes nearly 200 deaths and more than 700 hospitalisations.
The report says in its response, the FDA said the benefits of these drugs outweigh their risks when they are used according to the product label. And, the report says a spokesperson for Astellas, the company that makes Vesicare and Myrbetriq, said the drug maker complies with all regulatory safety reporting requirements.
The drugs themselves work moderately better than a placebo, studies show, but are not more effective than various treatments that involve exercises or other changes in behavior. Such behavioral therapies include bladder training, pelvic muscle exercises, weight loss, and fluid management.
"It's easier to prescribe medications than to explain the non-pharmacological treatments," said Dr Amir Qaseem, vice president of clinical policy at the American College of Physicians, which has issued a guideline on managing incontinence in women.
There are now more than a dozen overactive bladder drugs and treatments on the market, ranging from Botox injections and Medtronic's implantable neuro-modulation device InterStim, to a prescription patch and an over-the-counter patch, as well as the drug Myrbetriq, which uses an advertising campaign featuring a cartoon bladder. "The pharmaceutical industry does play a major role in pushing some of these drugs," Qaseem said.
For decades, bladder problems ranged from detrusor instability to incontinence. These conditions were generally considered a consequence of aging. To use a popular term, that "paradigm shifted" when Wein and Abrams joined forces. They held their first overactive bladder conference in June 1997. It was sponsored by Pharmacia, which had an interest in the OAB market.
The report says in December of that year, the field's major journal, called Urology, published a special supplement on overactive bladder with about 30 articles. The introduction, written by Wein and Abrams, talked about a "promising" new drug for the treatment of overactive bladder – Detrol, which was manufactured by Pharmacia. The FDA approved the drug the following year and by 1999 a new definition – which expanded the number of people who met the criteria – was being written, a guideline issued by the International Continence Society.
Then came the 2001 phone survey – named the NOBLE trial – also sponsored by Pharmacia. It asked 5,204 adults questions about how often they needed to urinate, whether they had to get up at night, whether they felt urgency and if they had incontinence.
The report says while the paper about the survey's conclusions does not say all of the nearly 17% of adults with overactive bladder needed to be treated, that has been the implication when drug companies have used the number in subsequent years. "The pharma people would love it if that prevalence is in fact the market for treatment, but it's not," Wein said. "There are many more people who qualify than who need treatment."
Dr Carl Elliott, a bioethicist at the University of Minnesota, called overactive bladder a primary example of "disease-mongering." "The basic idea is selling a drug by selling a disease," Elliot said. "You expand the diagnostic category to create a larger market for the drug." The report says the very name "overactive bladder" was created with marketing in mind. Compare that with incontinence, or to the formal name of "detrusor instability."
"A lot of people, when they heard it, thought it had a psychiatric connotation, which we didn't think was very good," said Wein. Wein said the term "overactive bladder" was "pretty intuitive." "You hear 'overactive bladder' and immediately it puts in your mind a
picture of something you can recognise," he said.
Experts say the name change helped make the condition more acceptable for public discussion, including patients bringing it up with their doctors. Those doctors, meanwhile, were encouraged to screen patients for the condition – and to keep them on their medication once it was started.
The official definition of overactive bladder says patients must have "urgency with or without urge incontinence, usually with frequency and nocturia." That's the feeling of having to go, with or without leakage, and going frequently during the day and having to get up several times at night. The condition is typically diagnosed only by a patient's report of symptoms. But, the report notes, many experts say there's a big difference between having incontinence, or leakage, and just having frequency or urgency.
And, the report said, there could be various reasons why people have to urinate a lot, from organ prolapse and prostate disorders to neurological dysfunction – conditions that may have nothing to do with the bladder. That, in turn, leads to the treatment of symptoms, but doesn't actually cure anything.
When these conditions are missed, doctors say, and patients are deemed to have overactive bladder, it leads to the treatment of symptoms, but doesn't actually cure anything.
In 2012, the American Urological Association and the Society of Urodynamics, Female Pelvic Medicine & Urogenital Reconstruction issued a guideline on diagnosing and treating overactive bladder. Eight of the 11 experts on the panel listed financial relationships with companies that market treatments for overactive bladder.
While the guidelines say non-drug behavioral training should be the first treatments offered, it also says patients can be put on the combination of drugs and behavioral therapy right away. Two years later, a panel of experts put together by the American College of Physicians issued recommendations on treating urinary incontinence in women.
The emphasis in the guidelines: behavioral therapies
They emphasise pelvic floor muscle exercises and bladder training, and recommend against using drugs for stress incontinence. They say drugs can be used in some cases, but only if bladder training proves unsuccessful. Of the six authors, one reported owning some drug company stock. The number that reported working as speakers or consultants to drug companies? Zero.
The report says studies have shown that overactive bladder drugs perform no better than a placebo, but at the same time they often have potentially serious side effects. Several overactive bladder drugs, including Vesicare, are known as anticholinergics. Labels for those drugs warn of confusion, hallucinations, disorientation, and sleepiness. That is especially concerning in older patients who are the most likely to have urinary problems and who may already have some cognitive impairment.
The report says starting around 2008, the FDA began requiring drug companies that make anticholinergic overactive bladder drugs to add a label warning about such side effects after conducting a "comprehensive evaluation of post-marketing reports."
Yet the MedPage Today/Journal Sentinel review of FDA records found reports of problems related to the drugs are continuing – since 2013, anticholinergics were cited in nearly 200 cases, with patients noting confusion, a "confusional state" or feeling abnormal. The analysis included only cases reported medical professionals and drug companies. Since drug companies are the only ones that are required to file reports they receive, the real total likely is much higher.
Another side effect of many of the anticholinergic drugs is dry mouth. In clinical trials, it was reported between 20% and 30% of patients, depending on the drug. Dry mouth can lead to tooth decay, but it also makes people want to drink more – which can be a problem if a person has bladder issues.
The report says Dr Diana Zuckerman, president of the National Center for Health Research, noted there is another factor that argues against the use of the drugs. While incontinence episodes are reduced moderately, they are not eliminated, which means that protective pads likely still are needed.
"All of these drugs have the potential for serious risk," she said. "So what's the actual benefit? To weigh that against risks that can be serious, it's pretty unimpressive."
MedPage Today report
Helsinki Finland analysis/PLOS One abstract
AJMC abstract
Guidelines/The Journal of Urology
American College of Physicians guidelines