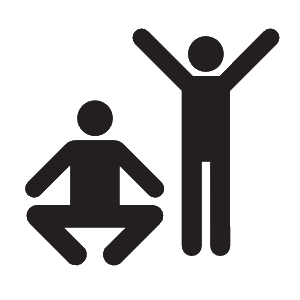 Some 100 researchers at 60 hospitals around the world will in the coming weeks start recruiting nearly 900 men with advanced prostate cancer for a clinical trial to test the hypothesis that exercise has a direct impact on cancer progression by extending lifespan, in addition to helping patients better tolerate therapy.
Several studies have demonstrated the benefits of exercise to improve the quality of life of people with cancer. But Dr Fred Saad, urologist-oncologist and researcher at the University of Montreal Hospital Research Centre (CRCHUM), goes further. He believes that physical exercise has a direct effect on cancer, as effective as drugs, for treating patients with prostate cancer, even in advanced stages of the disease.
"Typical patients with metastases often become sedentary. It is thought that this affects cancer progression," he said. Together with Robert Newton, professor at the Edith Cowan University Exercise Medicine Research Institute in Australia, Saad is leading the first international study which aims to demonstrate that exercise literally extends the life of patients with metastatic prostate cancer.
"Normally, patients at this stage have a life expectancy of two to three years. We want to reduce mortality by at least 22%, which represents about six months of longer survival. This is the equivalent benefit of a new drug. Exercise could therefore supplement available treatments, inexpensively," said Saad, who is also professor at the University of Montreal's department of surgery.
Saad has presented an overview of this Phase 3 clinical trial at the American Society of Clinical Oncology (ASCO 2016) Annual Meeting. The study, which is supported by the Movember Foundation, has already started in Ireland and Australia. In the coming weeks, some sixty hospitals across the world will begin recruiting patients. In total, nearly 900 men with advanced prostate cancer will participate.
"We will study exercise as if it were a drug added to standard treatments. All patients will be treated within the latest scientific knowledge for this type of cancer. They will continue to follow their therapies and take their medications. But half of the patients will receive psychosocial support with general recommendations on physical exercise. The other half will also follow a high intensity exercise programme," he explained.
The exercise medicine expert, Newton has designed a specific strength and cardiovascular training program for patients in the "exercise" group. "They will have an hour of aerobic and resistance training three times a week. An exercise specialist will supervise them for the first 12 months, and then they will continue without direct supervision. We will evaluate quality of life, appetite, and treatment tolerance in relation to their improved physical condition," said Newton, who is co-director of the Edith Cowan University, Exercise Medicine Research Institute.
Blood samples and muscle biopsies will help scientists better understand the benefits of exercise. "People with cancer develop all sorts of complications related to metastases, such as fractures or severe pain. It is hoped that exercise will strengthen muscles and bones," said Saad.
The hypothesis is that exercise has a direct impact on cancer progression in addition to helping patients better tolerate therapy. Ultimately, they will live longer. The results of this large study, which involves some one hundred researchers in Canada, the US, Australia, Ireland, the Netherlands, and the UK, will not be known for five years. Could the findings be extended to other types of cancer? It is too early to tell, but researchers are betting that exercise could well become the next anti-cancer therapy.
Abstract
Background: Provocative evidence supports the beneficial role of physical activity on prostate cancer survivorship. Evaluating exercise as a low-toxicity adjuvant intervention that can be combined with standard therapy to improve outcomes in men with prostate cancer could reduce the clinical and public health burden of the disease. Exercise may affect prostate cancer survival via inflammation, hormonal, and energy metabolism pathways.
Methods: Our goal is to compare overall survival (OS) among men with MCRPC randomly assigned to psychosocial support +/- high intensity aerobic and resistance training for 24 months. Secondary outcomes include: time to disease progression, occurrence of a skeletal-related event, or progression of pain; and degree of pain, opiate use, and physical and emotional quality of life. We will assess if inflammation, dysregulation of insulin and energy metabolism, and androgen biomarkers are associated with OS, and if they mediate the primary association between exercise and OS. The study will establish a biobank for future biomarker discovery or validation. This multi-site global trial will include MCRPC patients who are treatment naive or on abiraterone and/or enzalutamide without evidence of progression at enrolment. Patients will be randomized (1:1) to psychosocial support +/- high intensity aerobic and resistance training. The first 12 months of training will include a structured period of tapered supervised exercise with increasing self-managed exercise and behavioral support with text messages, to support self-management for an additional 12 months. Exercise prescriptions will be tailored to participant's fitness and cancer/treatment morbidities. Assuming a median OS of 33.5 months in the controls, the sample size to detect a hazard ratio of 0.78 with 80% power at significance level of 0.05 is 824; assuming missing data on OS for 5%, we aim to enroll 866 men.
Conclusion: This is the first prospective randomized trial to examine exercise and survival in men with prostate cancer; and is designed to elucidate the mechanisms by which exercise delays cancer progression.
Author(s):
Fred Saad, Stacey A Kenfield, June M Chan, Nicolas H Hart, Kerry S Courneya, James Catto, Stephen P Finn, Rosemary Greenwood, Daniel C Hughes, Lorelei A Mucci, Stephen R Plymate, Michael N Pollak, Stephan FE Praet, Aaron P Russell, Emer M Guinan, Erin Van Blarigan, Orla Casey, Mark Buzza, Charles J Ryan, Robert Usher Newton
University of Montreal Research Centre material
ASCO 2016 abstract