Since its acquisition of South Africa's Litha Pharma in 2017, multinational Acino's vision to invest in local healthcare and skills development has fast become a reality. The pharma company has a long-established and proven track record in the industry, which has only been strengthened by its most recent acquisition of six prescription medicines from Aspen, strengthening Acino's South African portfolio in specialised disease areas, over the counter, generics, and devices.
Similar acquisitions show that Acino prioritises growing its footprint across core emerging markets to deliver high-quality, innovative, affordable treatments and the best value to patients, customers, suppliers, and shareholders. By enhancing the value of the company's acquired brands using in-depth expertise and market experience, Acino is bringing additional investment into South Africa's healthcare sector to promote affordable healthcare and a healthier tomorrow.
It's not just about the business, though; Acino takes pride in investing in South African youths' education and skills development – a stance that has led to the organisation being the only multinational pharma company to achieve a Level 1 B-BBEE status for three consecutive years.
"A level 1 B-BBEE certificate is not only a certificate of achievement, it is testimony to our committed investment into South Africa and the African continent," says John Norman, Acino Regional Director English Speaking Africa. "It is a certificate of potential, the potential of the health care industry to bring meaningful change to people's lives."
The lack of education and skills development in South Africa has expanded the poverty gap significantly. Acino remains keenly aware that with its growth comes greater responsibility to all stakeholders, including local communities nationwide. The organisation makes a concerted effort to provide local employment and upskilling through learnerships and investing in the Youth Employment Service initiative (YES4Youth) launched by President Cyril Ramaphosa in 2018.
Acino's engagement with learnerships and the YES4Youth initiative provides opportunities enabling employers to train youngsters with the skills needed to perform in the workplace. These initiatives assist young people to earn a fair income while gaining exposure and work experience by being part of the business.
Acino is increasing equitable economic opportunities by sponsoring and providing learnership work experience to previously disadvantaged, disabled black South Africans to prepare them for opportunities to find employment sustainably – a responsibility the company does not take lightly, as the need for novel, additional skills is constantly growing. This learnership programme has a third-party accredited service provider, where an average of 10 learners are developed over a 12-month period.
Norman explained that "apart from having the workplace experience and sitting in a classroom learning different aspects about the business, [the learners] also go out with a sales representative for practical experience".
The success of Acino's provision of learnership workplace experience speaks for itself, with the organisation having offered permanent employment to 75% of learners at the end of their learnership period since the initiative began.
"What we've learnt over the years is that with high unemployment, university graduates require an opportunity to gain experience. In most instances, that's the first requirement when applying for a job. But how do you get experience if you've just left university? So, we've opened that door, and it's become so successful we're starting to recruit those people ourselves," said Norman. "We're almost developing the next generation of employees for Acino."
In growing its representational workforce to more than 200 people, reflecting all South Africans, and consistently developing its learnership programme, Acino is playing a crucial role in participating in the country's transformation. "It is not only about investment in the future of Acino," says Norman. "It is about an investment in making a difference for our healthcare providers, our patients, and our people. Acino works hard to make a meaningful contribution to the South African economy by providing best-in-class products and services and creating employment opportunities."
By honouring its values of trust, commitment, courage, and empathy, Acino has built a strong presence in the country, becoming one of the top 10 pharmaceutical companies in SA and a certified Top Employer for 2022 as a first-time participant.
As a name that is now synonymous with quality, affordable healthcare for all South Africans, Acino's global vision and local focus approach and commitment to improving patients' lives shows the industry that international power with homegrown, underground experience and learnership, can improve the healthy development of a nation and its people.
From its internal processes to its external products, Acino is dedicated to making a difference in the lives of South Africans by going beyond each individual and extending its quality, affordable healthcare solutions to the nation.
To learn more visit www.acino.co.za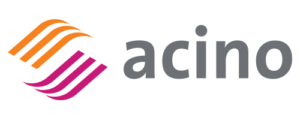 Acino Pharma (Pty) Ltd. Reg. no.: 1994/008717/07. No 106, 16th Road, Midrand, 1686, Gauteng, South Africa. (011) 516-1700. www.acino.co.za. LP4216 06/2022. Exp. 06/2024.