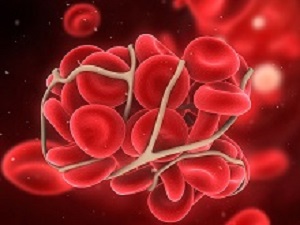 British GPs are at times prescribing anticoagulants to patients with atrial fibrillation against official safety advice. The study was carried out by researchers at the University of Birmingham's Institute of Applied Health Research.
Best practice guidelines recommend anticoagulant drugs such as warfarin are prescribed to patients with atrial fibrillation (AF).
First author Dr Nicola Adderley said: "These patients are at high risk of stroke and anticoagulant drugs greatly reduce the stroke risk as they make blood less likely to clot. However, because they reduce blood clotting, patients taking anticoagulant drugs are at risk of bleeding complications. Therefore, safety advice is to avoid anticoagulants in patients who have certain conditions such as a bleeding peptic ulcer, diabetic eye disease or a previous stroke caused by a bleed."
The researchers reviewed patient records from 645 general practices over a 12-year period between 2004 and 2015. They found that AF patients with conditions making them a safety risk and those without safety risks were almost equally likely to be prescribed anticoagulants. The situation did not change over time.
Corresponding author Professor Tom Marshall said: "Our study shows that safety advice seems not to influence the prescribing of anticoagulants. We found that patients considered a safety risk were just as likely to be prescribed the drugs as those without safety risks, and this occurred in every year between 2004 and 2015.
"Because anticoagulants prevent strokes in people with this type of irregular pulse, GPs are encouraged to prescribe more anticoagulants to those who need them. This has been happening and it is good news. But the sting in the tail is that more people who perhaps shouldn't be on anticoagulants are also taking them: about 38,000 nationally. We need to understand the reasons for this and whether patients might come to any harm."
Abstract
Background: Underuse of anticoagulants in atrial fibrillation (AF) is an international problem, which has often been attributed to the presence of contraindications to treatment. No studies have assessed the influence of contraindications on anticoagulant prescribing in the UK.
Aim: To determine the influence of contraindications on anticoagulant prescribing in patients with AF in the UK.
Design and setting: Cross-sectional analysis of primary care data from 645 general practices contributing to The Health Improvement Network, a large UK database of electronic primary care records.
Method: Twelve sequential cross-sectional analyses were carried out from 2004 to 2015. Patients with a diagnosis of AF aged ≥35 years and registered for at least 1 year were included. Outcome measure was prescription of anticoagulant medication.
Results: Over the 12 study years, the proportion of eligible patients with AF with contraindications who were prescribed anticoagulants increased from 40.1% (95% confidence interval [CI] = 38.3 to 41.9) to 67.2% (95% CI = 65.6 to 68.8), and the proportion of those without contraindications prescribed anticoagulants increased from 42.1% (95% CI = 41.6 to 42.6) to 67.7% (95% CI = 67.2 to 68.1). In patients with a recent history of major bleeding or aneurysm, prescribing rates increased from 44.3% (95% CI = 42.2 to 46.5) and 34.8% (95% CI = 29.4 to 40.6) in 2004 to 71.7% (95% CI = 69.9 to 73.5) and 63.2% (95% CI = 58.3 to 67.8) in 2015, respectively, comparable with rates in patients without contraindications.
Conclusion: The presence or absence of recorded contraindications has little influence on the decision to prescribe anticoagulants for the prevention of stroke in patients with AF. The study analysis suggests that, nationally, 38 000 patients with AF with contraindications are treated with anticoagulants. This has implications for patient safety
Authors
Nicola Adderley, Ronan Ryan, Tom Marsh
University of Birmingham material
British Journal of General Practice abstract[/link