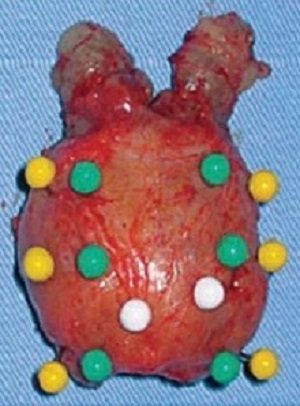 The field of prostate cancer scanning is 'on fire', says Canadian researcher Dr Laurence Klotz, as researchers worldwide compete to develop advanced imaging as a way to reduce unnecessary biopsies following an elevated prostate specific antigen reading.
They look like glowing jade necklaces of such unearthly brilliance they could be a Ming emperor's. But, says a STAT News report, if Dr Gerardo Fernandez is right, the green fluorescent images of prostate cells could be even more valuable, at least to the thousands of men every year who unnecessarily undergo aggressive treatment for prostate cancer.
The report says that's because the glimmering images promise to show which prostate cancers are destined to remain harmless for the rest of a man's life, and thus might spare many patients treatment that can cause impotence and incontinence.
There's now no reliable way to tell a lethal prostate cancer from one that's so slow-growing it can safely be left alone: the prostate specific antigen (PSA) test can't, and neither can looking at the cancer cells under a microscope. But, the report says, researchers are developing genetic tests, imaging tests, and algorithms like those in face-recognition software in an effort to reduce the 1m US men a year who have prostate biopsies and, even more important, reduce the thousands who get treatment they don't need.
"The field is on fire," said Dr Laurence Klotz, of Sunnybrook Health Sciences Centre in Toronto, whose research has shown that many men diagnosed with prostate cancer can safely choose active surveillance – monitoring to make sure their cancer isn't spreading – rather than treatment. "There are a whole slew of blood and urine tests already available or on the way that can take a guy whose PSA is mildly elevated and tell him he doesn't need a biopsy. How much could we drive down over-diagnosis? A lot."
The report says in the bitter debate1 about PSA tests, proponents have accused critics of condemning men to die by dissuading them from getting a test that can spot cancers early. Critics of PSA say the screening, introduced in the 1980s, causes millions of men to be further tested and then treated for cancers so harmless they would never threaten their health, leaving many to spend the rest of their life in adult diapers and unable to have sex – all from treatment they didn't need.
But both sides agree on two things. First, too many men with an elevated PSA have a biopsy that turns up no cancer. That's a biopsy – usually done by inserting a thin, 12-gauge needle through the rectum, which can cause infection and other harmful consequences – that could have been avoided. Second, too many men are needlessly treated for a cancer.
"This has been a long and chronic problem, in that we have very imperfect tools for cancer detection," said Dr Clare Tempany, a prostate cancer specialist at Brigham and Women's Hospital in Boston. "Ever since PSA came into disrepute, everyone woke up and said, we have to be smarter about this."
The report says already a number of beyond-PSA tools let more and more men opt out of biopsy after an elevated PSA reading, which many physicians consider 4 or higher. One-quarter to one-third of men with a PSA of 4 to 10 who have a biopsy will turn out to have cancer, and most of those are harmless.
For instance, a blood test called the Prostate Health Index measures several forms of PSA, not the one kind measured by the standard PSA test; it reduces unnecessary biopsies by about 36%, but it misses 2.5% of dangerous prostate cancers. The 4K Score, also based on a blood test, "is better than PSA at picking up aggressive cancers," said urological surgeon Dr David Penson of Vanderbilt-Ingram Cancer Centre. It can reduce unnecessary biopsies by as much as 60%, but misses nearly 5% of serious cancers.
The report says that has spurred researchers around the world to try to do better, with many labs developing advanced imaging as a way to reduce unnecessary prostate biopsies following an elevated PSA. One, called multi-parametric MRI, can reveal the size and density of a prostate cancer, and how well-connected it is to the blood supply.
Abstract
Introduction & Objectives: The European Randomized study of Screening for Prostate Cancer (ERSPC) showed that screening using sextant transrectal ultrasound-guided biopsy (6-TRUS-Bx) reduces mortality but also causes overdiagnosis. A screening strategy using 12-core TRUS biopsy (12-TRUS-Bx) could increase the high-grade (Gleason score ≥3+4) prostate cancer (PCa) detection, while an MRI +/- target biopsy (MRI ± TBx) strategy could reduce overdiagnosis of low-grade (Gleason score 3+3) PCa. In this study we compare the 3 biopsy strategies in the 5th screening round of the ERSPC Rotterdam.
Material & Methods: Men in the 5th screening round (2013 – 2016) with a PSA ≥3.0ng/ml received either 6-TRUS-Bx or chose to be included in the MRI side study and received a multiparametric MRI. In men in the side study a 12-TRUS-Bx was performed blinded
for MRI results. Additionally, PI-RADS ≥3 lesions were targeted with 2 cores using MRI-TRUS fusion guidance. The PCa detection rates of 3 biopsy strategies were compared: the 6-TRUS-Bx (group 1) vs 12-TRUS-Bx (group 2a) vs MRI ± TBx (group 2b) strategy.
Results: A total of 177 men with PSA ≥3.0 ng/ml received 6-TRUS-Bx while 158 men received MRI with 12-TRUS-Bx ± TBx. These men had a mean age of 73.2 years (SD ± 1.1) and a mean PSA of 5.1 ng/ml (SD ± 2.8). A total of 183/335 (55%) had received
a previous negative 6-TRUS-Bx. There were no significant differences in terms of age, PSA and previous biopsy status between men who received 6-TRUS-Bx and men in the MRI side study. A total of 110/158 (70%) men in the side study had no suspicious lesions on MRI and thus did not receive TBx. The high-grade PCa detection rate of 6-TRUS-Bx (10%), 12-TRUS-Bx (12%) and MRI ± TBx (11%) were comparable (table 1). The low-grade PCa detection rate of 12-TRUS-Bx (28%) was significantly higher as compared to 6-TRUS-Bx (17%), while the low-grade PCa detection rate of MRI ± TBx (7%) was significantly lower.
Conclusions: In our cohort of repeatedly screened men the performance of 12-TRUS-Bx instead of 6-TRUS-Bx increased only the detection of low-grade PCa. An MRI ± TBx strategy reduces biopsy procedures (70%) and overdiagnosis of low-grade PCa (>50%), while maintaining a similar detection rate of high-grade PCa. The MRI ± TBx strategy is thus preferred, as it tackles the major drawbacks of population-based screening.
Authors
Alberts A, Schoots I, Drost, FJ, Bokhorst L, Van Leenders G, Dwarkasing R, Barentsz J, Schröder F, Bangma C, Roobol M
STAT News report
Uroweb abstract