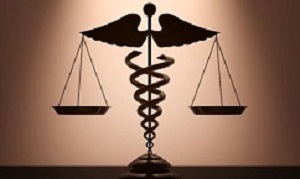 The National Health Care Professionals Association's crusade against 'racial profiling' took a blow when its court application against 19 medical schemes was thrown out of court, in late 2018, because the NHCPA had no legal authority to bring the action and, embarrassingly, some of the complainants were alleged to have engaged in medical fraud
Ironically, the Council for Medical Schemes (CMS), which opposed the doctors in that court case, has now, in 2019, been charged with investigating the NHCPA racial profiling claims.
Editor's Note:
This item has been corrected since publication to reflect clearly, unstated in The Times report, carried verbatim below, that the original court action by NHCPA on alleged racial profiling by medical schemes, started in 2017. The 2018 responding papers detailed fraud and then, in late 2018, the Council for Medical Schemes had the case dismissed on technicality and NHCPA were denied right to appeal. Since then, this year, the CMS launched its inquiry into the racial profiling claims. Any confusion or ambiguity is regretted and unreservedly apologised for.
The Times writes:
"The National Health Care Practitioners Association (NHCPA) has led a charge of racial profiling against medical aids and administrators, but not before they took 19 medical aids to court – and lost. In their court case (MedicalBrief Editor's note: in 2018) the NHCPA complained that medical aids spied on doctors using hidden cameras to gather evidence of fraudulent behaviour.
"But their case took an unintended turn. Many of those complaining about racial profiling have been caught engaged in fraudulent activities, as detailed in the medical aids' responding affidavits.
"In addition, the Council for Medical Schemes (CMS), which is now investigating the racial profiling claims, opposed the doctors in this court case. The (MedicalBrief Editor's note: 2019) review is led by top advocate Tembeka Ngcukaitobi SC.
"The CMS argued in the High Court in Pretoria (MedicalBrief Editor's note: In 2018) that NHCPA head Dr Donald Gumede did not have the legal authority to bring the case against it and 19 medical aids, and was not representing health workers.
"CMS spokesperson Grace Khoza said (MedicalBrief Editor's note: In 2018): 'We challenged the authority of NHCPSA to launch the application on behalf of healthcare practitioners. It is a requirement under the rules of court to satisfy the court that, as a party, you have material interest to the action. Unfortunately, NHCPSA failed to establish that and could not even produce the power of attorney that authorised the association to launch this case.'
"So while the CMS is (MedicalBrief Editor's note: Now, in 2019) publicly investigating them, it was their very legal action that squashed the NHCPA's chance of being heard in court.
"The NHCPA court papers accused medical aid schemes of behaving like 'prison warders, prosecutors and police', and asked the court to stop them withholding payments to doctors and therapists they suspected of submitting fraudulent claims.
"Gumede at the time suggested medical aid practices were putting innocent health workers out of business.
"In response to the legal action, some of the 19 medical aids filed papers and described why they made doctors and therapists pay them back hundreds of thousands of rands.
"Case studies cited include:
• Gems spoke of state-employed full-time doctors who were claiming for private work in KwaZulu-Natal, in breach of a provincial rule not allowing them to work privately.
• Medscheme, an administrator for multiple medical aids, spoke of a Centurion GP who claimed R1.1m for work done in his name by a fake doctor.
• Discovery spoke of a GP who did so many ultrasound investigations they became suspicious and asked him for invoices to prove he owned the machine. He claimed the invoice 'washed away in a flood', and the supplier, who supposedly had a copy of the invoice, could not be traced.
• A GP claimed 848 times for treating patients for an emergency between January 2014 and September 2016, which software flagged as being very high. The medical aid sent in four undercover investigators as patients. None reported an emergency, yet the doctor claimed the higher emergency rate.
• In one case from January 2014 to August 2016, Medscheme paid a physiotherapist R4,21m. Of the 34,192 claims submitted, 1,330 were found to be irregular.
"In court papers, Medscheme explained billing for physiotherapists dictated that, if they used two to three different treatments, the fee for second and third treatment types should be halved. The therapist was asked to pay back the money.
"The NHCPA declined to comment (MedicalBrief Editor's note: Now, in 2019), saying they would not speak to the Sunday Times and affiliates, and that they distance themselves from all reporting.
"Medscheme CEO Anthony Pedersen said it paid about 24,500 providers monthly – 19,500 medical professionals, 4,500 pharmacies and 500 facilities. In 2018, Medscheme investigated 1,101 cases, of which 830 had forensic findings. This represents only 3% of the total provider pool. They pay an average of 150 000 claims a day.
"Pedersen said the administrator paid health workers in good faith and could only retrospectively analyse claims and find anomalies, very high claims or excessive hours worked that need explanation.
"In a court document, former head of the legal division at Medscheme, Paul Midlane, said not all mistakes were fraudulent.'I must stress at this point it is not possible to determine the intention of a healthcare provider when billing … it could be a bona fide error or negligence or fraudulent conduct.'
"Either way, the medical professionals are asked to pay back the money they erroneously or fraudulently claimed."
Separately, the SA Human Rights Commission (SAHRC) began hearing testimony on Wednesday of last week on the claims that some black medical practitioners suspect medical schemes are using coercion, unlawful investigations and other means to hold them ransom before they are paid out, reports The Times. "When your money is withheld you cannot pay your bond, you can't pay your cars, you can't pay your workers, you can't buy medication, so what you have is the majority of people close down," NHCPA's Gumede said.
The report says the association earlier lodged a complaint with the SAHRC. The commission held a preliminary hearing in Braamfontein, Johannesburg, to investigate if it should launch a full inquiry into medical aid schemes.
Gumede claimed that medical schemes hold some healthcare practitioners ransom by paying patients directly or withholding payments from practitioners unless they pay a sum up front, before the medical schemes pay out the rest.
The report says the NHCPA believes these alleged practices might be racially motivated, as they have not received similar complaints from white health practitioners. "(The medical schemes') aim is to destroy the black and Indian or coloured healthcare practitioners… But I believe that God will help us as doctors," the NHCPA's Dr Thandi Mkhize said.
Gumede claims medical aids unlawfully hire private and forensic investigators to target some healthcare practitioners and often demand confidential doctor-patient information to prove suspected fraud. "They are a law unto themselves," he said.
Discovery Health CEO Jonathan Broomberg described the NHCPA's submissions as "wild and unproven" allegations. "They provided no evidence for those. In our view, all of their submissions are opinion …. We do not intend to refute or respond to any of those allegations," Broomberg said. "There is no evidence for that [racial discrimination] at all."
The report said Pedersen hit back at the NHCPA's allegations about medical schemes illegally obtaining healthcare practitioner or patient information. "When they become members of a medical scheme, they provide a lot of their information and as part of that they also provide the medical scheme with written consent in order to manage the payment of the treatment."
GEMS principal officer, Dr Gunvant Goolab, said they did not record the racial profiles of the healthcare practitioners on their database.
The association's claims will also be investigated by a CMS panel led by advocate Tembeka Ngcukaitobi. Its public hearings are to be conducted from July to September, with a final report expected on 1 November.
Gumede made a number of claims against medical schemes, including that they divulge patients' confidential medical records, hold them to ransom by coercing health practitioners into paying a certain amount before releasing their claims, discrimination and selective membership to the Practitioners Networks, says a Daily Maverick report. He also claimed that the CMS is dysfunctional, that medical schemes do not pay up, and healthcare practitioners are bullied.
Broomberg denied all the NHCPA claims, saying that the CMS investigation would shed light on the veracity of Gumede's claims. "We haven't seen evidence or exercise of discrimination in the formation of networks," Broomberg said. He said all the NHCPA's submissions amounted to opinion and denied that medical schemes were a law unto themselves.
Further, said Broomberg, "That we don't report to relevant authority is also not true. We report all fraud and unethical conduct to the Medical Professionals Council."
The report says advancing his submission, Gumede said, "The association has noted bullying in recent years due to health reforms such as the National Health Insurance (NHI) plan." He said the rise in the mortality rate was because medical schemes fail to fulfil their mandates to members. Gumede said medical schemes' forensic units needed to be regulated.
"Currently they are meant to collect money at all costs which is a violation of the rights of the client," added Gumede. "It's clear that black healthcare providers are targeted on grounds of language and race."
"What these medical schemes are doing is devastating, it's unfair and unacceptable. What is sad is that they collude with some hospitals," said Thandi Mkhize-Madiba, a medical practitioner.
"We haven't seen our fellow white doctors come out to complain about the things we are complaining about. This is clearly a race issue," said Mkhize-Madiba.
Mkhize-Madiba said that while the CMS investigation progressed, the council should instruct medical schemes to conduct audits, to put a stop to malpractices.
Medical schemes are continuing writing letters to people and summoning them while the investigation continues. "They are above the law," Mkhize-Madiba. "Specialists are losing courage because they know Discovery is not going to pay them. Doctors lose hope and have nowhere to turn. And the problem is that ultimately, patients suffer."
The report says the CMS's own efficiency in carrying out its mandate also came under scrutiny as the SAHRC's Jones asked Gumede if he thought the CMS was dysfunctional. "Yes, the CMS must be reconfigured. We requested meetings with the previous health minister to have independent people run the council as a regulatory body. A body that will not give in to compromise," Gumede said.
He said, however, that the NHPCA would adhere to whatever decision the statutory body (CMS) came to. The investigative panel is led by Advocate Tembeka Ngcukaitobi.
Jones asked Goolab if the investigation's terms of reference were broad enough to sufficiently cover the complaints. "The terms of reference are clear. Considering the history of our country, when these (racial) complaints are made they must be investigated," Goolab said.
Pedersen said, "We are firmly committed to transformation in South Africa and in the health sector. I don't agree that the findings of the CMS investigation will come to nothing, as the CMS has the power to recommend its findings for legislative bodies. He said Medscheme only pays valid claims, and that is when they require patients' confidential information. "The need is not to access confidential information," added Perdesen.
As the day's hearings drew to a close, the SAHRC's Jones said the commission would consider the submissions before determining the next step. Parties would be able to make written submissions to senior Human Rights Commission Officer Matthew du Plessis.
The SAHRC hauled medical aids over the coals after they admitted they do not know the racial demographics of the healthcare practitioners on their networks. "Understanding our historical context, South Africans were segregated along racial lines. If you want to transform the industry, you still have to ascertain how many people are benefiting from our network. How many practitioners? How many females? How many black, coloured, Indian people are there in our network?" The Times reports SAHRC Gauteng manager Buang Jones inquired.
He was speaking after Broomberg said during their submissions to the SAHRC they have no demographic breakdown of the roughly 35,000 healthcare practitioners on their healthcare network. "We don't know the race profile of practitioners. We literally do not know. We don't presume to look at a surname and decide that Mr Jones is black, white or coloured. We do not possess race information or gender information of our practitioners."
Broomberg said they could break down the numbers according to different types of doctors.
Jones said: "It's really disappointing that Discovery doesn't see this as important to have a demographic profile of healthcare practitioners who are part of their network so that as the commission we get to understand how many practitioners are benefiting from this network."
Goolab at GEMS is quoted in the report as saying during their testimony: "There is no race recorded on GEM's systems … We receive the information from the Board of Healthcare (Funders of SA)."
Medscheme's Pedersen said: "We do not have that information stored on that system."
Discovery Health, GEMS and Medscheme all argue that they rely on whistle-blowers for fraud investigations, according to a Beeld report. Broomberg said 53% of an average 10 000 fraud investigation are prompted by whistle-blowers. "One cannot suspect a medical scheme of racism if the motivation for the investigation is external."
The balance of the investigations are prompted by fraud detection software with no data on the race profiles of patients or providers.
Broomberg added that Discovery Health processes 275,000 claims a day. It is impossible to scrutinise each claim before payment. The scheme therefore relies on automatic retrospective statistical analysis to identify possible abuse after the fact.
Goolab said GEMS use exactly the same system, but refer possible fraud to the authorities as it doesn't have the capacity to recover these funds.
Pedersen said it was part of a scheme's fiduciary duties to ensure that fraud, waste and abuse of members' funds are curbed.
Tim Cohen writes in the Daily Maverick that recently at the CMS's inaugural Fraud, Waste and Abuse Summit, it was estimated that fraudulent practices cost medical aid scheme members somewhere between R22bn and R28bn a year. That would constitute about 25% of all premiums paid by South Africa's 8.8m medical aid members.
Cohen writes if there were no fraud, medical aid bills would come down by a quarter, and given the way they have been escalating that would be a very welcome discount.
He writes that when a fraud is suspected, a medical aid scheme requests an interview with the medical professional, and, of course, this ends up being a pretty tough interview. Often, to assess whether the doctor had seen the patients or clients he or she claimed to have treated, the medical aid demands to see the patients' files. Cohen wries that it's a touchy point for privacy reasons, but often there is no other way.
If there is fraud, the medical aids demand the money back, and if it's paid and the fraud is not serious, they stay on the payment system. But if it is serious, they get booted, and that is a big, big problem for medical professionals.
Cohen quotes Gumede as saying that the vast majority of people who have been cut off are black. There have been "one or two" white people, but 99% of those who have brought their complaints to the NHCPA are black, he said. The medical aid schemes, he says, are so powerful and rich, they are able to bully people into submission. And he makes the tricky point that handing over patient case files is an invasion of privacy. The medical aid schemes "hold all the cards," he says.
But, writes Cohen, the problem for Gumede and the NHCPA is that correlation is not causation; just because the majority of victims of medical aid banning orders are black doesn't necessarily mean they are being targeted on a racial basis.
But, he says, it does, obviously and sadly, say something about the skewed nature of South African society – and perhaps also the tendency to see problems that are essentially social in nature through a racial lens.
Times Select report (subscription needed)
The Times report
Daily Maverick report
The Times report[/link]
Daily Maverick report