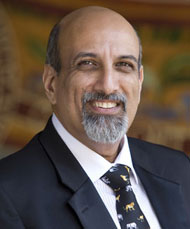 Professor Salim Abdool Karim, director of the Centre for the Aids Programme of Research in South Africa (Caprisa) at the University of KwaZulu-Natal and professor of epidemiology at Columbia University in New York, has received Africa's most prestigious award for science, the $100 000 (R1.1m) Kwame Nkrumah Award.
According to a Sunday Tribune report, the award was handed over to Karim at the AU general assembly in Addis Ababa by the chair of the AU commission, Dr Nkosazana Dlamini Zuma.
In an interview shortly before his departure for Addis Ababa, Karim said he was "humbled and honoured" by the award. "It is significant because it is recognition for the role African medical research is playing in addressing the Aids pandemic in Africa. It also honours the dedicated teams of scientists in South Africa and elsewhere that have never given up hope of finding solutions to stopping deaths from TB/HIV, which remains one of Africa's biggest killers."
In conferring the award, the commission acknowledged Karim "for great scientific achievement and contribution through science for the socio-economic development of Africa". Karim said momentous headway had been made in treating and preventing Aids, including making a gel which had been shown to stop the Aids virus from penetrating the body during sex, but the commitment to use many of these interventions was slow to catch on. "We might come up with new approaches and solutions to improve HIV prevention and treatment, but if there is not the public buy-in, it doesn't help. We have to find a way to stop the death march of TB/HIV. There are ways to prevent the thousands of unnecessary deaths." In addition, reducing the incidence of HIV in young women between the ages of 15 and 25 was critical, said Karim. "We have to find ways of getting good science that works, into clinical practice."
Karim admits these are "bigger than big" challenges. And yet, a wealth of new strategies and clinical trials and studies are waiting in the wings as part of the next generation of prevention and intervention methodology. "Science is always about taking very small steps, but as long as we continue taking those steps and accepting that along with success are setbacks and disappointments, we will triumph in the end."
Full Sunday Tribune report (subscription needed)