There's big money being made in dispensing advice on social media platforms, with the estimated earnings of Dr 'Pimple Popper' Sandra Lee in the region of $13,000 per sponsored Instagram posting.
A study from price comparison website comparethemarket.com.au  has analysed the followings of some of the best known medical professionals online, as well as estimates how much they could be earning per sponsored post on Instagram.
Many of the medical professionals included in the research have built up loyal followings online, sharing their medical expertise and giving an insight into life on the front line – and are making a profitable sideline income by doing so.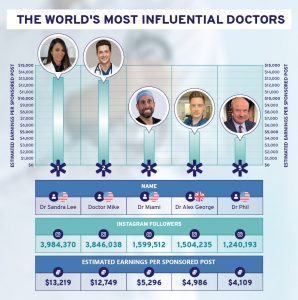 Perhaps better known as 'Dr Pimple Popper', Sandra Lee tops the list as the most famous doctor on social media. Her feed, showcasing videos of her popping pimples and removing cysts isn't for the faint of heart but has earned almost 4 million followers, a highest estimated earning of $13,219 per sponsored Instagram post, and her own TV show.
Following closely behind in second place is Doctor Mike (aka Mikhail Varshavski) who also holds the title of People magazine's 'Sexiest Doctor Alive' for 2015 , which could go some way to explaining how he's built up over 3.8 million  followers on Instagram.
Ranking in third place is Dr Miami (or Michael Salzhauer), a plastic surgeon, who is estimated to be earning $5,296 per sponsored Instagram post, thanks to his 1.6 million followers on the social media platform. Dr Miami gained fame for his fairly graphic video posts of procedures such as butt lifts, liposuction and breast surgeries, and has worked with a number of celebrity clients over the years.
In fourth place is Dr Alex George with 1.5m Instagram followers and earning an estimated $4,986 per sponsored post. Dr Alex rose to fame on TV's Love Island in 2018. However, he's also a working doctor for the United Kingdom's National Health Service (NHS), and now combines his role as a social media influencer with his day job. This means his Instagram is a blend of updates from his daily life, posts around mental and physical wellbeing and weekly health Q&As.
In fifth place, Dr Phil with 1.2m Instagram followers earns and estimate $4,109  per sponsored post. Perhaps the original 'medical influencer', Dr Phil McGraw has been a household name in the US for over 20 years as host of his own advice show. While he holds a doctorate in clinical psychology, his focus has been firmly on the entertainment world for the past few years.
The full findings from comparethemarket.com.au