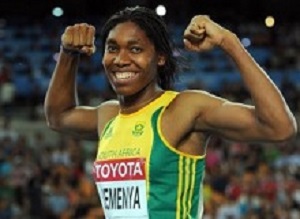 The study the International Association of Athletics Federations relied on to decide a new regulation on intersex athletes, like Caster Semenya, was flawed and should be withdrawn by the British Journal of Sports Medicine, say a group of leading sports scientists.
Times Select says the scientists analysed the report used to back attempts to force athletes such as Caster Semenya to medically reduce her testosterone levels to compete.
South African sports scientist Ross Tucker, of the University of Cape Town, Norwegian sports doping expert Dr Erik Boye and the director of the Sports Governance Centre at the University of Colorado, Dr Roger Pielke Jnr, have called on the British Journal of Sports Medicine (BJSM) to retract the report.
BJSM editor Dr Karim Khan is quoted in the report as saying a statement on the matter would be issued soon and that the journal was always open to suggestions for improvement. The trio of scientists allege some of the numbers used in the study were fake and others were incorrect.
The IAAF requires all intersex athletes running the female 400m to one-mile events to medically lower their testosterone levels to double that of 99% of the levels of female athletes. This new regulation is set to come into effect in November.
The report says the IAAF has relied on a 2017 study it commissioned to support the policy. The study, by French sports scientist Dr Stephane Bermon and medical doctor Dr Pierre-Yves Garnier, shows that very high testosterone levels in athletes provide a 5% advantage to them in five track (running) events.
Semenya is taking the IAAF to the Court for the Arbitration of Sports to challenge the new policy that she must medically lower her natural testosterone levels.
Abstract
Objective To describe and characterise serum androgen levels and to study their possible influence on athletic performance in male and female elite athletes.
Methods 2127 observations of competition best performances and mass spectrometry-measured serum androgen concentrations, obtained during the 2011 and 2013 International Association of Athletics Federations World Championships, were analysed in male and female elite track and field athletes. To test the influence of serum androgen levels on performance, male and female athletes were classified in tertiles according to their free testosterone (fT) concentration and the best competition results achieved in the highest and lowest fT tertiles were then compared.
Results The type of athletic event did not influence fT concentration among elite women, whereas male sprinters showed higher values for fT than male athletes in other events. Men involved in all throwing events showed significantly (p<0.05) lower testosterone and sex hormone binding globulin than men in other events. When compared with the lowest female fT tertile, women with the highest fT tertile performed significantly (p<0.05) better in 400 m, 400 m hurdles, 800 m, hammer throw, and pole vault with margins of 2.73%, 2.78%, 1.78%, 4.53%, and 2.94%, respectively. Such a pattern was not found in any of the male athletic events.
Conclusion Female athletes with high fT levels have a significant competitive advantage over those with low fT in 400 m, 400 m hurdles, 800 m, hammer throw, and pole vault.
Authors
Stéphane Bermon, Pierre-Yves Garnier
Times Select report (subscription needed)
BJSM comment
BJSM abstract