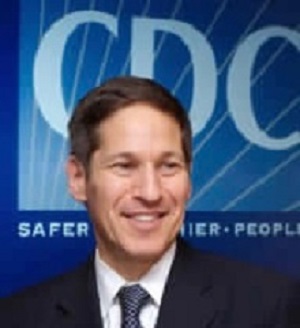 Tom Frieden, former director of the US Centres for Disease Control and Prevention, is starting a new initiative to tackle some of global health's thorniest issues: cardiovascular disease and epidemics.
Frieden, a former New York City health commissioner who spent seven years leading the CDC during the Obama administration, is quoted in a Chicago Tribune report as saying he chose those two issues based on his "unique vantage point of surveying the world and seeing where there were areas that really are at a tipping point." Strategic investment and action in each of these areas can make substantial differences, he said.
The report says the $225m initiative, called Resolve aims to reduce the global burden of heart disease and stroke, the world's leading causes of death. It also will focus on helping low- and middle-income countries fight infectious disease epidemics by strengthening laboratory networks so emerging threats are identified promptly, and training disease detectives to track and investigate disease outbreaks, including those that circulate in animals and jump to humans.
The report says Frieden led the CDC longer than any director since the 1970s. Some of the major disease outbreaks that took place during his tenure include the 2009 global H1N1 swine flu pandemic, the deadly respiratory virus known as MERS, and the Ebola and Zika epidemics.
Resolve will be housed in a New York-based public health non-profit organization called Vital Strategies, which operates in more than 60 countries. The report says the initiative's five-year funding is coming from some of the biggest names in global public health: Bloomberg Philanthropies ($100m), the Chan Zuckerberg Initiative ($75m) and the Bill and Melinda Gates Foundation ($50m). "I hope five years from now we'll look back and see this was the inflection point for rapid progress in preventing global cardiovascular disease deaths and improving epidemic preparedness," Frieden said. "In a few years, we hope that blood pressure control, sodium reduction, elimination of trans fats and strong public health systems will have become the new normal."
Cardiovascular disease causes about 18m deaths per year, an estimated 31% of all deaths worldwide. In lower-income countries, nearly half of those deaths are in people younger than 70, Frieden said. Progress has stalled because "there is virtually no money going into this space," he said. "Globally, very few countries are reducing sodium or trans-fat or treating high blood pressure effectively." But with proven strategies, the initiative aims to save more than 100m lives over 30 years, he said.
In the US, progress has also slowed in preventing stroke deaths, according to a recent CDC report. The report did not identify the reasons for the slowdown, but other studies have pointed to increased numbers of Americans with stroke risk factors such as high blood pressure, obesity and diabetes.
The report says global health security was a top priority for the Obama administration, which created a partnership in early 2014 to prevent deadly outbreaks from spreading, and sought to help countries bolster their capacity to detect and monitor infectious diseases in the wake of the Ebola epidemic. Although the collaboration has resulted in more than 50 countries posting public "report cards" about their readiness to battle epidemics, "the fact is, most countries are still not prepared and there is limited progress in closing the gaps that have been identified," Frieden said. "The world now needs to step up and accelerate these countries to close those gaps."
Bill Gates, co-chair of the Bill and Melinda Gates Foundation, said: "While our foundation typically focuses on infectious diseases because they disproportionately affect the world's poorest, we are increasingly concerned about the growing rate of cardiovascular disease in low- and middle-income countries."
The report says Resolve will also support and work closely with the World Health Organisation, the Bloomberg School of Public Health at the Johns Hopkins University, the CDC, the World Bank and the Campaign for Tobacco-Free Kids.
As CDC director, Frieden was often frustrated by the months-long delays in securing critical funding for pressing public health emergencies, such as Zika. "One of the things that makes me particularly gratified to have this opportunity is the ability to move quickly" and the freedom to choose where to work and with what organisations, he said.
The initiative will have about 10 to 15 staff members in New York City, but also will be able to draw from Vital Strategies' staff of 100 people in Manhattan and 300 people globally.
The report says a New York native, Frieden is once again working closely with his old boss, former mayor Michael Bloomberg, who supported many of the high-profile public health campaigns Frieden started as head of the city's department of health and mental hygiene. During Frieden's tenure, the number of smokers dropped significantly, and New York City became the first place in the US to eliminate trans-fats from restaurants and require certain restaurants to post calorie information.
The design of the Resolve initiative will be similar to the programme Bloomberg Philanthropies began a decade ago to reduce tobacco use, the report says.
"There are proven strategies every country can use to prevent deaths from heart disease, stroke and epidemics – but progress has been painfully slow," Health-e News reports that Friedan writes in The Lancet. He says, however, that strategic investments in three areas, "increasing global control of blood pressure, sodium reduction, and eliminating artificial trans fats – could deliver rapid progress".
Dietary sodium, or salt, is a major contributor to high blood pressure which in turn places a person at significant risk of developing heart disease. But only 14% of the 1.4bn people on the planet with high blood pressure have it under control, placing them at risk of stroke, heart attacks, kidney damage and other health issues, according to Resolve. Its aim is to reduce global sodium intake by 30%.
According to Resolve, trans-fats cause over half a million deaths globally a year and they are calling for their total elimination in foods.
"The world's leading cause of death is largely preventable, and we can't sit back while people suffer needlessly," said Bloomberg. "We know what measures are proven to help reduce sickness and death from cardiovascular diseases. Every step we take to spread those measures will make a difference. Saving 100m lives would be an extraordinary achievement – and it's within our reach."
Summary
10 years ago, we suggested a way to prevent 100 million deaths from tobacco.1 That initiative, grounded on the WHO Framework Convention on Tobacco Control, led to the creation of the MPOWER technical package, which in the past decade has newly protected about 3·5 billion people with effective tobacco control strategies, reduced tobacco use prevalence substantially, and prevented 30 million deaths.2,3 As that work continues, today, along with global partners, we are launching a new cardiovascular health initiative—Resolve—to prevent an additional 100 million deaths globally.
Authors
Tom Friedan
[link url="http://www.chicagotribune.com/lifestyles/health/ct-tom-frieden-global-health-initiative-20170913-story.html"]Chicago Tribune report[/link]
[link url="https://www.health-e.org.za/2017/09/13/reducing-heart-attacks-strokes-save-100-million-lives/"]Health-e News report[/link]
[link url="http://www.thelancet.com/journals/lancet/article/PIIS0140-6736(17)32443-1/fulltext"]The Lancet viewpoint[/link]