For the first time, firearm-related injuries surpassed motor vehicle crashes as the leading cause of death for children and teenagers in the US in 2020, according to an analysis of recent Centers for Disease Control and Prevention data published in the New England Journal of Medicine.
Axios reports that overall, there were 45,222 firearm-related deaths of all types — suicide, homicide, unintentional and undetermined — in 2020, a new peak for the country, according to the analysis.
By the numbers: Gun-related deaths among people aged between one and 19 years old jumped 29.5% from 2019 to 2020, more than double the increase in the general population.
• The most common types of gun-related deaths in those age groups were homicide and suicide.
• Rates of firearm mortality per 100,000 people in those age groups were highest among black children and adolescents, followed by Native American or Alaska Native children and adolescents.
In a letter to the editor of the journal, the researchers wrote that this latest data was "consistent with other evidence that firearm violence has increased during the COVID-19 pandemic" and that the reason for the increase was "unclear".
• They warned that "it cannot be assumed that firearm-related mortality will later revert to pre-pandemic levels".
• "Regardless, the increasing firearm-related mortality reflects a longer-term trend and shows that we continue to fail to protect our youth from a preventable cause of death," they wrote.
Additionally, they wrote that drug overdoses and poisoning had increased by 83.6% from 2019 to 2020 among children and adolescents, becoming the third leading cause of death in that age group. They said this change was largely explained by the 110.6% increase in unintentional poisonings from 2019 to 2020.
"The rates for other leading causes of death have remained relatively stable since the previous analysis, which suggests that changes in mortality trends among children and adolescents during the early COVID-19 pandemic were specific to firearm-related injuries and drug poisoning; COVID-19 itself resulted in 0.2 deaths per 100,000 children and adolescents in 2020," they said.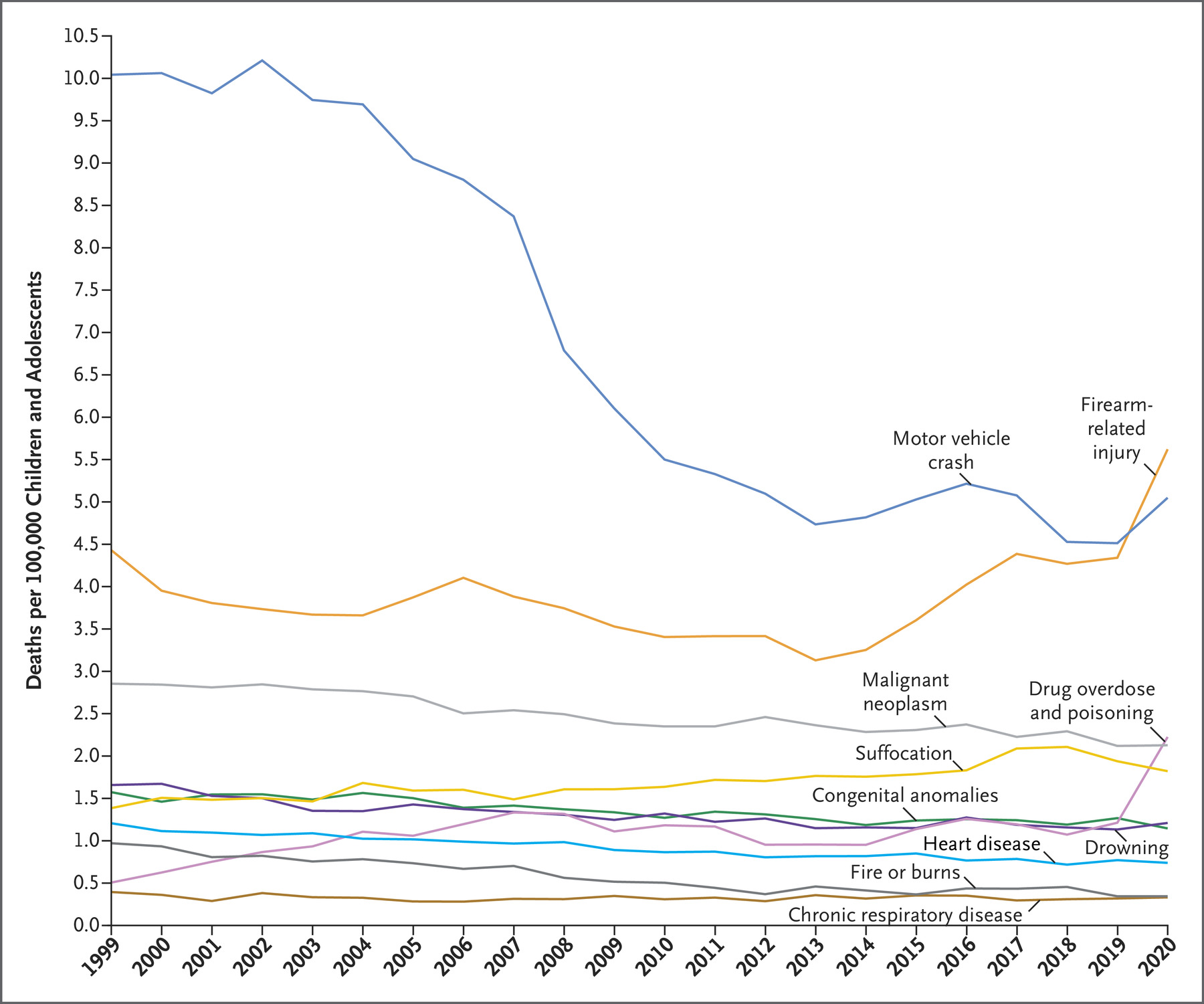 Axios article – Guns were leading cause of death for youth in 2020 (Open access)
NEJM letter – Current Causes of Death in Children and Adolescents in the United States (Open access)
See more from MedicalBrief archives:
Firearms overtake car crashes as cause of years of potential life lost in US trauma deaths
CDC report shows gun-related deaths rising in the US
Huge costs linked to hospitalisations for firearm-related injury in the US