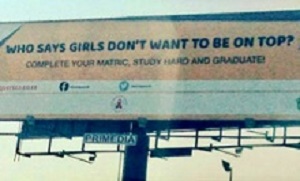 The National Department of Health has defended a She Conquers campaign billboard next to the N1 in Johannesburg after accusations that it contained sexual innuendo. The department, which con-sponsors the campaign, said in a News24 report that the public had "misinterpreted" the billboard's meaning.
The report says the billboard evoked strong emotions on social media, with one Facebook user threatening to lay a complaint with the Advertising Standards Authority of South Africa. The first line of the billboard reads: "Who says girls don't want to be on top?" "Complete your matric, study hard and graduate," the second line reads in a smaller font.
The department's deputy director-general for the HIV' TB' and maternal and child health programmes, Yogan Pillay, said the billboard "certainly does not" feature any sexual innuendo. "It is unfortunate that someone would read that into the billboard. If one reads the second line, you will clearly see that the billboard is aimed at encouraging women to complete their studies," Pillay is quoted in the report as saying.
He said the She Conquers campaign is aimed specifically at trying to reduce the roughly 2,000 new HIV cases reported among women each week and the high rate of high school drop-outs due to teenage pregnancy. "We ran focus groups with young people to try and figure out how young people speak to make sure our campaign is effective. We want to try our best help girls achieve success in the future." He said several similar billboards had been placed across Gauteng.
Vuyiseka Dubula-Majola, programme director at Sonke Gender Justice, said the billboard was missing context. She said in the early 2000's the billboards of loveLife, a youth HIV prevention initiative, had attracted the same criticism. Billboards, in general, did not give adequate information about the subject they were supposed to be addressing, she said. "I am not a big fan of using billboards. Billboards are very dodgy and tricky."
Dubula-Majola said in the report that information sessions and workshops with students should always accompany the use of billboards not only to help explain the message but because "we don't live in a society where everyone is literate, so those who want to know more need to have access to that information". "It will just irritate people if they don't know what it means."
Health department spokesperson Popo Maja said the She Conquers campaign sought mainly to empower girls and young women to be top achievers through education "to ensure that they don't depend on blessers". "The Department will never communicate messages that promote sexual discrimination and sexuality," Maja said.
According to its website, She Conquers is a three-year national campaign that aims to improve the lives of adolescent girls and young women in South Africa. It was launched in 2016, the report says.
[link url="http://www.news24.com/SouthAfrica/News/girls-on-top-billboard-misinterpreted-health-department-20170913"]News24 report[/link]