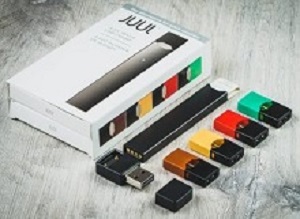 Popular US e-cigarette manufacturer Juul is one of the fastest growing vaping companies around. It has been targeting youngsters and adolescents with flavoured e-cigarettes. The company has recently come under scrutiny for steadily raising the nicotine content of its e-cigarettes, writes Dr Ananya Mandal for News Medical.
A report stating the rise of nicotine in Juul's e-cigarettes and its impact on other vaping companies was published in the latest issue of the BMJ journal Tobacco Control in a study titled, "Nicotine arms race: JUUL and the high-nicotine product market". It comes from a team of Stanfordresearchers led by Dr. Robert Jackler, founder of Stanford Research into the Impact of Tobacco Advertising and co-authored by Divya Ramamurthi.
Experts in the report said that the e-cigarettes have undone the decades of public health messages and campaigns that have tried to keep children and teenagers away from nicotine.
The company initially used 1 to 2 percent nicotine refills that has been ramped up to 5 percent refills. This has spurred other vaping companies to raise their nicotine levels as well and now almost all refills are at 5 to 7 percent.
"When Juul came out with very high-nicotine electronic cigarettes, it triggered a nicotine arms race amongst competitive companies seeking to emulate the success of Juul," Jackler said.
A 5 percent pod can deliver nicotine amounts equivalent to a pack of cigarettes, write the authors of the study. Jackler explained that these high amounts of nicotine may "be a benefit to addicted adult smokers," who were trying to quit smoking, "but it also makes it potently addictive to nicotine-naive teenagers."
Researchers report that Juul had developed the "nicotine salt" which masks the bitter taste of nicotine and allows consumers to take in more amounts. This rise in nicotine levels in their products has not only made the e-cigarettes more addictive but also more affordable as well. The refills are mostly priced on the pod and not the refill. United Kingdom and Israel have restricted their sales to 1.7 percent refills only while Americans are getting the higher end refills.
There is a steady rise in vaping among teenagers in the US and health advocates are calling upon restricting laws and regulations from the US Food and Drug Administration.
The FDA said in its 2017 statement that it is "committed to encouraging innovations that have the potential to make a notable public health difference and inform policies and efforts that will best protect kids and help smokers quit cigarettes.
"This action will afford the agency time to explore clear and meaningful measures to make tobacco products less toxic, appealing and addictive," the agency said.
Juul spokeswoman Victoria Davis said in a statement: "As part of our commitment to prevent underage use, we are taking swift and decisive action against counterfeit and infringing products."
Nicotine arms race: JUUL and the high-nicotine product market
Authors
Robert K Jacklerand Divya Ramamurthi
Abstract
Until recently, purveyors of vaping products marketed e-liquids in the 1%–3% range of nicotine concentration with those at 3% described as 'super high' intended for two packs/day smokers. The goal of this study is to evaluate the degree to which JUUL, with its 5% nicotine and 75% US market share, has spurred other e-liquid vendors to raise the nicotine levels of their products.
Methods 
Online search to identify brands offering e-liquid in exceptionally high nicotine concentration (≥5%) and to catalogue the appearance of devices which emulate JUUL.
Results
JUUL compatible pods (14) and JUUL knock off devices (39) were identified which offer equal or higher nicotine than JUUL. More than 70 e-liquid brands sell high-nicotine products (≥5%) in bulk (≥30 mL) equivalent to >40 cigarette packs. All of these products come in multiple youth appealing sweet and fruity flavours. It was noted that nicotine percentage is inconsistently reported (eg, JUUL is 5% by weight vs 5.9% by volume).
Conclusions 
JUUL has triggered a widespread rush among aerosol purveyors to market e-liquid in unprecedentedly high nicotine concentrations. The rapidly rising popularity of high-nicotine e-liquids threatens to addict a generation of youth.
When sold in large quantity bottles (eg, 30 mL) they represent a childhood poisoning risk. Labelling of nicotine concentration in e-liquids needs to be standardised to avoid consumer confusion. The addictiveness and toxicity of these products makes it imperative that regulators act swiftly to enact protective measures.
JUUL raises nicotine levels in its e-cigarettes
Nicotine arms race: JUUL and the high-nicotine product market