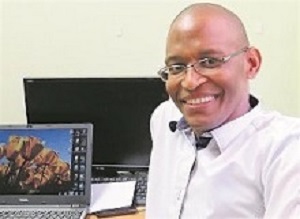 A Mahikeng doctor defied burning tyres and barricaded roads to deliver eight babies, four by Caesarean, when violent strike action virtually closed down the hospital, reports City Press.
Amid the barricaded roads, burning tyres and black smoke that dominated Mahikeng, George Mothupi looked no different from other frustrated pedestrians without public transport. Residents were calling for the removal of North West Premier Supra Mahumapelo. Given the turmoil on the streets, he could have stayed at home, safe behind closed doors.
But, the report says, Mothupi could not. Come rain or hail, someone had to do it. "The matron told me there was a patient who needed acute care. It was not going to be possible for the patient to be transferred anywhere with roads barricaded. A doctor was needed on site urgently," Mothupi recalled.
The 43-year-old medical specialist with over two decades of experience could not ignore a call from that panic-stricken matron at Mahikeng Provincial Hospital, where he is in charge of the maternity unit. The hospital was almost deserted. Very few medical staff reported for duty that day. Fear of victimisation had escalated as the violent protest spread across the town. The hospital had already been under strain long before the protests, due to a strike in the North West Department of Health. With all access roads barricaded, most doctors and nurses failed to reach their workplace that Thursday last week.
He lives within walking distance of the Mahikeng CBD, but the hospital is on the other end of town. The report says Mothupi swapped his usual formal wear for a pair of jeans and takkies before beginning his long walk. He left home just after 3pm, with only his cellphone in his pocket.
"Town was strangely quiet with all businesses closed. I decided to join a few others who were walking towards the hospital but was worried about the protest-ridden Danville township between myself and the hospital," he said. Suddenly, he felt adrenalin rush through his body, which brought him great mental strength. "It was the adrenalin of the unknown. What's going to happen when I pass Danville and on the other side? What's going to happen to that patient if I don't get there?
"I walked as far away from the crowd barricading the road as I could." He said he arrived at a group of youths who had set up a "tollgate" and were demanding R10 to let people pass. "I don't know how I managed to pass that point without paying, but I did."
The report says just over 30 minutes and more than 3km later, Mothupi walked into his unit at the hospital and asked himself, with a great sense of relief, how he had managed to get there. His face covered in sweat and his shoes in dust and black ash from burnt tyres, he hit the ground running. In no time, an emergency Caesarean section was performed and, when all was done, a new-born was delivered safely and the mother was out of danger.
"I arrived on time. It could have been worse if time was wasted or I had decided not to come at all," Mothupi said. Little did he know that his day was just beginning.
The report says having arrived at the hospital around 4pm, Mothupi delivered a total of eight babies by 8pm. Three of them were Caesarean births.
In the end, he could still not go home given the situation outside. Just one thought brought a smile to his face. "What drives us is to see that smile on the patient. They're dear to our hearts. Maternity care is something else because here we're taking care of a pregnant mother and an unborn baby. I call them my cocaine. My patients make me the happiest man and there I was, mission accomplished, lives saved and babies delivered."
He had been so busy he skipped lunch. Only that evening did Mothupi started feel hunger pangs. "Tea and coffee were finished. Shops were closed and there was no chance of leaving the hospital premises given the unrest outside," he said. "I spent the night there, drinking water only. I went home around 11am the next day after some doctors and nurses reported for duty. I slept the whole day," he quipped.
Would he do it again? "Definitely, I will. Luckily I do jog often which I think helped me a lot with that walk," the soft-spoken doctor said without hesitation.
City Press report