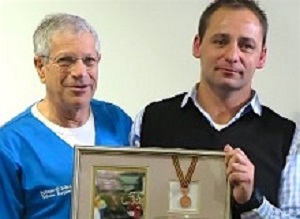 A man who completed the Comrades Marathon for the first time since being impaled on a 1.8m crowbar has handed his Comrades Marathon medal to the trauma surgeon who played a leading role in saving his life. "This is not only from me, I am speaking on behalf of so many patients treated here at Netcare Milpark Hospital," Danie de Wet said just days after completing the 90km ultra marathon, as he handed over the framed medal to Professor Kenneth Boffard, director of the internationally renowned trauma programme at the facility.
De Wet and his wife, Liezl, expressed their profound gratitude, particularly to Boffard, his team and the Netcare 911 paramedics who worked together to save his life after the freak accident in January 2015. "I want to thank you for the professional and caring manner in which all of you – including the paramedics, trauma surgeons and nurses, as well as other healthcare professionals – dedicate yourselves to saving other people."
De Wet, an engineering supervisor, was airlifted to Netcare Milpark Hospital after being impaled on a nearly two-metre metal industrial crowbar, known as a 'gwala', 3.5km underground at a mine in Carletonville. He had been using the gwala while washing out an underground dam when he suddenly slipped and the metal bar penetrated his body, entering the groin and sticking out just below his shoulder blade.
Fortunately, interventions by the mine's rescue team, Netcare 911 paramedics and helicopter emergency medical service and the surgeons and nurses at Netcare Milpark Hospital trauma centre contributed to de Wet's life being saved and he walked out of the hospital just 19 days after his dramatic accident.
Netcare Milpark Hospital was the first private hospital in the country to be accredited as a level 1 trauma centre by the Trauma Society of South Africa and also incorporates the first private burns unit in the country.
"We can't stop saying thank you, not only for saving my life but, through the grace of God, for giving me a second chance to be a father, a good husband and share my story of hope with others. When you think things are going badly in your life, have faith, because miracles can and do happen," de Wet said as he presented his 2018 Comrades Marathon medal to Boffard. De Wet completed the ultra-marathon in 11 hours and 30 minutes. "I must say the race was tough. When I reached 60km, I really started to feel exhausted but my wife and the many people supporting me gave me the inner strength to carry on and finish the race," de Wet recalls.
Boffard, who is the current secretary-general of the International Society of Surgery, spoke about the unusual case and the extraordinary patient whose remarkable recovery made international headlines.
"This is the 'gwala' that formed an intimate association, for want of a better term, with Mr De Wet that day in January 2015," he said, picking up the long-galvanised metal rod that the medical team extracted from de Wet's body, and which de Wet donated to the hospital's trauma centre after his discharge as a mark of his appreciation and symbol of hope for other trauma injury survivors.
"When we were treating him, towards the time when we were getting ready to discharge him, I spoke to Mr de Wet and told him: 'Now you're getting well again and I'm going to give you a challenge. Before the accident, you were a runner and super fit, and now you are going to get well, and the problem of being well is that it comes with responsibilities," Boffard recounts.
"One of those responsibilities is my challenge to you: I challenge you to run the Comrades again'… and, can you believe it, he actually took me seriously."
Boffard remembers that he was in Sweden when the news reached him that de Wet had qualified for the 2018 Comrades Marathon – his first since his accident and seventh Comrades overall. "On Sunday, the day of the race, half our world was following your progress."
He presented the de Wets with a special glass sculpture depicting a family of elephants, with a plaque engraved with the words: "Recognising Daniel and Liezl de Wet and their family who accepted a challenge and were an example to all on the road to recovery".
"On behalf of all of us, every staff member who contributed to helping you get well, we have great respect for you and your family, and for what you have achieved," Boffard said to the de Wets. "Despite all the odds, you have done something remarkable," he concluded.
[link url="http://www.netcare.co.za/Articles/ArticleID=690"]Netcare material[/link]