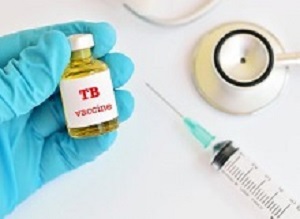 The University of Cape Town (UCT) and international researchers are hopeful that infants born to HIV-positive parents could in future not be dependent on the traditional TB vaccine that puts them at risk of contracting the deadly disease – should modern-day viral-vectored vaccines prove to be effective.
The Sunday Independent reports that results from a clinical trial that is testing a vector vaccine MVA85A on HIV-exposed children (born to HIV-positive mothers) show that the vaccine is not only safe on new-born babies, but it also induced an immune response and did not interfere with immunogenicity of subsequent BCG vaccination.
The study tested a new concept in which MVA85A was used as a prime vaccine while the traditional TB vaccine, BCG, was used as a boost. While BCG is a live mycobacterial vaccine that carries a safety risk for infants with immune-suppression such as HIV infection, researchers hope that a viral vectored MVA85A would avoid this potential risk.
Vector vaccines such as MVA85A are liquid or freeze-dried preparations of one or more types of live micro-organisms that are non-pathogenic or have a low pathogenicity.
This study tested a new concept in which the candidate vaccine (MVA85A) was administered first as a prime at birth, followed by a BCG as a boost.
Dr Elise Nemes, a lead researcher and senior scientist at UCT's SA Tuberculosis Vaccine Initiative (SATVI), said even though the TB vaccine research has gained momentum in recent years, there were still major obstacles.
A new generation of TB vaccines and strategies, which offered greater protection than the existing BCG, needed to be developed and tested, especially in HIV-endemic countries.
"We found that MVA85A was safe and induced an early modest-immune response that did not interfere with or enhance an immune response induced by a subsequent BCG vaccination. This study tested for safety and immunogenicity only. A larger study would be required to test for protection against TB."
The report says new vaccine has not been without controversy, though. Early this year an editorial in the British Medical Journal (BMJ) raised questions about the use of the vaccine on infants, claiming that the vaccine was linked to the deaths of monkeys. The journal alleged that scientists who tested the vaccine on 1400 babies in Worcester between 2009 and 2011 failed to communicate the information to participants that five out of six macaque monkeys given the MVA85A vaccine at a UK lab died prematurely.
The journal called for new guidelines to improve the conduct and reporting of animal research and for a review of animal data to form a basis for clinical trials in humans.
But, the report says, South African scientists have refuted this information. Professor Mark Hatherill, director of SATVI, who was also part of the Worcester study, including the latest research, said the trial of 1,400 infants showed that MVA85A was safe in HIV-unexposed infants.
The latest study also showed that MVA85A was safe in HIV-exposed infants. "MVA85A vaccine has a large body of safety data from clinical trials in humans, including infants and HIV-infected people. MVA85A was selected for use in this study because the vaccine had the largest body of safety data for vaccines of this type," he said.
Hatherill said the latest study, which was done in conjunction with Stellenbosch University's Desmond Tutu TB Centre and Oxford University, didn't test the efficacy of the candidate vaccine against TB but showed proof of the concept that viral-vectored vaccines could be safely used and produce an immune response when used before BCG.
"The question of whether that strategy can provide additional protection against TB disease would still have to be tested in both HIV exposed and unexposed infants. We previously showed that MVA85A was safe but did not show additional protection against TB in almost 1400 HIV unexposed infants, so this strategy would not be tested using MVA85A, but with future viral-vectored vaccines."
The report says globally, tuberculosis remains one of the biggest challenges facing public healthcare systems in low- and middle-income countries. About 1.7m people around the world die due to TB each year, while in South Africa more than 33,000 die from TB every year.
South Africa is one of the countries worst affected by the killer disease, with the WHO having estimated TB incidence here to be at 454,000 in 2015. That means 0.8% of the population develops active TB every year. Almost 60% of those infected with TB are also HIV-positive, which is believed to add stigma to this disease.
The report says the WHO estimated there were 19,000 cases of drug-resistant TB in South Africa, up from 7350 in 2007.
Researchers argue that while anyone can be infected with TB, children born to HIV-positive mothers are at an increased risk, including those who remain HIV-negative. A staggering one in three pregnant women are HIV-positive and it is estimated that 50,000 HIV-positive babies are born each year.
To mitigate the impact of exposure, a vaccine strategy could be developed to protect those infants, regardless of their HIV exposure.
Hatherill said in the report that the latest results show that giving a viral-vectored vaccine at birth, followed by BCG, is a safe and feasible strategy for testing new viral-vectored and possibly subunit vaccines.
"It is likely that future vaccines to be tested in this strategy would be selected based on demonstration of protection in HIV-unexposed infants," he said.
Abstract
Background: Vaccination of human immunodeficiency virus (HIV)-infected infants with bacille Calmette-Guérin (BCG) is contraindicated. HIV-exposed newborns need a new tuberculosis vaccination strategy that protects against tuberculosis early in life and avoids the potential risk of BCG disease until after HIV infection has been excluded.
Methods: This double-blind, randomized, controlled trial compared newborn MVA85A prime vaccination (1 × 108PFU) vs Candin® control, followed by selective, deferred BCG vaccination at age 8 weeks for HIV-uninfected infants and 12 months follow-up for safety and immunogenicity.
Results: A total of 248 HIV-exposed infants were enrolled. More frequent mild–moderate reactogenicity events were seen after newborn MVA85A vaccination. However, no significant difference was observed in the rate of severe or serious adverse events, HIV acquisition (n = 1 per arm), or incident tuberculosis disease (n = 5 MVA85A; n = 3 control) compared to the control arm. MVA85A vaccination induced modest but significantly higher Ag85A-specific interferon gamma (IFNγ)+ CD4+ T cells compared to control at weeks 4 and 8 (P < .0001). BCG did not further boost this response in MVA85A vaccinees. The BCG-induced Ag85A-specific IFNγ+ CD4+ T-cell response at weeks 16 and 52 was of similar magnitude in the control arm compared to the MVA85A arm at all time points. Proliferative capacity, functional profiles, and memory phenotype of BCG-specific CD4 responses were similar across study arms.
Conclusions: MVA85A prime vaccination of HIV-exposed newborns was safe and induced an early modest antigen-specific immune response that did not interfere with, or enhance, immunogenicity of subsequent BCG vaccination. New protein-subunit and viral-vectored tuberculosis vaccine candidates should be tested in HIV-exposed newborns.
Authors
Elisa Nemes, Anneke C Hesseling, Michele Tameris, Katya Mauff, Katrina Downing, Humphrey Mulenga, Penelope Rose, Marieke van der Zalm, Sharon Mbaba, Danelle Van As, Willem A Hanekom, Gerhard Walzl, Thomas J Scriba, Helen McShane, Mark Hatherill
The Sunday Independent report
Clinical Infectious Diseases abstract