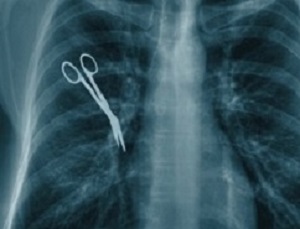 Gauteng Health has paid out over R1bn since January 2015 to settle medical negligence, yet not a single disciplinary actionhas been taken against any of the staff involved, reports City Press. Total potential liability claims  stand at R13.5bn.
More than R1bn has been coughed up for medical negligent payouts since January 2015, but no action has been taken against Gauteng Health Department professionals. City Press reports that this is according to DA Gauteng spokesperson for health, Jack Bloom who was quoting a written response by Gauteng Health MEC Gwen Ramokgopa to questions from the DA. The response showed that the provincial health department paid more than R1.017bn since January 2015, to settle 185 medical negligence claims.
"But the shocking thing really is that despite paying out so much money, having caused so much of injury to patients, no disciplinary action whatsoever has been taken against any of the staff involved in the incidents," Bloom said today.
Another 51 negligence cases are currently before the courts.
Bloom said that this amount excluded the Life Esidimeni saga, which is currently ongoing. "No amount of money can compensate for the agony and misery endured by the victims of medical neglect," Bloom said.
The report said Ramokgopa revealed that 76% of payments related to cases of brain-damaged babies as the largest category of negligence. The hospital with the largest cases of negligence was Chris Hani Baragwanath, which has resulted in R514m in payouts to 44 claimants.
The five largest payouts were: R36 795 413 for cerebral palsy caused by brain damage at birth due to Junior Ntokoza Buthelezi at Chris Hani Baragwanath Hospital; R33 469 290 for cerebral palsy caused by brain damage at Baragwanath; R29 989 117 for brain damage at Natalspruit Hospital; R24 596 364 for brain damage at Baragwanath; and R18 947 295 for cerebral palsy caused by brain damage at Baragwanath.
Bloom said that court-ordered payments for medical negligence had risen every year. "According to the latest Gauteng health department annual report, the total potential medico-legal liability claims is now an astounding R13.5bn," he said.
Bloom said that the big question about these large amounts which have been paid out should be why they can't allocate the money towards resources and skills training since they say that they have no budget for negligent payouts, when "negligence shouldn't actually be happening in our hospitals to begin with".
The report says in a written response to questions, the Gauteng Department of Health's spokesperson for the MEC, Khutso Rabothata, said that "the department does not budget for negligence because it is considered to be fruitless and wasteful expenditure and therefore budgeting for negligence is in contravention of the Public Finance and Management Act."
Of the 185 cases in which pay-outs had been made in the past two-and-a-half years' seven cases involved blindness caused by negligence, reports The Times. Paraplegia was caused in three cases. In one case' a nurse left a cleaning pad inside a mother's womb at a hospital.
"This is the country's richest province'" said Bloom. Medical negligence cases are probably even worse in the lesser resourced provinces' he said' but people did not know their rights or may not have lawyers to assist them.
According to the report, Bloom pointed out that at South Africa's biggest hospital' Chris Hani Baragwanath' babies were involved in a far higher number of pay-outs compared to other big hospitals that also had many births. "Why is the Chris Hani Baragwanath Hospital number of pay-outs so much higher than the number of Charlotte Maxeke Academic Hospital pay-outs?" he asked. "There is something drastically wrong at the maternity ward at that hospital. This needs to stop. What are you doing to stop this avalanche of cases?" he asked of the provincial health department.
"Hospitals should be where you go to get cured and not to get injured."
Rahima Moosa Mother and Child Hospital has about 13'000 births a year and Baragwanath about 20'000' but Rahima Moosa had five negligence payouts and Baragwanath had 35.
"It says to me there are state hospitals that largely get it right. They do things better. They are not injuring so many babies at birth'" said Bloom in the report. Health Minister Aaron Motsoaledi has previously noted that the National Department of Health had R48bn in medico negligence claims lodged against it. That is a third of its annual budget of R181m.
City Press report
The Times report