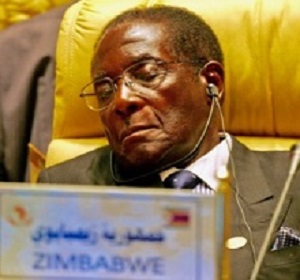 Typhoid and cholera are never far from the headlines in Zimbabwe, writes Dianna Games, CEO of Africa @ Work in a Business Day column. She says in 2008, the country lost more than 4,000 citizens to one of the worst outbreaks of cholera the world has seen adding that it was not the first occurrence, nor the last.
Games writes: "Many people have resorted to using dirty, untreated water in cities where utilities, worn down by years of neglect, fail to deliver services. Many citizens in the capital, Harare – where the worst outbreaks of disease have been felt – have not had municipal water for more than a decade. The problems are worsened by widespread and growing poverty, with unemployment above 90% as economic hardship continues to bite."
So, writes Games, the outrage over the aborted appointment of President Robert Mugabe as a World Health Organisation goodwill ambassador is appropriate, despite the government's attempts to dismiss it as a western plot. She says that Mugabe has presided over the steady destruction of a health system that was once one of Africa's best. A dire shortage of drugs and basic equipment have spawned many horror stories of unnecessary deaths.
Games writes: "Although Mugabe's appointment related to non-communicable diseases, a point his supporters have vociferously pointed out, this cannot be seen in isolation of the broader health system. It is a system in which the president seems to have little interest.
"Like many of his peers across Africa, he prefers not to use it. While the government claims it has no money to spend on public health, Mugabe freely and regularly spends the country's scarce foreign exchange on medical trips to Singapore. First lady Grace Mugabe would not even deign to use local facilities to treat a sprained ankle earlier in 2017. She jetted to Johannesburg, where she could deal with her luxury property portfolio simultaneously.
"Just a few months ago, Mugabe hosted the 67th session of the WHO's regional committee meeting for Africa at Victoria Falls. He was feted by delegates who were well shielded from Zimbabwe's hardships during their visit to the resort town on the edge of the country.
"It is probably easy in an environment of back-slapping and mutual-admiration junkets that pass for UN conferences to think that Mugabe is a hero; that the suffering of his citizens is not important or that tales to this effect are exaggerated.
"That Mugabe was head of the AU when the organisation endorsed Tedros Adhanom Ghebreyesus, Ethiopia's former health and foreign minister, as Africa's first WHO director-general in May could have also informed the decision to make such an inappropriate appointment."
Games writes that Mugabe still has many fans and admirers who have not had to live under his authoritarian and bankrupt rule. His name carries weight in many circle although less as the years roll on – and he undoubtedly enjoys the international attention.
Games says at home his popularity is at a new low. But he remains all-powerful and uninterested in the damage he has wrought on his people.
Games writes: "Political expedience is his main driving force. Always looking for a new angle, Mugabe has started courting the youth vote for the 2018 elections, undaunted by the fact that his self-serving and destructive policies have robbed at least one generation of a decent future in their home country.
"Mugabe and his wife have been travelling around Zimbabwe, addressing a succession of 'youth interface' rallies arranged by the governing party's youth league. The rallies are a distraction for a leader dealing with ugly succession battles and serious economic problems. But young people are an important voting bloc, especially now that the president's previously loyal war veterans have gone cold on him. And the league's sycophantic leaders offer the kind of rhetoric Mugabe welcomes."
Games says it is hard to imagine why the young people of Zimbabwe would support this ageing autocrat. Many have left the country with or without their parents, millions have no jobs and even more have no prospects under a government that has not had a new idea in decades.
But he has got away with his harmful political shenanigans for so long that he, unsurprisingly, believes himself to be invincible. Many of his supporters, who have assimilated years of unrelenting rhetoric and excuses about the causes of their increasing poverty, also think that he is invincible.
Games says he prizes his image as an elder statesman and saviour of his country. So, the WHO reversal will have come as a blow, no matter how his spin doctors play this and whoever they choose to blame for it.
[link url="https://www.businesslive.co.za/bd/opinion/2017-10-27-zimbabwe-disease-disasters-justify-mugabes-removal-as-who-envoy"]Business Day editorial[/link]