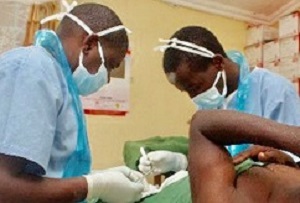 Roughly 250 traditional circumcisions lead to penile amputation every year in South Africa, with one response being penile transplantation, as carried out in 2014 at Tygerberg Hospital. A Stellenbosch University study argues that given limited healthcare resources and competing healthcare needs, prevention is a more appropriate response.
Every year in South Africa, as has probably been the case for centuries, young men undergo circumcisions as part of traditional rites of passage. However, write Keymanthri Moodley, department of medicine, Centre for Medical Ethics and Law, Stellenbosch University and Stuart Rennie, department of social medicine, UNC Centre for Bioethics, University of North Carolina Chapel Hill, over the past few decades there has been a reported rise of botched circumcisions leading to a number of complications, including penile amputation and death.
Currently, it is estimated that roughly 250 traditional circumcisions lead to penile amputation every year in South Africa; for 2015, there were 57 deaths during the summer circumcision season and 44 deaths during the winter season and 27 initiates died during the summer of 2016.
The South African government's official position is one of deep concern. The Ministry of Health has made it mandatory for traditional surgeons to register with the Department of Health. The Ministry of Co-operative Governance and Traditional Affairs has started to visit initiation schools and some arrests have been made. Despite these measures, traditional circumcisions by unqualified practitioners, some leading to permanent injury and death, continue unabated.
On 11 December 2014, a team of South African urologists and reconstructive surgeons at Tygerberg Hospital in South Africa performed what was hailed as the first successful penile transplant in the world on a 21-year-old victim of a botched traditional circumcision. While the long-term success of the operation remains to be seen, the patient's sexual function appears to have been restored, given that his girlfriend has reportedly become pregnant.
Technically, however, this was not a first. In 2006, a penile transplant was conducted in Guangzhou, China. After the operation, the Chinese patient resumed normal urinary function, and there were no signs of infection or tissue rejection. However, 2 weeks later, the patient experienced significant psychological distress, and the transplant was reversed by the surgical team at the patient's request.
More recently, reports emerged about proposed penile transplant surgery to be offered in the US to wounded war veterans who suffered genitourinary injuries in Iraq and Afghanistan. On 8 May 2016, the first US penile transplantation took place with a patient with cancer in Massachusetts General Hospital.
More recently, on 21 April 2017, the surgical team of Professor van der Merwe at Tygerberg Hospital conducted a second penile replacement operation.
In our view, advances in penile transplantation in South Africa and elsewhere should not be an occasion for simple medical triumphalism. What significance does the ability to perform penile transplants have for young men in rural South Africa mutilated by traditional circumcision rites?
The researchers have presented arguments in favour of promoting penile transplantation – including the use of public health funding – as a response to cases of severe penile injury in developed country settings. They also present counter-arguments and reasons for scepticism relative to the South African context.
Abstract
Traditional male circumcision is a deeply entrenched cultural practice in South Africa. In recent times, there have been increasing numbers of botched circumcisions by untrained and unscrupulous practitioners, leading to genital mutilation and often, the need for penile amputation. Hailed as a world's first, a team of surgeons conducted the first successful penile transplant in Cape Town, South Africa in 2015. Despite the euphoria of this surgical victory, concerns about the use of this costly intervention in a context of severe resource constraints have been raised. In this paper, we explore some of the ethical implications of penile transplants as a clinical and public health response to the adverse consequences of traditional male circumcision. Given the current fiscal deficits in healthcare and public health sectors, how can one justify costly, high-technology interventions for conditions affecting a small section of the population? Since botched traditional male circumcisions are preventable, is a focus on penile transplantation as a form of treatment reasonable? Finally, do such interventions create undue expectations and false hope among a highly vulnerable and stigmatised group of young men? In this paper, we argue that given limited healthcare resources in South Africa and competing healthcare needs, prevention is a more appropriate response to botched traditional circumcisions than penile transplants.
Authors
Keymanthri Moodley, Stuart Rennie
[link url="http://jme.bmj.com/content/early/2017/07/28/medethics-2016-103515"]Journal of Medical Ethics abstract[/link]