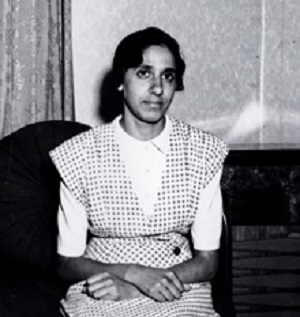 Dr Hawa Patel, one of the first female black medical graduates from the University of Cape Town, recently died in Canada, aged 93. Through a bequest, the MBChB bursary she established in 2009 will continue its work.
Dr Hawa Patel graduated MBChB in 1948. Amidst difficult times at post-war University of Cape Town, Hawa graduated as one of the first female "non-white" (a term used at the time) medical graduate – amongst a cohort of 1, 196 female students at UCT at the time. She often spoke of her experiences being the only woman in the class and "non-white" to boot. These were difficult political times in the Faculty and the university – which are elucidated in the book, The University of Cape Town 1918-1948 – The Formative Years (p. 323).
Hawa's obituary published in the Vancouver Sun on 17 December, 2016, provides a glimpse of her journey after graduation, from Cape Town to England, China, Iraq and ultimately a professorship at the University of British Columbia in Canada. She also served as consultant neuro-paediatrician at the Vancouver Children's Hospital up to and after her retirement.
Howa was schooled at the historically-important Trafalgar High School in District Six, Cape Town, passing matric with six distinctions. She was awarded a scholarship to attend UCT. A family friend recalls that Hawa's father felt strongly the need to invest in the minds of all of his children, many of who became specialists in their fields from medicine and nursing, to geology and geography living and working across the globe. Against all odds, the Patels were a truly remarkable family for the period of the late 30s and 40s in apartheid South Africa, and they inspired others to persevere with their studies.
Hawa received financial assistance during her time as a student and felt the need to pass that assistance along to other MBChB students and she therefore established the Aisha (Ka-Asa) Mohamed and Gadija (Sissie) Bayat Memorial Bursary in Medicine in 2009. The bursary is also named in recognition of the support provided by her Cape Town aunts during her studies.
A letter of thanks received from the latest student supported by the bursary sums up the ethos of the award, "Being able to fulfil my dream of studying medicine has been a blessing. Especially since there was never any question of my family being able to pay my way through university…. To me, becoming a doctor is about more than curing disease. It's about understanding patients as people and looking after their holistic wellbeing. That is why I chose this degree so that I can help and heal people wherever and whichever way they need. …. thank you for your financial support in helping me fulfil my dream."
"Through her bequest to the University, Hawa Patel's support will continue well into the future as we continue with the Aisha (Ka-Asa) Mohamed and Gadija (Sissie) Bayat Memorial Bursary in Medicine, and create The Hawa Patel Memorial Bursary Fund," says Professor Gonda Perez, deputy dean for student affairs.
"Dr Hawa Patel is thankfully acknowledged for her support over the years, and into the future through her generous bequest."
Obituary:
University of Cape Town material