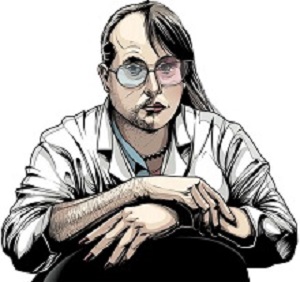 Acclaimed Stanford University neuroscientist, Dr Ben Barres, has died, 20 months after being diagnosed with pancreatic cancer. He was 63. Barres' path-breaking discoveries of the crucial roles played by glial cells – the unsung majority of brain cells, which aren't nerve cells – revolutionised the field of neuroscience.
Barres was incontestably visionary yet, ironically, face-blind – he suffered from prosopagnosia, an inability to distinguish faces, and relied on voices or visual cues such as hats and hairstyles to identify even people he knew well. And there were many of them.
A professor of neurobiology, of developmental biology and of neurology, Barres was widely praised as a stellar and passionate scientist whose methodologic rigour was matched only by his energy and enthusiasm. He was devoted to his scholarly pursuits and to his trainees, advocating unrelentingly on their behalf. He especially championed the cause of women in academia, with whom he empathized; he was transgender.
Barres' research focused on the nine of every 10 cells in the human brain that aren't nerve cells, or neurons. They're called glial cells or, collectively, glia.
"Ben pioneered the idea that glia play a central role in sculpting the wiring diagram of our brain and are integral for maintaining circuit function throughout our lives," said Dr Thomas Clandinin professor of neurobiology, who assumed the role of departmental chair in April 2016 when Barres, who had held the position from 2008 until then, was first diagnosed with pancreatic cancer. "People had thought glia were mere passive participants in maintaining neural function. Ben's own work and that of his trainees transformed this view entirely."
When Barres first began studying them, glia, whose name comes from the Greek word for glue, were thought to be not much more than packing peanuts, supplying positional stability and various nutrients to the brain's much more talented neurons. But Barres and the numerous trainees who cycled through his lab showed otherwise. Glial cells, they proved, are critical to sustaining the overall architecture of the brain's constellation of synapses, through which neurons pass signals to one another. Recent evidence from Barres' lab indicates that glia gone wrong may be to blame for many of the neurodegenerative disorders that vex humanity.
Intent on determining exactly how glia influence brain function and dysfunction, Barres typically worked until midnight or later throughout his career. Early on, he generated tools that allowed each of the three distinct types of glial cells to be purified and cultured in a way that retained all of their functionality, so they could be studied in a dish with a previously unobtainable acuity. Rather than jealously guard his methods and reagents, Barres took pains to make them widely available to others just as, later on, he did with the voluminous data his lab was able to generate with them.
"He had a selfless, outward-looking focus," Clandinin said. "I've gone a lot of places in the months since Ben was diagnosed, and I haven't gone anywhere yet where someone hasn't come up to me and asked me about how Ben was doing. Every one of them has a story about how he helped them in their career."
In doing so, Barres seeded an entire field of scientists studying glia, said Dr Andrew Huberman, an associate professor of neurobiology at Stanford who was Barres' postdoctoral advisee from 2005 through 2010. "He didn't have these normal territorial issues all of us have," Huberman said. "He always gave more than he took. If ever there was an example of a purpose-driven life, it's Ben. His passion was for science. His obsession was glia. His mission was to bring equality to how people are treated and promoted in science."
Born 13 September, 1954, Barres grew up in West Orange, New Jersey, one of four children in a not well-to-do family. He got his first taste of science in the West Orange Public Library, developed an affinity for microscopes and chemistry sets, and became a high school math star. Attending the Massachusetts Institute of Technology on a scholarship, he earned a bachelor's degree in life science there in 1976 and headed to medical school at Dartmouth University, where he obtained an MD in 1979.
During his subsequent internship and residency in clinical neurology at Cornell University, Barres grew increasingly frustrated at physicians' inability to provide cures or even to understand the causes of neuronal degeneration. He was struck by the observation, in pathologists' specimens of degenerating brain tissue, of irregular-appearing glial cells' ubiquitous presence near the lesions.
Bent on finding out why, Barres changed course. He returned to academia, enrolling in a graduate program in Harvard Medical School's neuroscience programme in 1983, and published several research papers by the time he received his PhD in neurobiology in 1990. Then he embarked on a postdoctoral fellowship in the lab of Dr Martin Raff, a professor of biology at University College London who was using immunological techniques to tease apart the three classes of glial cells.
Working under Raff, Barres pushed forward and unearthed new insights concerning the best-known glial class: oligodendrocytes, cells stuffed with a fatty substance called myelin. These fat-filled cells were already understood to wrap themselves around neurons' lengthy projections, a process called myelination, providing electrical insulation and vastly increasing the transmission speed and reliability of neuronal impulses. Barres showed, among other things, that electrical activity in neurons was necessary for neurons' myelination.
Barres would routinely work in the lab until 2 or 3 a.m., said Raff. "He slept on the floor of my small office. Every morning when I arrived and opened the door, it would whack him in the head — he eventually learned to sleep facing the opposite direction."
In 1993, Barres moved from University College London to an assistant professorship in Stanford's department of neurobiology. He was promoted to associate professor of neurobiology and of developmental biology in 1998, and to a full professorship in 2001. In 2008, he became chair of neurobiology. From 2005 on, he was the director of the Masters of Science in Medicine Degree Programme for PhD students, which he had created.
At Stanford, Barres turned his attention to a second class of glial cells known as astrocytes. These are the most common cells in the human brain, outnumbering neurons by a factor of four or so. Before Barres began focusing on them, nobody really had understood what astrocytes do for a living. With his colleagues, he discovered that they are crucial to the physical formation of synapses, as well as to those synapses' functional activation. He and his colleagues also discovered that astrocytes cooperate with microglia – third glial-cell type that's become the object of much recent attention in Barres' lab – in pruning away excess synapses during foetal and neonatal development, in essence preserving brain circuitry that's proven itself to perform legitimate activities and clearing out the dead wood.
Barres never lost sight of his original goal: to figure out the molecular and cellular causes of the brain tissue degeneration seen in Alzheimer's, Parkinson's and Huntington's diseases; multiple sclerosis; amyotrophic lateral sclerosis, or Lou Gehrig's disease; and glaucoma, an optic-nerve degenerative disease. Research in Barres' lab has strongly implicated inflamed or "reactive" astrocytes and microglia as drivers in all of these neurodegenerative disorders – most recently, in a 2017 Nature paper describing how certain reactive astrocytes secrete something that kills stressed or injured neurons. In an interview about this study, Barres described these findings as "the most important discovery my lab has ever made."
Barres, who was transgender, was an outspoken champion of marginalised minorities in academia and society, not infrequently digressing for a few minutes during his scientific talks to point out the differences he'd personally experienced in how other scientists treated him when they perceived him as a woman versus as a man.
Barres spent his last days and final hours making sure that the letters of recommendation he had written for others were ready. "In what time remains to me that will be my highest priority," he assured trainees in a letter he sent to them in early November.
Over the course of his career, Barres' published 167 peer-reviewed papers, organised and chaired numerous meetings, won many awards and served on the editorial boards of Science, Neuron, the Journal of Neuroscience, the Journal of Cell Biology, Glia, Current Biology and more. He was elected to membership in the American Association for the Advancement of Science, the American Academy of Arts and Sciences, the National Academy of Sciences and the National Academy of Medicine.
"If you took the Barres lab out of the field of glial studies, there would be no field," Raff said.
[link url="https://med.stanford.edu/news/all-news/2017/12/neuroscientist-ben-barres-dies-at-63.html"]Stanford University material[/link]