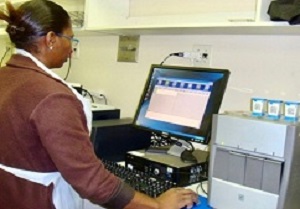 The roll-out of the GeneXpert Ultra has started. With its increased sensitivity and capacity to more accurately identify rifampicin resistance, it is expected to improve markedly tuberculosis (TB) diagnosis in South Africa.
Compared to the current generation of GeneXpert TB testing, in clinical trials, the Ultra version showed a 6% increase in sensitivity for the detection of TB with an increase of 17% among smear-negative culture positive participants and 14% among HIV co-infected participants. The test is performed using the same specimen types, specimen volumes, current GeneXpert instrumentation platforms, and the same specimen processing protocols.
According to South Africa's National Health Laboratory Service (NHLS), the Ultra test is more sensitive than GeneXpert as it identifies different multi-copy amplification targets as well as improvements in assay chemistry and cartridge design. Ultra also reports semi-quantitative categories as GeneXpert (very low, low, medium and high), but additionally includes a new category termed 'trace'.
The criteria for interpreting 'MTB detected trace' result is covered during training and automated comments will be included on TRAK in alignment with the diagnostic algorithm. The Xpert MTB/RIF Ultra assay runs on the newly upgraded GeneXpert software version 4.7b (applies to GX4 & GX16 system platforms) and the Infinity platform software version 6.5a.
Implementation of the Xpert MTB/RIF Ultra assay national roll-out will follow a phased approach moving from province to province, commencing in Gauteng. The training of laboratory staff will align with the Xpert MTB/RIF Ultra rollout plan, be conducted prior to site reagent changeover and updated documentation and assay files distributed ahead of Ultra kit shipments.
Communication of schedules will allow for workflow planning prior to initiating each phase roll-out.
Abstract
The Xpert MTB/RIF assay (Xpert) is a rapid test for tuberculosis (TB) and rifampin resistance (RIF-R) suitable for point-of-care testing. However, it has decreased sensitivity in smear-negative sputum, and false identification of RIF-R occasionally occurs. We developed the Xpert MTB/RIF Ultra assay (Ultra) to improve performance. Ultra and Xpert limits of detection (LOD), dynamic ranges, and RIF-R rpoB mutation detection were tested on Mycobacterium tuberculosis DNA or sputum samples spiked with known numbers of M. tuberculosis H37Rv or Mycobacterium bovis BCG CFU. Frozen and prospectively collected clinical samples from patients suspected of having TB, with and without culture-confirmed TB, were also tested. For M. tuberculosis H37Rv, the LOD was 15.6 CFU/ml of sputum for Ultra versus 112.6 CFU/ml of sputum for Xpert, and for M. bovis BCG, it was 143.4 CFU/ml of sputum for Ultra versus 344 CFU/ml of sputum for Xpert. Ultra resulted in no false-positive RIF-R specimens, while Xpert resulted in two false-positive RIF-R specimens. All RIF-R-associated M. tuberculosis rpoB mutations tested were identified by Ultra. Testing on clinical sputum samples, Ultra versus Xpert, resulted in an overall sensitivity of 87.5% (95% confidence interval [CI], 82.1, 91.7) versus 81.0% (95% CI, 74.9, 86.2) and a sensitivity on sputum smear-negative samples of 78.9% (95% CI, 70.0, 86.1) versus 66.1% (95% CI, 56.4, 74.9). Both tests had a specificity of 98.7% (95% CI, 93.0, 100), and both had comparable accuracies for detection of RIF-R in these samples. Ultra should significantly improve TB detection, especially in patients with paucibacillary disease, and may provide more-reliable RIF-R detection.
[link url="http://mbio.asm.org/content/8/4/e00812-17.full"]mBio abstract[/link]
[link url="http://who.int/tb/features_archive/Xpert-Ultra/en/"]WHO report[/link]