South Africa's biggest life insurers received 22,544 mortality claims against fully underwritten life policies in the 19 months after the start of the first wave of COVID-19 in March 2020 until the end of September 2021, reports Business Day.
The figures are according to the most recently updated death claims dashboard maintained by the continuous statistical investigation (CSI) committee of the Actuarial Society of SA (Assa), which shows the pandemic caused a huge upswing in the number of life insurance claims.
The dashboard shows that insurers experienced just more than 1,186 death claims a month on average against fully underwritten new-generation life policies during the 19 months, compared with their usual experience of between 600 and 700 claims a month.
The dashboard also shows that monthly death claims peaked at about 2,700 at the height of the second and third waves of infections, about a fourfold increase over their usual monthly average and compared with a book of about 2,09m fully underwritten new-generation life policies. The claims statistics contained in the dashboard were submitted by five of the country's biggest life insurers, which represent about 85% of individual life insurance premiums in SA.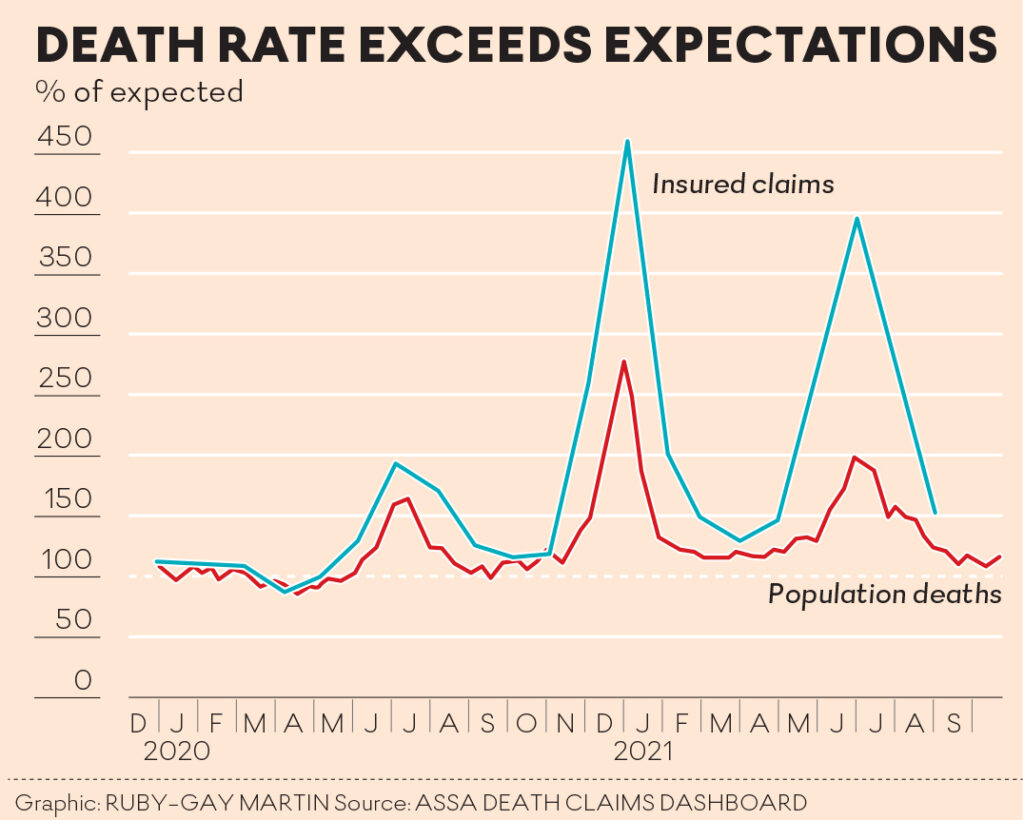 Anja Kuys, chair of the Assa's CSI committee, says that of the 22,544 death claims insurers received in the 19 months 4,163 were due to confirmed COVID-19 cases.
She says this is because death certificates in SA do not specify whether COVID-19 was the cause of death and only state whether a death was due to natural or unnatural causes. Insurers also sometimes classify COVID-19 deaths as pneumonia, organ failure or natural causes, which can further skew the picture.
Assa's death claims dashboard also shows that the excess death rate for life insurance policyholders far exceeded that recorded for the overall population as per SA Medical Research Council (SAMRC) data. However, Kuys says this is because the average age of life insurance policyholders is above that of the general population.
"The numbers provided by the SAMRC include children, a group that fortunately did not experience excess deaths during the pandemic," said Kuys.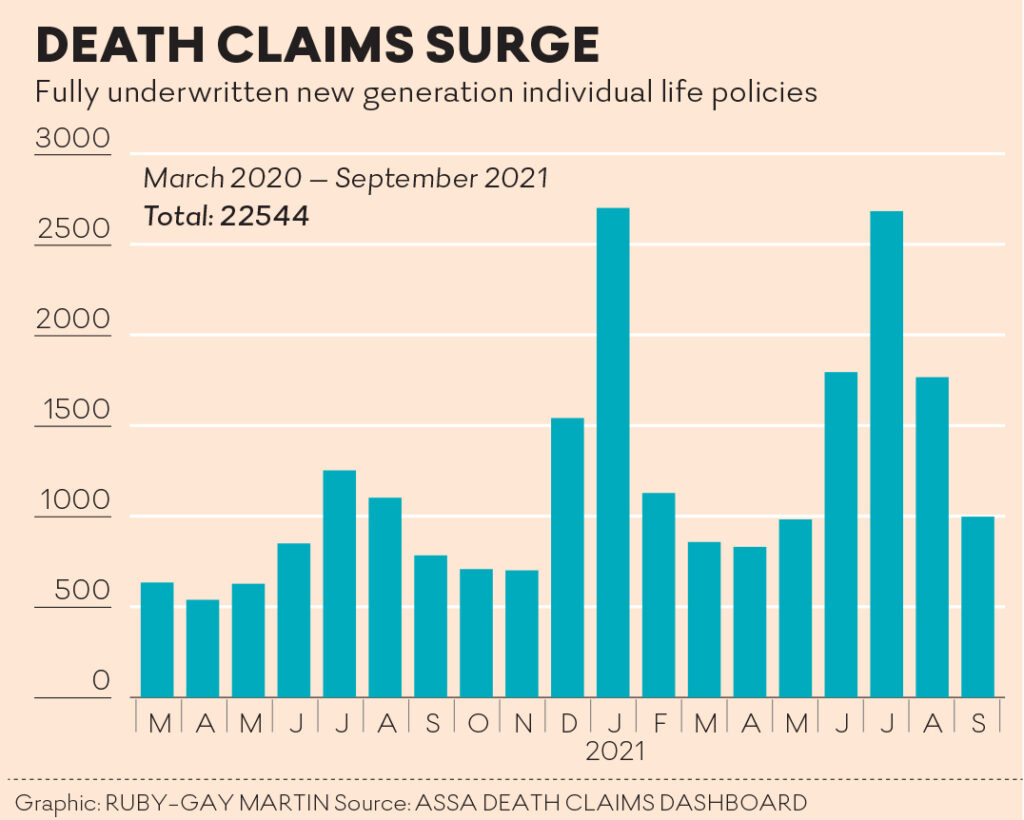 SA has so far had 3,18m recorded COVID-19 cases and more than 90,000 recorded fatalities due to the virus.
Business Day article – Life insurers hit by 22,544 death claims since start of Covid-19 (Restricted access)
See more from MedicalBrief archives:
Discovery analysis: COVID-19 death claims exceed all others combined
COVID linked to year's 43% surge in policyholders' death claims
Healthcare workers make up 60% of Discovery Life's claims