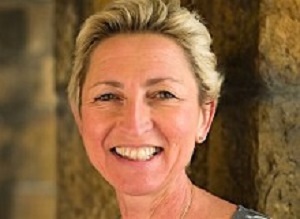 South African HIV scientist Professor Linda-Gail Bekker has been awarded the 2018 Desmond Tutu Award for HIV Prevention Research and Human Rights at a conference in Madrid, Spain, reports Health-e News. Named in honour of anti-apartheid cleric Desmond Tutu, the award is presented every two years to an individual or organisation that has worked in an outstanding manner to advance both HIV prevention research and the human rights of people affected by HIV.
"Linda-Gail Bekker is a tireless and innovative leader of efforts to ensure effective HIV prevention for all," said Z Mike Chirenje, co-chair of the HIV Research for Prevention (HIVR4P) conference. "From her clinics in the impoverished Masiphumelele and New Crossroads townships of Cape Town, to her role as chief operating officer of the Desmond Tutu HIV Foundation and in her capacity as immediate past president of the International AIDS Society, Linda-Gail's fearless advocacy and personalized models of care have saved lives and helped to break down barriers of stigma and discrimination in HIV prevention."
The report says these clinics are aimed at being user-friendly, especially for young women and girls and men who have sex with men. Her clinics have been known to provide services such as babysitting and clothes washing to individuals who could not otherwise keep their appointments, and sports and computer literacy services for young people using their services.
Bekker is also professor of medicine at the University of Cape Town, and has also led international research studies to develop innovative new HIV prevention methods including HIV vaccines, vaginal rings for HIV prevention and oral and injectable antiretroviral medication as pre-exposure prophylaxis (PrEP). Earlier in the year, Bekker was president of the international AIDS conference in Amsterdam.
"Linda-Gail Bekker reminds us every day that the goals of stopping HIV and protecting the rights of everyone affected by the epidemic are inextricably linked," HIVR4P co-chair Susan Buchbinder of the San Francisco Department of Public Health is quoted in the report as saying. "Her belief in the dignity of all people is the key to her effectiveness – whether she is holding political leaders to account in international policy-making forums or working one-on-one with patients in the clinic."
"I am both delighted and hugely honoured to accept this award," said Bekker. "This award reminds us that, ultimately, all the work we do is to improve the lives and wellbeing of men, women and young people – fellow human beings everywhere – and that's what really matters."
[link url="https://www.health-e.org.za/2018/10/23/sa-scientist-honoured-by-hiv-community/"]Health-e News report[/link]