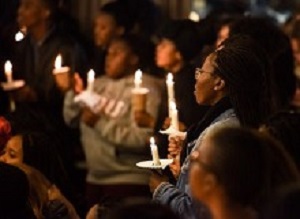 It is impossible to count the ways in which Professor Bongani Mayosi – a cardiologist' researcher' and dean of the health sciences faculty at the University of Cape Town (UCT) – was a role model says a report in The Times. A loving husband and father' a pioneering researcher who discovered the gene that causes heart attacks' a brilliant and much-loved dean… the list goes on.
The report says Mayosi took his own life on Friday of last week' aged 51' and a family statement on Saturday said he had been struggling with depression.
He made his name as one of the world's top cardiology researchers when he discovered the gene that causes heart failure' and by the time he was awarded the Order of Mapungubwe in 2009' he had spent years working tirelessly to improve the health of people in developing countries.
The report says last year' when the National Academy of Medicine in the US elected him among its 80 new members in Washington' DC' he was the only African on the highly prestigious list.
His response at the time showed his passion not just for his work but for his family: "I am indebted to my mentors' my students' my collaborators and' above all' my wife and children who have supported and inspired me over the years'" he said.
Since 2011' Mayosi had been advising Health Minister Aaron Motsoaledi on the policy and strategy for health research in his capacity as the National Health Research Committee chair. And for the past two years' he led the faculty of health sciences at UCT.
The report says born in Mthatha' Mayosi was inspired by his father' also a doctor' to help others. He started studying medicine' focusing on cardiology and all matters related to the heart. He studied at what is now the Nelson Mandela School of Medicine at the University of KwaZulu-Natal' and it was there that he met his dermatologist wife' Nonhlanhla Khumalo.
The pair made their way to Port Elizabeth in 1990' where they worked at the Livingstone Hospital before leaving for Cape Town. After a stint as a registrar in the mid-1990s' Mayosi took up a fellowship at Oxford University in the UK to complete a PhD – and it was there that his interest in cardiology and congenital heart disease flourished. "I decided to embark on a research-focused career in the field of cardiology'" he said' adding that statistically heart disease was the second-biggest killer in South Africa.
Returning to Cape Town in 2001' Mayosi assumed research' teaching and clinical responsibilities in internal medicine and cardiology at UCT and Groote Schuur Hospital. And, the report says in 2006' at the age of 38' Mayosi became the first black person to be made professor and head of the department of medicine at Groote Schuur Hospital and UCT. "We work where angels fear to tread'" he said of the type of research he and his colleagues tackled.
When he and a team of researchers discovered the gene that causes heart failure' he said: "This is only the beginning. The recognition (of the discovery) means we are still at base camp but with a licence to climb Everest." Mayosi said after the discovery he hoped to save lives through prevention rather than cure.
While studying' Mayosi wondered why many people who smoked' drank and did no exercise did not suffer heart attacks' whereas people with healthy lifestyles could have an attack while running marathons. He discovered the answer by isolating the heart attack gene. "My work is about isolating genetic factors'" he said.
The report says apart from being world famous for his gene discovery' he was also highly regarded for his work on preventing rheumatic fever and on TB of the heart. He led a ground-breaking series of multinational research studies into the management of pericarditis' including an African trial of the use of steroids in treating tuberculosis pericarditis. More recently' Mayosi led the first phase of a large-scale' multinational study of rheumatic heart disease.
The UCT fraternity and family members are in mourning following Mayosi's death, says a Daily Maverick report.
In a statement to colleagues and students, UCT vice chancellor Professor Mamokgethi Phakeng said: "Professor Mayosi… will be remembered for his scientific rigour and his dedication to improving public health. Last year a research team led by him made international headlines for identifying a new gene that is a major cause of sudden death by heart failure among young people and athletes. Professor Mayosi's involvement in this research included spending 20 years monitoring a South African family that was affected by this disorder. This is a testimony to his tenacious pursuit of pioneering research that can help save lives.
"Professor Mayosi took up the position of dean in September 2016. His A-rating from the National Research Foundation (NRF) counted him among the ranks of leading international researchers in the view of the NRF. In 2017 he was elected to the US National Academy of Medicine, one of the highest honours in the fields of health and medicine, awarded to individuals who have demonstrated outstanding professional achievement and commitment to service.
"His numerous honours include: election to the Fellowship of the World Academy of Arts and Science (2013); South African Medical Association/Bonitas Medical Fund Merit Award for Health Research (2013); National Science and Technology Foundation – BHP Billiton Award (2012); National Research Foundation Award for Transforming the Science Cohort in South Africa (2011); and the Order of Mapungubwe, Silver (2009) to name just a few."
The vice-chancellor is quoted in the report as saying that his passing "has shocked us as a campus community. I know many colleagues and students will feel the effects of this loss over the time ahead. This is a very sad time for us at UCT and difficult as it is, we will mourn the loss and celebrate the life of Professor Bongani Mayosi with the dignity and integrity that he embodied."
President Cyril Ramaphosa believes Mayosi's death was not only a loss to his family "but to the country as a whole", reports News24. "On behalf of government and South Africans as a whole, we convey our most heartfelt condolences to his family, friends and relatives, and the health science fraternity. May his soul rest in peace," Ramaphosa said.
Mayosi, an A-rated National Research Foundation researcher, was also honoured with the Order of Mapungubwe in silver for his achievements in the international arena which have served South Africa's interests.
The report says National Orders are the highest awards that a country, through its president, bestows on its citizens and eminent foreign nationals.
Parliament has issued a statement honouring the legacy of Mayosi. "Professor Mayosi's death has robbed South Africa of one of the finest brains and passionate health experts who still had so much more to offer the nation," News24 quotes the Parliamentary officials as saying.
The country was indebted to him for his "immense contribution to the country's policy and strategy for health research".
Mayosi's death has been described as a devastating loss, with some of his colleagues saying he was the Nelson Mandela of medicine, reports The Herald. Dr Masonwabe Makrexeni, who is a cardiologist at Dora Nginza Hospital in Port Elizabeth, said Mayosi "was our Mandela in medicine". "Everybody is shaken. My spirit is so low right now," Makrexeni said. "He was like a father to us, a mentor, he set an example. Words really can't describe how shocked we all are and I think it will take some time for the news to really sink in.
"He's from the Eastern Cape and was one of the first to obtain a PhD overseas. He always encouraged others to do the same. His death comes as a big shock. Nobody knew he was struggling (with depression)."
Dean of health sciences at Nelson Mandela University, professor Lungile Pepeta, said Mayosi was a leader in his field. "His death is so shocking. "My condolences to his family and to everyone who ever had the privilege to work with him," Pepeta said. "We worked together on so many research projects. He was a true friend and mentor."
Pepeta said in the report that Mayosi "had many collaborations not only overseas, but in sub-Saharan Africa as well". "We're now left wondering who's going to be the principal investigator in some of his research work."
A long-time friend, Proactive Health Solutions CEO Dr Fundile Nyati described Mayosi as one of the best minds whose brilliance was evident as far back as his high school days in Mthatha in the early 1980s. "He was disciplined. He cruised through the first year of university," Nyati said. "He made his first medical discovery when he took a year to study anatomy. By the time we got to third year, he already had a degree."
According to Nyati, there was a need to understand mental illness in the medical fraternity. "There isn't much attention that is given to the fact that the kind of work doctors are doing requires that they be looked after," Nyati said. "It is that whole notion of who is caring for the carers, who is healing the healers? In the profession, we are taught to be superhuman and look after other people. We ignore our own and are reluctant to open up to colleagues. The issue of stigma and discrimination even among the colleagues is quite rife."
Phakeng said the university was in touch with Mayosi's family. Phakeng said that the family was appreciative of all messages of support and condolence, "but requests that their privacy be respected during this difficult time".
The university will this week mourn, reflect on and celebrate Mayosi's life with several commemoration events planned, including a student-led candlelight vigil. A memorial book, which will be given to the family, will be available on campus for the university family to share their memories of the professor.
In a statement, the Mayosi family said: "Bongani died on the morning of 27 July 2018.
"In the last two years, he has battled with depression and on that day took the desperate decision to end his life."
Dr Richard Friedland, CEO of Netcare, has expressed his profound sadness at the passing of Mayosi. "We at the Netcare Group deeply mourn the loss of a healthcare pioneer of immense stature. South Africa has lost a great and courageous leader in the medical field and someone who fought fearlessly for the transformation and inclusion of black South Africans in healthcare. Professor Mayosi was also an exceptionally talented clinician and cardiologist and one of South Africa's most talented researchers," said Friedland.
"Professor Mayosi was passionate about the education of medical students and the development of South African medical academics. Concerned about the shortage of qualified academic doctors in leadership roles at South African medical schools, Professor Mayosi envisioned the establishment of a PhD scholarship which would give qualified South African black candidates the opportunity to further their studies and research in order to build academic excellence in various fields of medicine."
"One of Professor Mayosi's many achievements is the Hamilton Naki Scholarship which was established in 2007, on the fortieth anniversary of the first heart transplant. The scholarship was the brainchild of Professor Mayosi, to honour the legacy of Hamilton Naki and numerous other South Africans who were denied the chance to fulfil their potential in the field of medicine during apartheid and to ensure the continued progress of medicine in our country," notes Friedland.
"We at Netcare were privileged to join hands with Professor Mayosi's and all of the medical schools of our South African universities by providing the funding for this scholarship initiative under the auspices of the Physician Partnerships Trust, which forms part of Netcare's Health Partners for Life programme."
"Under the leadership of Professor Mayosi, who also chaired the panel of eminent selectors, the scholarship has to date enabled 14 deserving South African medical specialists to undertake post-doctoral studies and research in their respective fields of specialisation, making a meaningful contribution not only towards the advancement of academic medicine in our country and to the benefit of our people but also internationally," Friedland said.
"We express our sincere condolences to Professor Mayosi's family and loved ones. He has left an indelible footprint and enduring legacy in the medical landscape in South Africa and will be deeply missed by all who had the privilege to know him," added Friedland.
[link url="https://www.timeslive.co.za/news/south-africa/2018-07-28-a-giant-falls-uct-heart-pioneer-bongani-mayosi-dies-at-51/"]The Times report[/link]
[link url="https://www.dailymaverick.co.za/article/2018-07-29-uct-devastated-by-death-of-a-rated-professor/"]Daily Maverick report[/link]
[link url="https://www.news24.com/SouthAfrica/News/ramaphosa-extends-condolences-following-death-of-renowned-cardiologist-20180728"]News24 report[/link]
[link url="https://www.news24.com/SouthAfrica/News/family-devastated-by-death-of-professor-mayosi-who-struggled-with-depression-20180728"]News24 report[/link]
[link url="http://www.netcare.co.za/Articles/ArticleID=699"]Netcare material[/link]