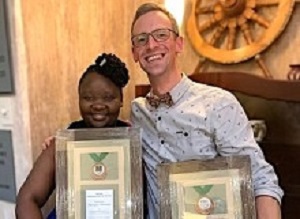 Seven years ago, rural Madwaleni Hospital in former Transkei was going through hard times, with only one doctor available. Today the hospital has greatly improved and two of its staff – Sinovuyo Dimanda and Dr Andrew Miller – have just clinched prestigious awards.
"We are very proud of both of them and the work they do for our deeply rural hospital and community," Dr James Porter, specialist family physician at Madwaleni Hospital and senior lecturer in the Department of Family Medicine at Walter Sisulu University, told MedicalBrief.
Madwaleni is in the impoverished Mbhashe sub-district. "Our hospital has been through many difficult times with only one doctor working available in 2012 to run this 180-bed hospital. However, since 2013, we have gone from strength to strength."
Sinovuyo Dimanda, a clinical associate at Madwaleni – and an up-and-coming local musician – has just been awarded the Clinical Associate of the Year award at the Rural Health Conference 2019. "She is an inspiration to our clinical team and the community, especially as she was born at this hospital and grew up in this deeply rural area," said Porter.
Dr Andrew Miller, acting clinical manager and Family Medicine Registrar at Madwaleni Hospital, won the Rural Doctor of the Year award. "He moved to Madwaleni in 2013 with his wife and they have had two sons here. His home is now Madwaleni and he has dedicated himself to this hospital and this community."
A good news story to remind troubled South Africans of all the good people there are, at a time when it seems that bad might triumph.
Learn more about Sinovuyo Dimanda here: twitter.com/SinovuyoDimanda, facebook.com/sinodimanda
Follow Dr James Porter on Twitter: https://twitter.com/drjamesporter/status/1170062398931251201?s=21