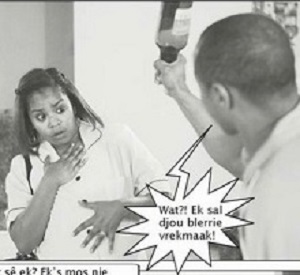 Dr Burt Davis, a lecturer at the Africa Centre for HIV/ Aids Management at Stellenbosch University, received his doctoral degree earlier this month after designing a scientifically-founded photo-novel that dealt with the health risks related to tik. According to a Cape Argus report, the novel is titled Spyt Kom Te Laat (Better Safe Than Sorry) and has been tested in clinics and community centres throughout the province.
Davis said: "Doing a bit of research on photo-novels, I found they have proven to be successful in delivering persuasive health messages on an array of topics and specifically among disadvantaged or underprivileged people, a category in which many tik users fall.
"I grew up loving DC and Marvel comics long before they became cinematic universes, and I love graphic novels.
"Photo-novels are small booklets that portray a dramatic story using posed photographs and text bubbles with simple text usually set in everyday life."
Davis said his supervisor, Professor Carel Jansen from the University of Groningen in the Netherlands and honorary professor at Stellenbosch University, had been conducting research on health-related photo-books in the Netherlands.
The report says Davis compared the effects of three groups of people – those who had read the photo novel, those who had read a traditional brochure, and those who had read nothing.
"I found a knowledge gain for readers of the photo-novel compared with those who did not read anything. I also found higher intentions among photo novel readers to speak to someone about tik compared with those who read a traditional brochure," said Davis.
The report says although his results were inconclusive as to whether a photo novel was more effective than a traditional brochure, the vast majority of people in the experiment said they had preferred reading health information in photo novel format.
"I think what makes this finding valuable, is that it reaching people' implies that if you combine a photo-novel with a brochure, you might increase the chances of the health message reaching people. In essence, that is what we try to achieve in health communication," said Davis.
The report says the script was developed in Afrikaans because it was the dominant language of his target group and was written in a way that it could culturally resonate with audiences. However, the Afrikaans dialogue was heavily mixed with English words and adapted to include colloquialisms.
"The overall idea was thus to make the characters and story seem culturally familiar to the reader in order to establish a personal connection and, ultimately, promote engagement with the story and the characters," said Davis.
The report says the team involved in the production shoot consisted of Davis, a photographer, an art director and three consultants, a former tik addict and two SAPS sergeants.
"The former addict helped to make sure that the props and techniques used to represent the use of tik in the photo-novel were a truthful representation of how this substance was consumed in a typical real-life South African scenario."
Davis said that he wanted to combine the photo-novel with a traditional brochure in a future experiment to see if this increased the chances of the health message reaching more people.
The report says he also wants to make the photo-novel as accessible to the public as possible. "I want to try to make my photo novels available free to community leaders, schools and clinics. What I really need now, in order to do that, is to obtain some funding."
[link url="http://capeargus.newspaperdirect.com/epaper/viewer.aspx"]Cape Argus report (subscription needed)[/link]