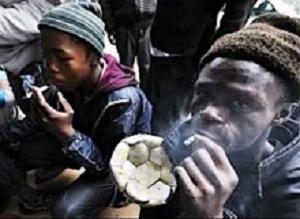 A study at Chris Hani Baragwanath Hospital, Johannesburg documents the common clinical and echocardiographic characteristics of patients with infective endocarditis related to a striking increase in intravenous nyaope (a mixture of heroin, cocaine and antiretroviral drugs) use.
After reporting the first three patients in 2014' cardiologists Ruchika Meel and Mohammed Essop say they had seen 68 by February 2017. All but two were male' and 10 died.
Meel and Essop work at Chris Hani Baragwanath Hospital in Soweto' and say in the study that they expect to see cases of infective endocarditis increase in tandem with the popularity of injecting nyaope' also known as whoonga.
The report says the drug – a cocktail of antiretrovirals' heroin' tik' cocaine' cannabis and even rat poison – was initially smoked' and its core users are young' unemployed black men from poor backgrounds.
"Because of the social stigma associated with drug abuse and addiction to drug' most of the patients (in this study) presented late to the hospital'" said Meel and Essop. Most of them had been misdiagnosed elsewhere with pulmonary tuberculosis or pneumonia' and the cardiologists said it was vital for doctors to maintain "a high degree of suspicion" so treatment could be initiated before heart failure became inevitable.
Three-quarters of the endocarditis patients were HIV-positive' but Meel and Essop said a bigger problem was the fact that 58% also had hepatitis C. In addition to long-term risks such as liver cirrhosis and cancer' this made surgery more risky.
"In addition significant costs are associated with the treatment of hepatitis C infection' often in non-compliant patients' who frequently have other concurrent opportunistic infections associated with HIV."
Meel and Essop said most of the 58 patients who did not die responded to antibiotics or refused surgery. Three patients had "destroyed" heart valves replaced. "Whether surgery has performed in intravenous drug-users has been a subject of debate' and it is our opinion that this decision must be individualised' especially in a resource-limited setting'" they said.
"According to the limited available literature' surgery should be offered for the first episode of infective endocarditis in intravenous drug users who are willing to undergo rehabilitation.
"If the patient presents with a second episode … he or she should probably not qualify for further surgical intervention."
Abstract
Background: We have recently noted a dramatic rise in the number of patients with infective endocarditis (IE) related to intravenous (IV) nyaope (a mixture of heroin, cocaine and antiretroviral drugs) presenting to Chris Hani Baragwanath Academic Hospital in Johannesburg, South Africa.
Objectives: To document the clinical and echocardiographic characteristics of these patients.
Methods: Clinical and echocardiographic characteristics of all patients (N=68) with IE due to IV nyaope use were retrospectively extracted from hospital records (December 2014 – February 2017).
Results: The mean (standard deviation) age of the patients was 25.8 (4.5) years (97.1% were male). Withdrawal symptoms were noted in 25.1% of cases, fever in 58.8%, dyspnoea in 86.7% and right ventricular failure in 42.6%. Most patients were HIV-positive (76.1%), with CD4+ cell counts of <200 cells/µL in 8.8% of the total, 58.1% had hepatitis C infection, and only three were on antiretrovirals. Septic pulmonary emboli were noted in 61.8%. Blood cultures revealed Staphylococcus aureus in 61.2%, Enterococcus faecalis in 8.8% and Pseudomonas aeruginosa in 1 patient; 29.2% had sterile cultures and 8.8% polymicrobial infection. Severe right ventricular systolic dysfunction (RVS' Doppler velocity <10 cm/s) and pulmonary hypertension were noted in 19.1% and 62.2% of patients, respectively. Pericardial effusion was noted in 37.8%. The most commonly involved valve was the tricuspid (60.1%), followed by the mitral (17.2%), aortic (2.9%) and pulmonary (1 patient) valves. Combined valve lesions were noted in 19.1% of patients. Ten patients (14.7%) died. The main predictor of in-hospital mortality was S. aureus infection (odds ratio 5.0; p=0.042).
Conclusions: We have documented the common clinical and echocardiographic characteristics of patients with IE secondary to IV nyaope use. IE due to IV drug use is responsible for considerable morbidity and mortality in a predominantly young male population.
Authors
R Meel, M R Essop
The Times report
SA Medical Journal abstract