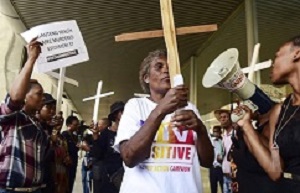 Top Gauteng Health officials who have so far avoided giving evidence before the Life Esidimeni inquiry into the deaths of 144 mental patients are being tracked down and subpoenaed. The SA Police head of detective services told the hearings that a team of investigators he appointed had struggled to obtain information from the national and provincial departments of health.
Evidence this week identified mental health boss Makgabo Manamela as helping establish an NGO which took 72 patients of whom 5 died.
The other two are former health MEC Qedani Mahlangu and former head of department Barney Selebano. None of the three has testified and subpoenas are being issued to ensure they appear. Selebano had been asked to appear voluntarily at the hearings, but the hearing was told "there has been resistance from him" regarding his appearance' because Selebano is also appealing the ombudsman's report.
A subpoena to Selebano had been issued' but that lawyers were waiting to hear from sheriff that it had been delivered.
Mahlangu, under whom the botched relocation of former Life Esidimeni psychiatric patients took place, has been subpoenaed to appear before the arbitration hearing in December. Polity reports that Mahlangu had indicated that she would only be available at the end of January 2018.
"The (former) MEC is represented by a law firm, Ngcebetsha Madlanga Attorneys. She has indicated through her attorneys that she would appear here between 21 and 31 January … we have however, taken a decision to subpoena her to appear on 6 December," attorney for the state Tebogo Hutamo said. He added that it had been difficult to trace Mahlangu.
Hutamo had initially told the arbitration that Mahlangu could not appear as she was preparing for examinations overseas. "The only difficulty is on her whereabouts … her attorneys have been requested to provide her formal address to ensure delivery of the subpoena."
Arbitration hearing Judge Dikgang Moseneke said Mahlangu and two other officials who led the project' Manamela and Selebano' have no choice but to appear at the hearings, reports Business Day. Manamela' who implemented the move from Life Esidimeni' was supposed to appear at the hearings on Monday morning. She was subpoenaed to appear' but her attorneys found an error on the date and time of the subpoena, Section 27 advocate Nikki Stein told the hearing.
Health Ombudsman Malegapuru Makgoba' who investigated the saga' recommended that "Manamela and Selebano be suspended for gross misconduct and/or incompetence". Together' the report says, the two are appealing the report' and remain on suspension, earning salaries. The second reason Manamela refused to appear at the hearings on Monday' her attorneys said' is that she is appealing the ombudsman's report.
The report says that on Saturday Manamela's lawyers were invited to attend on Monday to raise objections about Manamela appearing. The lawyers said they can't appear at such short notice' but will give reasons in writing why Manamela won't appear by 6 November. Moseneke told attorneys to send a new subpoena to Manamela, noting, "It is not the choice of witnesses when they can appear".
The report says social workers' NGO owners and family members have all testified that Manamela was at the frontline of project to force patients into NGOs that didn't have enough staff or food for them. Ethel Ncube' the owner of Precious Angels' an NGO at which 23 died' said she told Manamela that the NGO hadn't been paid' and that she didn't have money for diapers for the adults. The ombudsman found that Manamela knew there was no food at Precious Angels and another NGO' and that people had later died.
The former Gauteng Head of Department' Selebano' was also asked to appear voluntarily at the hearings. Evidence leader Patrick Ngutshana told the hearing "there has been resistance from him" regarding his appearance' because Selebano is also appealing the ombudsman's report.
Ngutshana said the subpoena to Selebano had been issued' but that lawyers were waiting to hear from sheriff that it had been delivered. Moseneke said all subpoenas "must be sent out promptly".
The ANC in Gauteng has refused to be drawn into the long-running debate regarding the whereabouts of Mahlangu, reports The Star. ANC provincial spokesperson Motaletale Modiba said they did not want to speculate about the matter or protect Mahlangu from facing the arbitration commission.
"We don't want to be drawn into where she is. All our correspondence with her was that she asked for leave of absence from provincial structures, and it was granted. "When we enquired with her, our questions were around her availability to appear before the arbitration. She has informed us that she has no problems with appearing."
Modiba said it was important for Mahlangu to appear and give her side of the story so that families could find closure.
The report quotes him as saying that the region never said where Mahlangu was studying or where she was. Last week, the arbitration hearing heard that Mahlangu was writing exams, and she could come to give representations only when she finished.
It was believed she was writing the exams at the London School of Economics, but the institution has said she's not enrolled there.
"We have never disclosed that information. Our primary concern is that the former MEC of health makes representation so the full story of what transpired can be known. This is the only way families will find closure and have a fair arbitration process," Modiba said.
The embattled former Gauteng Health MEC was not a registered student at the London School of Economics and Political Science (LSE) as previously alleged in media reports, says a Bhekisisa report. Early last week "reliable sources" were cited as having revealed that Mahlangu is continuing her studies at the LSE.
And then State Advocate Tebogo Hutamo reported that Mahlangu would be unable to testify before ongoing arbitration hearings into the deaths of more than 100 mental health patients during her tenure because she was currently writing exams.
The report says now, LSE has confirmed that Mahlangu is not a registered student at the university after a Freedom of Information (FOI) request was filed with the school.
"After a careful search we have not been able to find that the person in question is registered at the school," LSE head of external communications Aine Duffy is quoted in the report as saying. Under UK data protection law, schools are prohibited from publicly confirming a student's registration status without a FOI petition.
The head of detective services in the South African Police Service (SAPS) has told the hearings that a team of investigators he appointed had struggled to obtain information from the national and provincial departments of health. News24 reports that Major General Charles Johnson, the component head of detective services with the SAPS, told the arbitration hearings into the death of at least 141 mental healthcare patients that a team of eight detectives he oversaw had trouble obtaining information from the Gauteng and national health departments.
"Our investigation is delayed by the non-cooperation of the department of health and the Gauteng Department of Health," he said. Johnson said he "got an indication there was going to be stumbling blocks" after he was promised information from the department, only to be told later that he had to write to request the information he required. "We are two government departments, and why should we beg for information?" he said.
During cross-examination, Johnson said: "Based on my experience, the only inference I can make is, there is something to hide."
According to the report, Johnson said, following his team's "frustration" over trying to obtain information from the departments, he was forced to go to court to obtain a summons for Dr Ernest Kenoshi, the acting head of the Gauteng Health Department, who took over the position in February, to provide a statement before a magistrate.
Kenoshi, who testified at the Life Esidimeni hearings during the first week, said that, when he took over the position, his main priority had been to "stabilise the situation" and "saving lives".
However, Johnson said that Kenoshi was not truthful during certain parts of his testimony, including when he said the department had handed over all the documents in its possession to the SAPS. "He was not telling the truth," Johnson said.
The report said earlier, Johnson told the hearings that his team was dealing with 127 cases, including 38 inquest dockets and 89 inquiries, which could be turned into inquests if evidence pointed in that way. He told the hearings that the SAPS had not yet obtained a statement from Manamela, the head of the mental health review board, who had signed off on the death certificates. Johnson said his team had been unable to obtain such a statement from Manamela.
The police had come under fire earlier for their "less than thorough" investigation into the psychiatric patient deaths, reports The Times. Adila Hassim' advocate for Section 27' which represents families of 55 of the deceased' asked Johnson whether was it not imperative that the bodies be exhumed in order to establish what caused their deaths.
Johnson said the police would' on conclusion of its investigation' be guided by the pathologists and the National Prosecuting Authority regarding the feasibility of exhuming the bodies to determine the cause of death. "How do you investigate' and how do you determine to the best of your ability the cause of death if the body has been interred for more than a year' and as time passes the harder it becomes for exhumation to yield anything useful'" Hassim said.
Johnson said police could not approach the magistrate to ask for exhumation if police did not have evidence that foul play was committed. "My question is why were there no exhumations at the time which it was brought to the attention of police that something was fishy regarding these deaths – that it seemed that these deaths were not due to natural causes. It is at that point an approach to a magistrate should have been made'" Hassim said.
The report says Hassim asked whether Johnson would agree with her that there was failure on the part of the police to act sooner. "It appears to us that the investigation seems less than thorough'" Hassim said. Johnson denied the investigation was not thorough.
Hassim said 10 of the 55 deceased people that were represented by Section 27 were not on the list of deaths being investigated by the police. Section 27 had provided police with affidavits relating to all 55 deceased' she said. "Those are the reasons I am saying the investigating is not thorough'" Hassim said.
Johnson said it was unfair to say the investigation was not thorough. "Did counsel see contents of the docket. I accept that we can account for 127 deceased (instead of the 141 reported deaths). The only reason why is because of the delays and challenges that we experienced with DOH to obtain information. It is unfair'" Johnson is quoted in the report as saying.
Johnson is quoted in The Times as saying that he had initially expected to conclude the investigation by next month, but has now realised this will not happen. He said the investigation team decided to go to court and summon Kenoshi. Johnson said section 205 of the Criminal Procedure Act allowed police to summon a witness who is reluctant to provide evidence to appear before a magistrate. The case has been heard three times and will return on 12 December.
"Since this matter has been in court we received some documentation in dribs and drabs. We need to now communicate with the department through [the attorney], who is representing the department. So, it frustrates our investigation," Johnson said.
The report says Moseneke seemed shocked by this revelation, saying: "The department referred the police and your investigating unit to their attorneys? That you communicate with them through their attorneys? Is that what you're saying?"
"That's what I am saying," Johnson replied.
An internal inquiry into the deaths found a Gauteng health official not guilty on all charges, including that of gross negligence. Yet, says a report in The Sunday Independent, the same official last week stood before Moseneke and admitted that she had failed in her fiduciary duties to protect the lives of the Esidimeni patients.
The report says Gauteng Mental Health Review Board chair Dumazile Masondo disclosed that all disciplinary charges against her had been finalised by the department and that she was acquitted on all four charges of gross negligence, failure to perform her fiduciary duties, failure to perform her leadership role and failure to perform her duties. The official, who is suspended from her duties, denied claims that her funeral parlour benefited from the deaths.
At the arbitration hearings, Masondo said she had violated her duties "by ignorance".  She said she was under the impression that she reported to Manamela and Mahlangu. "I was under the impression they were my seniors and in the profession we are told to respect our seniors. "So, today I learned something new, that they were supposed to report to me," she said during cross-examination.
However, the report says, Moseneke was not impressed with Masondo's responses and warned her that she was under oath and could be held liable for perjury. "You are testifying under oath and everything you say is being recorded," he said.
Masondo conceded that there was gross negligence during Life Esidimeni's marathon project and apologised for what she described as a "shame and disgrace". "I want to say to the public, it's a shame and disgrace that there are a number of deaths in our profession as mental health practitioners."
Masondo, who was suspended in March after the release of health ombudsman report which found her and other five senior Gauteng health officials directly responsible for the deaths of more than 118 patients, was testifying on the 15th day of the arbitration hearings in Parktown.
Masondo also claimed that Mahlangu was instructed to end the Life Esidimeni contract by people above her. The Times reports that she is the first witness to suggest someone above Mahlangu was involved in the fatal decision. Masondo was asked why she thinks the Esidimeni move happened' which led to 141 deaths. She suggested Mahlangu ended the contract with Life Healthcare under orders' but had no further details.
She also testified that the Gauteng premier did know about the move as he attended meetings on it.
The report says Makhura has always said he didn't know about the move of the mentally ill patients and the subsequent deaths.
She was also asked why NGOs took too many patients and were all overcrowded and so many people died. One called Sharma House had 110 Life Esidimeni patients instead of the 60 it had space for. Masondo said NGOs were "greedy" and wanted to make money from looking after lots of people. Moseneke' repeating her testimony' said: "You say they were greedy. They were trying to get more and more money." She said: "Yes."
The report says in her role' as head of the mental health review board' it was pointed out she was legally supposedly to independently oversee the placement and transfers of mental health patients. Instead 1'712 patients were hurriedly moved out of Life Esidimeni homes into hospitals and ill equipped-NGOs and she said she didn't know. She said she was prevented by seniors such as the former MEC from being involved.
Moseneke repeatedly asked her why she didn't know what was happening about the Life Esidimeni move. She testified earlier she didn't know she was supposed to hold the MEC to account and thought she was her boss. It emerged all her communications were screened by Manamela' who she was supposed to oversee.
The Gauteng provincial government has, meanwhile, denied that the premier knew of the transfer of the patients. It said on the Politicsweb site: "The Gauteng Provincial Government has noted with concern media reports raising questions about the conduct of Premier David Makhura in relation to the transfer of mental healthcare users from the Life Esidimeni facilities to various NGOs.
During the State of the Province Address on 20 February Premier David Makhura stated the following: 'I would like to state categorically that the decision to transfer Life Esidimeni mental health patients to NGOs was not made in consultation with the Provincial Executive Council. The Executive Council and I would have never approved a plan to outsource mental health care, a primary responsibility of the state for the vulnerable in society, to NGOs. What is even worse is the fact that such NGOs did not meet appropriate standards and legal prescripts.
'The Provincial Department of Health had repeatedly reported that, as a result of the new hospitals and community health centres, they had enough beds in public health facilities to accommodate public patients from private health facilities such as Selby Hospital and Life Esidimeni centres.
'As the Provincial Executive Council we do not interfere in the appointment or retention of service providers by various departments, in strict observance of the laws of our land. We dare not be found on the wrong side of the law.
'I have always emphasised to all MECs and HODs that reviewing contracts with any service provider must never compromise service delivery, especially of the most vulnerable groups which depend entirely on the state for their well-being. Cost considerations can never override the imperative of the quality of care.
'It is common cause that the ill-fated transfer of mental health patients to NGOs compromised the well-being of these patients. At the very least, the Department should have placed all these patients in public health facilities or retained the services of private facilities in cases where there was not sufficient space in the public sector. As the Head of Government, I am deeply aggrieved by the extent to which those responsible for this tragic and ill-fated transfer of patients to unlawfully operating NGOs have tried to hide the facts from me, the Minister of Health and the Health Ombud'.
"This statement remains true today. Any suggestion that the Premier gave instructions or was involved in the transfer of mental health patients from Life Esidimeni to NGOs, is devoid of any truth.
"It is a matter of record that Premier David Makhura will testify in the Alternative Dispute Resolution process led by retired Deputy Chief Justice Dikgang Moseneke and he is prepared to answer any question from affected parties.
"The tragic loss of life of so many people in the care of our provincial government remains deeply regrettable.
"Government remains totally committed to the arbitration process and we will work with affected families and law enforcement agencies to bring those responsible for the Life Esidimeni tragedy to book."
At least five patients died at Dorothy Franks' Anchor NGO after they were moved from Life Esidimeni. But, Greg Nicolson writes in a Daily Maverick report, the most revealing aspect of her testimony wasn't that her NGO was only licensed to take children but took 72 critically ill adults, or that there were only six toilets, without seats, at Anchor.
The biggest revelation wasn't even that the Gauteng Department of Health continued to pay her for months after Anchor was closed. Or that Franks continued to withdraw patients' Sassa grant payments after they left her care, or died. Nicolson writes that the most important thing Franks said was that Manamela helped her establish her NGO to take patients from Life Esidimeni, despite her total lack of experience in caring for such patients.
In its fourth week, he says the the Life Esidimeni arbitration, aimed at achieving truth, justice and redress for the families of the 141 patients who died after the Gauteng government in 2016 moved mentally ill patients out of Life Esidimeni and into NGOs, has successfully uncovered evidence that could lead to criminal charges against top health officials and exposed attempts to cover up their culpability.
Nicolson writes that Franks' Anchor operation was blatantly illegal. She didn't have a licence to care for adult patients, nor did she have the experience or qualified staff who could care for patients in critical need. Anchor was located within the Cullinan Care and Rehabilitation Centre, without paying rent or having a proper agreement to house itself on the premises. Franks claimed she established the operation because she "really cared" for the patients. "You really cared for them? That's why you squeezed 30 patients into a ward for 25?" asked Moseneke.
Crucially, Nicolson writes, Franks said she was taking instructions from Gauteng health officials, including Manamela. Manamela has repeatedly come up as one of the officials responsible for pushing the project to move patients out of Life Esidimeni, along with Mahlangu and Selebano. None of the three has testified and subpoenas are being issued to ensure they appear.
Nicolson writes that the Esidimeni arbitration was scheduled to last for three weeks and was adjourned on Monday, but it will start up again on 8 November. Moseneke said it should finish this year, but not before the implicated officials are cross-examined. The three officials have resisted testifying and have even tried to claim they are only available in 2018.
He writes that the former deputy chief justice has been instrumental to the proceeding's success, both sensitive to the relatives of those who died while taking a no-nonsense approach to legal matters to drive the process forward.
Nicolson notes that it's become clear, however, that officials in the Gauteng Health Department are trying to frustrate efforts aimed at achieving justice. Despite Makhura's commitment to working with the relatives of those who died, on the first day of the arbitration lawyers for the state announced that they wouldn't call any of the implicated officials involved in the Life Esidimeni move. Pressure within the arbitration and the public forced them to half-heartedly pursue bringing top officials to testify.
Mahlangu resigned on the day the health ombudsman's Life Esidimeni report was released and Makhura appointed Gwen Ramokgopa as MEC. Nicolson writes that she (Ramokgopa) has tried to show she wants to handle the Life Esidimeni crisis responsibly, but even under her leadership there are efforts within her department to avoid accountability.
Nicolson writes that the Life Esidimeni arbitration could set new standards of accountability in the country, crucially illustrating the link between failures of government and their implications, which in this case is the loss of 141 lives. Yet it will be incomplete until Mahlangu, Selebano and Manamela testify.
So far, Gauteng's former top health officials have evaded testifying at the arbitration, but, he says, we have an indication as to what they might say. The Health Ombudsman interviewed them all in his report, which still provides the most comprehensive analysis of how the psychiatric patients were sent to die.
"The MEC was blowing hot and cold in responding to most questions," he said after interviewing Mahlangu. "Asked when looking back if she thinks it was a good decision, the MEC gave an account that when a policy decision is taken you don't know how it will unfold and what is going to happen… the risk associated with it."
In Makgoba's write-up of his interview with Selebano, he quoted the official as saying: "The pressure led to many mistakes. He could not reveal where the pressure came from." The ombudsman added, "He asserted that leadership got too much involved in this project and made the managers to commit serious errors in execution… It could be done differently."
Nicolson writes that the families of the Life Esidimeni 141 have been able to testify publicly about their pain and the horrible conditions in which their loved ones died. The arbitration has allowed them to be heard and their pain recognised. They won't be satisfied, however, until the architects of their pain are brought to account.
Franks was paid about R600'000 over the four months after the NGO was shut down. And, Business Day reports, she also admitted she drew 29 patients' South African Social Security Agency grants until March this year at almost R1'500 per patient. "Nearly R35'000!" exclaimed Moseneke.
The report says her explanation about why she was paid money without having any patients was confusing. She said she was still paying nurses and cleaners at the Cullinan Care Centre and buying food and toiletries for patients there, even though she had been chased off the premises and her NGO shut down.
"But why would you do that when your operation is shut down by law? You are required to stop operating what was an unlawful operation and you continue to take money that was meant to look after patients. What were you going to do with the money?" an outraged Moseneke asked.
Franks suggested she was still running her NGO remotely and buying patients food' even though it was shut down and patients moved into Cullinan Care and Rehabilitation Centre. Moseneke told the hearing he was "not happy" and it appeared he was trying to remain calm despite the testimony angering him.
The report says Franks made a poor witness' unable to explain why people died in her care. Moseneke asked her: "Why do you think they died?" Franks answered: "I can't explain. Normally when they got sick I would take them to clinic." Her NGO licence allowed her to look after children with intellectual disabilities. "You were in fact catering for adults with mental illnesses'" pointed out Section 27 advocate Nikki Stein, who asked Franks: "Do you appreciate that there is a distinction between mental illness and intellectual disability?"
"I know if you … they have epilepsy — they can be mental also'" Franks answered, who, the report said, did not appear to understand what mental health problems were.
[link url="http://www.polity.org.za/article/former-health-mec-mahlangu-subpoenaed-to-testify-at-esidimeni-hearing-2017-10-30"]Polity report[/link]
[link url="https://www.businesslive.co.za/bd/national/health/2017-10-30-health-mec-lied-about-exams-in-london–and-cant-be-found/"]Business Day report[/link]
[link url="https://www.iol.co.za/the-star/anc-wont-be-drawn-on-its-ex-mec-11789482"]The Star report[/link]
[link url="http://bhekisisa.org/article/2017-10-28-exclusive-qedani-mahlangu-is-not-a-registered-student-at-alleged-london-school#.WfWQAfXynP8.twitter"]Bhekisisa report[/link]
[link url="http://www.news24.com/SouthAfrica/News/life-esidimeni-police-struggled-to-get-information-from-health-depts-20171026"]News24 report[/link]
[link url="https://www.timeslive.co.za/news/south-africa/2017-10-26-police-accused-of-being-less-than-thorough-in-esidimeni-investigation/"]The Times report[/link]
[link url="https://www.timeslive.co.za/news/south-africa/2017-10-27-life-esidimeni-hearings-no-help-from-health-dept/"]The Times report[/link]
[link url="https://www.iol.co.za/news/politics/justice-safety/lifeesidimeni-official-confesses-to-negligence-11761962"]The Sunday Independent report[/link]
[link url="https://www.timeslive.co.za/news/south-africa/2017-10-28-mahlangu-was-following-orders-witness/"]The Times report[/link]
[link url="http://www.politicsweb.co.za/politics/makhura-was-not-aware-of-life-esidimeni-patients-t"]Politicsweb statement[/link]
[link url="https://www.dailymaverick.co.za/article/2017-10-31-life-esidimeni-arbitration-highlights-government-culpability/#.WflfxjCxXIU"]Daily Maverick report[/link]
[link url="https://www.businesslive.co.za/bd/national/2017-10-30-judge-is-outraged-at-testimony-into-deaths-of-mental-health-patients/"]Business Day report[/link]