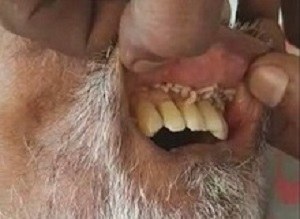 After initially responding that an apparently untreated maggot infestation in a patient's mouth was medically not unusual and slamming the family for 'violating the patient's right to privacy' by video recording it, KwaZulu-Natal Health has now launched an 'urgent investigation' into the man's death in Durban's RK Khan Hospital.
KwaZulu-Natal Health MEC Nomagugu Simelane-Zulu has called for an urgent investigation into the death of the patient. News24 reports that Simelane-Zulu wanted the department to establish the circumstances surrounding the patient's death and take stringent disciplinary action should any individuals be found guilty of wrongdoing.
The report says the 52-year-old patient, identified as Sadick Ebrahim, died in the hospital on Tuesday after he had been admitted on 19 June. Ebrahim was suffering from ailments that may not be divulged due to the National Health Act. The Act prohibited the public discussion of confidential clinical information, including how a patient was managed within a healthcare facility, the department said.
"We are quite shocked by the state of the patient (when the video was taken) before his demise. We really don't understand how things could have gotten to this level. We are going to conduct a thorough and proper investigation to understand what led to this," Simelane-Zulu said.
The report says the MEC further expressed concern at the manner in which the patient had died. "While we understand that our hospitals are understaffed, and we have a lot of patients that we must look after, we do not believe that it makes sense that a patient would be in our care for so long and yet when he left this world, he leaves in this particular fashion.
"The reality of it is that it means, while he was under our care, and he had the challenges that he did, he also had the added discomfort of having to deal with the situation that he was faced with. I have asked the acting head of department that we should do a thorough investigation."
Simelane-Zulu further urged healthcare professionals in hospitals across the province to take the responsibility they were entrusted with seriously, despite the challenges. "While we understand that you are under pressure and have a lot of work, once a patient is with you, make sure you do a thorough assessment.
"You must treat that patient as you would treat your own family member because that's the commitment that we made as professionals," she is quoted in the report as saying.
Azaad Ebrahim made the discovery on 23 June after he noticed his father's upper to be extremely swollen. The Post reports that Ebrahim claimed that nobody at the hospital had noticed and that it appeared nobody had been cleaning him despite him being in the High-Care unit. "If they had been washing his mouth on a daily basis, they would have noticed. It was only while my uncle was feeding him cereal through a syringe while we were visiting him last Sunday, I noticed that his lip was swollen. "At first I didn't think much as I thought it could be due to all the medication he was on, but was concerned so I decided to lift it, that is when I saw the maggots in his mouth, and coming out through his lips. I ran out screaming for someone to help," he said.
Ebrahim said their family was traumatised by the treatment that Sadek had received.  "Yes, my father was already very unwell as he suffered many ailments but we gave him so much of care and tried our best to take care of him only for him to be treated in such an inhumane manner. We feel this was a definite form of negligence on the hospital part. He added that he would not let the matter rest until justice was served.
The report quotes the KZN Health Department as saying they were "extremely concerned about the filming and distribution of footage depicting a patient". Spokesperson Ncumisa Mafunda said: "Such an act, even if perpetrated by relatives of the patient, as it sometimes happens, constitutes a violation of the patient's inherent right to privacy and dignity."Mafunda said that, although the department was prohibited from divulging clinical details of a patient and how they are managed, it confirmed that it had been treating him.
It claimed that Ebrahim had a history of neglect and suffered from a number of serious ailments.
The Human Rights Commission of South Africa has confirmed that they planned to undertake their own independent investigation and "get to the bottom of what happened to Ebrahim". "We want to understand what happened and who was supposed to do what. Patients have the right to be treated with dignity and receive the requisite treatment. We are taking this matter very seriously," said advocate Lloyd Lotz, KZN provincial manager of the commission in a Cape Argus report. Lotz said the commission would call for appropriate action to be taken if any human rights violations were found.
A source at the hospital who spoke on condition of anonymity is quoted in the report as saying: "The nurses also found maggots in the patient's mouth before the family discovered them and dealt with it." The source explained that maggots occurred in batches and the family might have seen the next batch that might have occurred in the patient's mouth. "He was very sick and had ulcers in the mouth already. It is not uncommon for maggots to form in wounds. The swollen lip might have been a reaction to treatment the patient received."
The informant said Ebrahim was placed in the surgical ward before his death and was among 50 other patients who received care from five nurses who were usually stationed there.
The report quotes chair of the hospital's board, Reverend Cyril Pillay, as saying the board supported an independent investigation and "heads must roll" if necessary. "I want to personally apologise to the family for the maggot infestation. This should not have happened in our institution, which is one of the busiest and most productive hospitals in KZN," said Pillay.
Dr Imran Keeka, the Democratic Alliance's (DA's) spokesperson on health, said he welcomed the commission's investigation into Ebrahim's death as it "was a clear case of negligence". Keeka said the hospital had a 91% bed utilisation rate while other state-run hospitals' occupancy was between 70% and 80%. "This means that the hospital should have been provided with more resources, cleaning and medical staff. Still, maggots should not be forming in people who are patients in a healthcare facility."
The Inkatha Freedom Party (IFP) said the graphic video was proof the facility (RK Khan Hospital) had become a "death trap", reports The Citizen. The party's KZN spokesperson on health, Ncamisile Nkwanyana, said that drastic action was needed from provincial health MEC Nomagugu Simelane-Zulu to address the incident.
"The South African healthcare system continues to let our people down. Although people still have free public healthcare, the competence, attitude of staff and the quality of treatment is disastrous and leaves a lot to be desired. Hospitals, clinics and other health institutions in the nation are in total shambles.
"The government has failed the poor and vulnerable by subjecting our people to inhumane and degrading healthcare services. It is now clear that neither the KZN Department of Health nor the national government have the appetite to turn things around," said Nkwanyana.
She said in the report that the government needed to stop playing hide-and-seek when it came to the healthcare system. Instead, it needed to embark on extensive transformation to address ongoing issues.
The provincial health department's reactionary response to most health issues was typical, she said.m"We have been going from crisis to crisis in this province. But what do we get in response? We get a knee-jerk response. The thinking around healthcare is just reactionary in this province. It's navel gazing. That's all it is.
"It must be thoroughly investigated how the maggots developed in the mouth of a patient. It really leaves a lot of room for us to wonder what kind of treatment/ abuse the other patients in this hospital have been subjected to. There should have been tighter supervision of staff rendering care to vulnerable patients," said Nkwanyana in the report.
The DA says an IoL report that the "own initiative investigation" by the SAHRC is exactly what is needed, this is because the notice given by KZN Health MEC, Nomagugu Simelane-Zulu, of a probe into this alleged despicable lapse in care, will amount to nothing from her side." Keeka said:"We know this because of the numerous cases in the past, where her predecessor promised investigations into serious matters which ended with no consequences whatsoever. No one was held accountable in these instances and, certainly, no one was ever fired."
Keeka said the DA has conducted several oversight inspections at this hospital in recent years and the facility operates at a higher than normal capacity yet it was severely understaffed. This was no doubt a major contributor to many of the complaints that the DA has received, he said in the report.
"It is on this basis that we will today write to the SAHRC to request that it broadens the scope of this particular investigation to include patient care as a whole at this facility. We will also request that strict directives are issued upon completion of its findings in order to hold the new MEC and her Department to account in the interest of all citizens of KZN," said Keeka.
And a civil society-led group comprised of concerned residents is calling for the RK Khan hospital board to be removed. Members of the RK Khan's Action Committee (RKKAC), headed by Visvin Reddy has labelled the public hospital a "death trap", where people come to die rather than get better, reports The Times.
Their concerns have been fuelled by outrage over this incident.
RKKAC said its members had embarked on an impromptu, unannounced visit to the hospital and held discussions with patients and nurses last week. According to the report, the following was allegedly seen and reported: over 40 patients were seen lying on mattresses in the casualty department waiting for beds to become available; a used sanitary pad was seen lying on the toilet floor; the general hospital condition was poor; nurses said that at any given time the hospital is severely short-staffed and absenteeism is high because they are overworked and suffer fatigue; and there are many unfilled vacancies at the hospital because of a lack of funding.
Reddy said they have given the MEC two weeks to respond to their calls to have the board disbanded, alternatively the community would assign its own board that would run parallel to the hospital leadership. "We are calling on her to remove this dysfunctional board and replace it with one that is accepted by the community. Failing to do so will be met with sustained protest action until this demand is met."
The report says he alleged that the hospital board was unknown and appointed covertly without any input from the community. "They are ineffective and incompetent and must be replaced immediately. Because of this, they remain a toothless body serving only to be praise singers for the hospital and ignoring the many challenges that hinder proper healthcare," he said.
Simelane-Zulu is quoted in the report as saying, meanwhile, that the staffing issue was a major problem for the province. "Over and above the issue of health being a priority in the province – because it is number one on the priority list in the province – we will not be able to provide proper healthcare services if we do not have enough staff."
Simelane-Zulu said she was engaging closely with Premier Sihle Zikalala on how to properly staff the hospitals and clinics in the province. The biggest challenge that the province is faced with is the fact that we don't have money, and that is a fact." She said the provincial government would need to pull funds from other departments in order to lend support to health.
The report says a preliminary report from the department's investigation into Ebrahim's death is expected to be finalised this week. Meanwhile his son said he would be taking legal action and seeking counsel from the South African Human Rights Commission.
Initial comments from the KZN Health Department, are nothing less than appalling, writes Kameel Singh in a guest column in News24. Singh writes: "The visibly unwell Ebrahim was at the hospital for gangrene treatment. He was an unwell man, having had two strokes and triple bypass surgery in the past nine years.
"How does KZN's Department of Health respond? To maggots. Something found in the dead. They question why the family recorded the horrendous sight and further inform the media that they were not equipped to understand the issue because of their limited knowledge of medicine.
"The initial statement didn't once appear to consider the patient or mention of an investigation. After cursory condolences, here's the first line of their response to the video: 'Spokesperson for the KZN Department of Health Ncumisa Mafunda said: "The Department is extremely concerned about the filming and distribution of footage depicting a patient who is currently receiving care within one of its facilities. Such an act, even if perpetrated by relatives of the patient, as it sometimes happens, constitutes a violation of the patient's inherent right to privacy and dignity.'"
"The next line from Mafunda is even more shocking: 'Health professionals who were attending to a particular patient were concerned but not alarmed by certain developments during treatment…' Mafunda then said they 'discourage media practitioners from attempting to simplify' medical issues."
Singh writes: "One wonders what high horse the department officials were riding when they made the statements. There was no mention of an investigation. No mention of action against staff. Nothing! Did they think of this human being? A person with a family, with a son, a wife, a brother, a mother. A poor man from a poor part of their province.
No. Spin doctoring appears to have taken centre stage. Our department officials chose to hit back at a poor, deceased man's family. A family who cared for him. 'How can we circumvent this?' they must have thought. 'How do we bypass this obstacle?'
"You are the health department! People come first. Care comes first. Love should come first. Not the terse, unkind, inhumane drivel sent out to media houses. Perhaps department officials should note before pointing out the media's lack of medical training, that even the MEC is not trained in health. Yes. Your boss? She is not a doctor. However, it does not take a rocket scientist (or a specialist in this case) to know that maggots in a man's mouth while AT YOUR HOSPITAL is a problem.
"Doing damage control, the department issued a statement and newly elected MEC for Health Nomagugu-Simelane Zulu appropriately noted that there would be an investigation. She continued to sympathise with the family and conceded the incident should not have taken place. However, one cannot help but think that the knee-jerk reaction from the department was arrogance at the highest level.
"We had gotten used to this under the weak leadership of former health MEC in KZN, Sibongiseni Dhlomo. Under the 'good' doctor, the department was placed under administration and an oncology crisis made its way to Parliament where Dhlomo narrowly escaped any real punishment for his less than poor leadership. His boss and good friend, Dr Aaron Motsoaledi, chose not to punish or remove Dhlomo. This, even though his action, or inaction, cost the lives of citizens.
"The effects of the oncology crisis are something thousands in the province still feel today with scans and follow-up appointments often many months apart, depriving critically ill patients of dire medical care. Now, under the charming and ever smiling Simelane-Zulu, we appear to have a crack in the already loose foundation.
"Simelane-Zulu, a lawyer by profession and the outgoing spokesperson for the ANC in KZN will have a lot to account for as the leader of this vital portfolio. Under her tenure, she will either leave a legacy of destruction or genuine hope for the ever-suffering people of KZN.
"She will have to be hard on many of her own, because reform in the provincial health sector can only be achieved once poor staff and officials are removed. Ultimately, she will have to choose between showing mercy to officials or the people of KZN, who have not received nearly enough of care from any elected official. Show me an official who uses public hospitals. Who takes public transport.
"Simelane-Zulu must reform our health system to the point where she herself is happy to use it and not fall back on private medical care that only a select few can afford. If she does not, she runs the risk of one day leaving office with a stain on her leadership. Like Dhlomo, a man who does not have the respect of many because of his mismanagement and arrogance."
A patient has alleged she needed to lend her cellphone to a midwife so that she could be operated on at RK Khan. The Citizen reports that this is according to the DA in KZN who said they had written to the Simelane-Zulu regarding the case. They said the patient, who wished to remain anonymous, had to undergo a surgical procedure known as an episiotomy while delivering her baby, in order to widen the birth canal.
"To repair the incision, she claims she was asked to lend the midwife her cellphone torch to enable her to see what she was doing," said Keeka. The party said it was stunned and asked how much lower standards at KZN's state hospitals could sink.
"The horror stories coming out of RK Khan and other facilities are never-ending," added Keeka.
The report says KZN Health has apparently claimed it was "not aware of this incident as a complaint being raised" and denied to the DA that the incident even took place. The DA responded that this defence did not hold water and they expected answers. "In fact, the reason for a complaint not being lodged through hospital management is because the patient fears victimisation and also because she was fobbed off after laying an earlier complaint over poor service at this facility."
"It is clear that the problems at this hospital are widespread and the DA expects the MEC to expand her investigations to cover various areas of healthcare delivery.
"RK Khan is one of KZN's busiest facilities with a bed utilisation rate of around 91% while other hospitals range between 40 and 80%. Despite this, oversight inspections by the DA in recent years have revealed no improvement in staffing and equipment shortages, medicine supply issues and infrastructure – this while the then MEC sat on his hands.
"With such a busy and understaffed facility it is inevitable that staff will be burnt out and absenteeism will be high, increasing the workload of those who are at work on any given day. Notwithstanding, there is no excuse to not have proper and functional equipment when performing surgical procedures. What next? Will kerosene lamps be used while delivering babies?"
The report says they alleged that KZN Health had been destroyed by the previous MEC. "The new MEC has a lot to do. Whether she is up to the task remains to be seen."
News24 report
The Post report and video
Cape Argus report (subscription needed)
The Citizen report
IoL report
The Times report
News24 guest column
The Citizen report