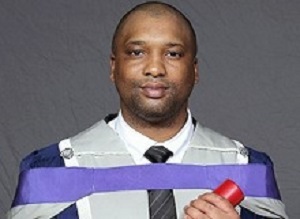 The first nuclear physician to have trained in KwaZulu-Natal' Dr Alphonse Msomi' plans to put his skills to good use in fighting cancer, reports The Times.
"I could go to Gauteng or the Western Cape but there are already dozens and dozens of doctors in this field so one person doesn't make much of a difference. It is always more satisfying to see yourself doing something that impacts a life in the community that you grew up in and know'" Msomi is quoted in The Times as saying.
The 31-year-old recently graduated with a Fellowship of the College of Nuclear Physicians of South Africa (FCNPSA) from The Colleges of Medicine of South Africa. He is currently a medical officer in the nuclear medicine department at Inkosi Albert Luthuli Hospital.
"I chose this particular speciality because there was a definite need for it. There are very few nuclear doctors in KwaZulu-Natal. With a population of about 10m' there are only about five such doctors. It is also an area that I find interesting'" Msomi said.
He explained that nuclear physicians administer drugs combined with small amounts of radioactive material' either by injection or capsule. "We track where the radioactive material and the drug are in the patient's body and using that information we are able diagnose certain type of diseases.
"In addition to that' with higher doses of radioactive material combined with drugs we can treat some type of cancers'" Msomi said.
The report says Msomi's career choice was influenced by his mother's profession as a midwife but at different ages' his speciality preference changed. "At one stage I wanted to be a plastic surgeon. But I always wanted to be in the medical field'" he said.
For his Master's research in medicine' Msomi is exploring the use of nuclear medicine scans in patients with carcinoma – a cancer that develops from epithelial cells – from an unknown primary cell. "In this region not much research of this sort has been done compared to other parts of the world like Europe and North America. Our population is different however in terms of ease of access to resources and the majority of our patients are only seen once the disease is advanced."
Already from the data collected' Msomi is seeing that patients potentially can benefit in that fewer scans need to be done once an initial PET-CT scan has been done. "This in turn shortens hospital stay' guides the clinician in what other tests need to be performed and helps them to plan a more specific treatment plan'" he says in the report.
[link url="https://www.timeslive.co.za/news/south-africa/2018-02-07-kzn-trained-nuclear-physician-wants-to-use-his-skills-to-fight-cancer/"]The Times report[/link]