NHS waiting lists have grown by 50% in some areas of the UK since the pandemic started, increasingly forcing people to resort to private healthcare providers, reports BBC Panorama.
Millions of people across the UK are currently on NHS waiting lists – in Northern Ireland there are more than 465,000 people, while in England, 5.6m are queuing for treatment.
Data shared with BBC Panorama show that on average, waiting lists have grown by 50% in the most deprived parts of England since the start of the pandemic, compared with nearly 35% in the most affluent areas.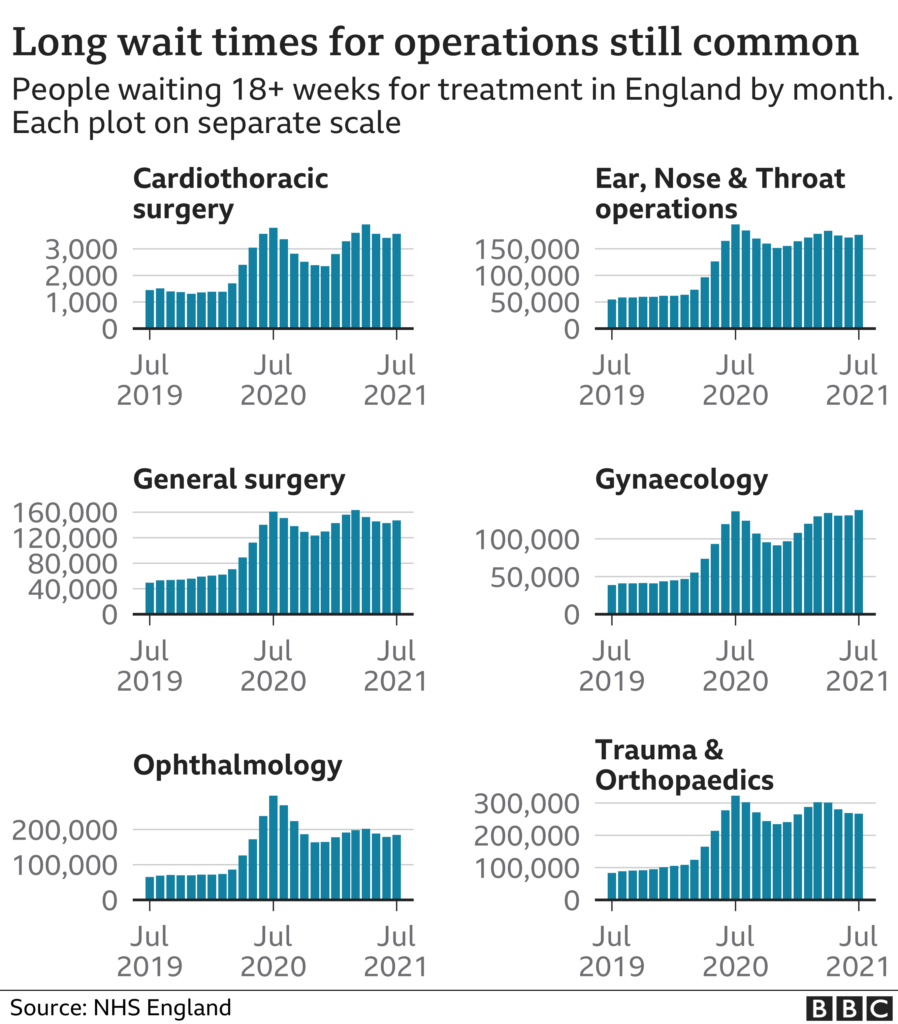 The research, conducted by the King's Fund, also shows that people on waiting lists in poorer areas are nearly twice as likely as those in wealthier areas to wait more than one year for treatment.
The researchers looked at waiting lists from April 2020 to July 2021 (the latest available data) and planned hospital treatments such as knee and hip replacements, cataract surgery and other common procedures.
The Health and Social Care Board in Northern Ireland said patient demand continued "to exceed capacity across a range of specialties". It added: "As a result, even before the pandemic, the number of people waiting longer than the target waiting times was increasing."
A Scottish government spokesman said: "We're sorry the unprecedented impact of the pandemic has lengthened waiting times for some patients. The pandemic has been the most significant challenge the NHS has faced in its 73-year history, and as in many health care systems worldwide, the unavoidable pausing of non-urgent elective procedures has resulted in some delays."
According to Anita Charlesworth, chief economist at the Health Foundation think tank: "The big worry about long waits leading people to go private is that it will increase inequalities, but also many people will be forced to make awful trade-offs over their finances to get access to the care they need when they need it. And that goes against every grain of why we set up the health service."
New research conducted by charity Versus Arthritis reveals that half (54%) of people with arthritis who are waiting for surgery face an average cost of £1,739 a year to keep their pain at bay, through things like private physio appointments and over-the-counter painkillers.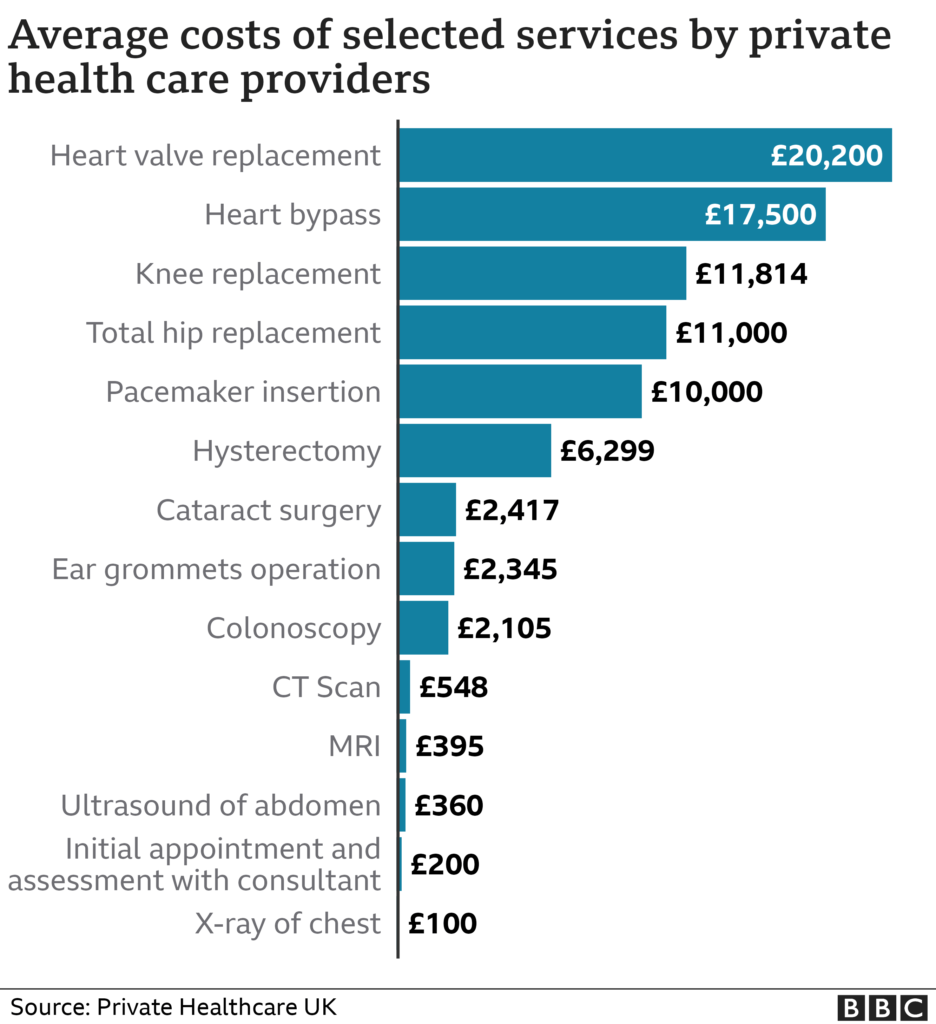 Inevitably, GPs are the ones patients turn to for help managing their pain as they wait. One of them, Dr Leora Harverd, from a practice in north London, says she's overwhelmed by her current caseload. Some of her patients are anxious about long delays for treatment, and she says it's not unusual that people go private, but "it's not how it should be".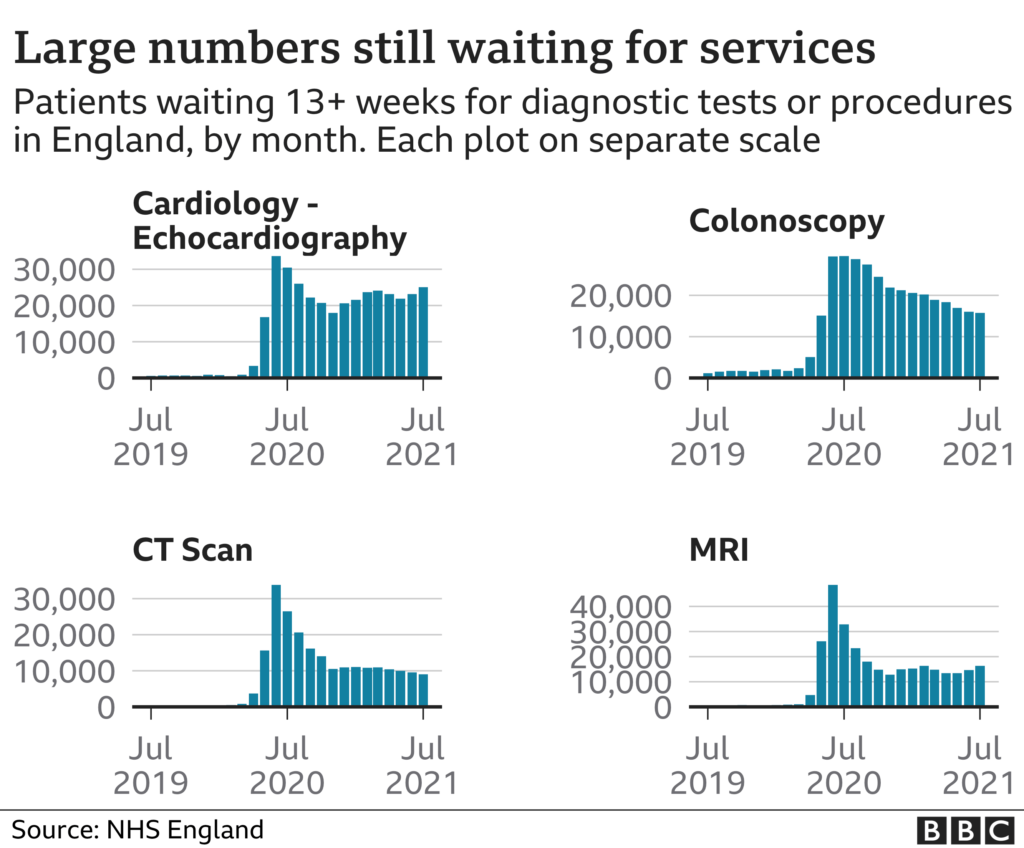 This month the government announced it would invest £36bn in NHS and social care for all four home nations up to 2025.
Analysis of their plans by the Health Foundation shows that £10bn has been committed to addressing the backlog in England over the next three years.
Charlesworth says it's a lot of money but won't necessarily be enough: "If we want the waiting list to come down by the next election, we would need to spend at least £13bn; if we wanted to meet the target to treat people within 18 weeks, we need to be spending £17bn – and the government has committed £10bn."
But even the prime minister has admitted that "waiting lists will get worse before they get better", adds the BBC.
NHS England said: "Caring for more than 450,000 seriously ill COVID patients has inevitably had a knock-on effect on non-urgent care. NHS staff have stepped up and made effective use of additional resources, helping carry out millions more tests, checks, treatments and operations this summer compared with last."
BBC Panorama article – NHS waits: More people feeling forced into private healthcare (Open access)
See more from MedicalBrief archives:
Millions of cancelled operations due to COVID and high death risk – UK study
Getting to see a British GP is 'like breaking into Fort Knox'
UK's A&E waiting times at their worst ever
Public satisfaction with NHS GP services at lowest level in a decade