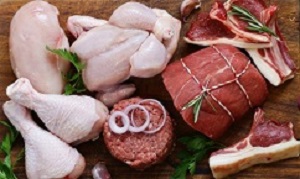 A large US/French study found that meat protein is associated with a 60% increased risk of cardiovascular disease (CVD) while while people who consumed large amounts of protein from nuts and seeds experienced a 40% reduction.
The Adventist Health Study-2 cohort," the study was a joint project of researchers from Loma Linda University School of Public Health in California and AgroParisTech and the Institut National de la Recherche Agronomique in Paris, France.
The study, which included data from more than 81,000 participants, is one of the few times detailed sources of animal protein have been examined jointly with animal fat in a major investigation. Dr Gary Fraser, from Loma Linda University, and Dr François Mariotti, from AgroParisTech and the Institut National de la Recherche Agronomique, served as co-principal investigators.
"While dietary fats are part of the story in affecting risk of cardiovascular disease, proteins may also have important and largely overlooked independent effects on risk," Fraser said. He added that he and his colleagues have long suspected that including nuts and seeds in the diet protects against heart and vascular disease, while red meats increase risk.
Fraser added that nutritionists have traditionally looked toward what he termed "bad fats" in meats and "helpful fats" in nuts and seeds as causal agents. However, these new findings suggest more. "This new evidence suggests that the full picture probably also involves the biological effects of proteins in these foods," he said.
Fraser says the team's research differed in another significant way from previous investigations. While prior studies have examined differences between animal and plant proteins, this study did not stop at just two categories, but chose to specify meat protein and proteins from nuts and seeds along with other major dietary sources. "This research is suggesting there is more heterogeneity than just the binary categorization of plant protein or animal protein," Fraser said.
Fraser said the study leaves other questions open for further investigation, such as the particular amino acids in meat proteins that contribute to CVD. Another is whether proteins from particular sources affect cardiac risk factors such as blood lipids, blood pressure and overweight, which are associated with CVD.
Abstract
Background: Current evidence suggests that plant and animal proteins are intimately associated with specific large nutrient clusters that may explain part of their complex relation with cardiovascular health. We aimed at evaluating the association between specific patterns of protein intake with cardiovascular mortality.
Methods: We selected 81 337 men and women from the Adventist Health Study-2. Diet was assessed between 2002 and 2007, by using a validated food frequency questionnaire. Dietary patterns based on the participants' protein consumption were derived by factor analysis. Cox regression analysis was used to estimate multivariate-adjusted hazard ratios (HRs) adjusted for sociodemographic and lifestyle factors and dietary components.
Results: There were 2276 cardiovascular deaths during a mean follow-up time of 9.4 years. The HRs for cardiovascular mortality were 1.61 [98.75% confidence interval (CI), 1.12 2.32; P-trend < 0.001] for the 'Meat' protein factor and 0.60 (98.75% CI, 0.42 0.86; P-trend < 0.001) for the 'Nuts & Seeds' protein factor (highest vs lowest quintile of factor scores). No significant associations were found for the 'Grains', 'Processed Foods' and 'Legumes, Fruits & Vegetables' protein factors. Additional adjustments for the participants' vegetarian dietary pattern and nutrients related to cardiovascular disease outcomes did not change the results.
Conclusions: Associations between the 'Meat' and 'Nuts & Seeds' protein factors and cardiovascular outcomes were strong and could not be ascribed to other associated nutrients considered to be important for cardiovascular health. Healthy diets can be advocated based on protein sources, preferring low contributions of protein from meat and higher intakes of plant protein from nuts and seeds.
Authors
Marion Tharrey, François Mariotti, Andrew Mashchak, Pierre Barbillon, Maud Delattre, Gary E Fraser
[link url="https://news.llu.edu/research/study-says-meat-protein-unhealthy-protein-from-nuts-and-seeds-heart-smart"]Loma Linda University Advent Health Sciences Centre material[/link]
[link url="https://academic.oup.com/ije/advance-article/doi/10.1093/ije/dyy030/4924399"]International Journal of Epidemiology abstract[/link]