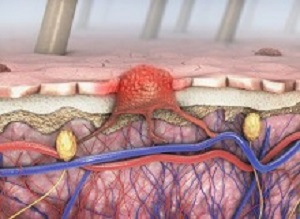 Melanoma, an aggressive form of skin cancer previously thought to affect mainly white people, has been found to pose a significant threat also to black people, found a Stellenbosch University study.
City Press reports that this is according to the latest study on the incidence of melanoma in the country, with a specific focus on melanoma in black Africans.
Melanoma is an aggressive skin cancer with a poor survival rate when diagnosed late. If diagnosed early, the chances of a five-year survival rate is more than 90%. But, if diagnosed late, the chances of living for five years after diagnosis falls to about 20%.
"Melanoma is more common in fair than dark individuals, but it does occur in black Africans. Since the black African group is the largest in South Africa, melanoma in this group has significant public health implications," the study's researchers said.
The study was led by Bianca Tod from the division of dermatology at Stellenbosch University's medicine department.
The researchers set out to analyse and describe the most recent age-standardised melanoma incidence rates in the country from the National Cancer Registry – a pathology-based registry that records all cancer cases diagnosed in both the public and private health sectors.
A total of 11,784 invasive melanomas were reported to the registry between 2005 and 2013. Of these, 5,727 cases were in women, and 6,049 were in men. The disease was highest among white people, with 8,104 cases reported, followed by 1,991 melanomas in black Africans and 1,070 in coloured people.
Western Cape and Gauteng had the highest melanoma incidence rates with nearly 75% of all skin cancers in all population groups diagnosed in private laboratories, and 75% of melanomas in black people diagnosed in the public sector.
Melanoma in black people has been known to present in the palms of the hands or on the soles of the feet, with several other studies having previously reported worse disease outcomes for melanoma patients with darker skin types – particularly that of the hands and the feet.
This study found much the same. Melanoma in the 1 991 patients occurred mostly in the skin (92%) – with 878 having melanoma of the limbs. At least 27% of black people had melanoma in the scalp and neck regions, but a majority (71%) of the disease was found in the lower limbs and hips.
The researchers said they hoped their study would be useful to inform skin cancer awareness and screening programmes.
"(The study) highlights melanoma in black Africans, emphasising that it is a significant public health problem particularly because of late diagnosis," the report said.
"The findings are important to increase physician awareness and to strengthen public health education for melanoma primary and secondary prevention in South Africa."
Abstract
Background: Melanoma is an aggressive skin cancer with poor survival when diagnosed late. There are important differences in clinical and histological features of melanoma and disease outcomes in people with darker skin types.
Methods: A retrospective review of data captured by the National Cancer Registry (NCR) of South Africa (SA) was performed for 2005 – 2013. Data on patient numbers, demography, location and biological features were analysed for all records. Closer analysis of melanoma of the limbs reported in black Africans was done after manually collecting this information from original reports.
Results: With 11 784 invasive melanomas reported to the NCR, the overall incidence of melanoma for SA was 2.7 per 100 000. Males (51%), individuals aged ≥60 years (48%) and the anatomical sites of lower limb (36%) and trunk (27%) were most commonly affected. Melanoma incidences in the white and black populations were 23.2 and 0.5 per 100 000, respectively. Most cases were diagnosed at private pathology laboratories (73%). Superficial spreading melanoma (47%) and nodular melanoma (20%) predominated. Among 878 black Africans diagnosed in the public sector with melanoma of the limbs, females (68%) and individuals aged ≥60 years (61%) were most commonly affected. Lower-limb lesions (91%) and acral lentiginous melanoma (65%) predominated, with 74% of cases affecting the foot and 62% of cases presenting with a Breslow depth >4 mm.
Conclusions: This study provides up-to-date NCR incidence and demographic data on melanoma and highlights the neglected research gaps in relation to melanoma in black Africans to provide evidence needed to address health disparities in overlooked population groups.
Authors
BM Tod, PE Kellett, E Singh, WI Visser, CJ Lombard, CY Wright
[link url="https://city-press.news24.com/News/white-cancer-hitting-more-black-people-20190413"]City Press report[/link]
[link url="http://www.samj.org.za/index.php/samj/article/view/12576"]South African Medical Journal abstract[/link]