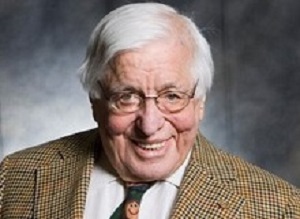 Dr Arnold Gold, a paediatric neurologist whose belief in the importance of an empathetic bedside manner led him and his wife to create a foundation to inspire young doctors to practice compassionate patient care, died on 23 January in Manhattan New York. He was 92.
"You're only half a physician if you're just good at your craft," Gold said in an interview in 2016 for the Arnold P Gold Foundation. "Unless it's coupled with patient-centred care and humanism, it's suboptimal care."
The New York Times reports that Gold, who treated patients and taught for more than 50 years at the Vagelos College of Physicians and Surgeons, part of Columbia University Medical Centre, had a cheerful but authoritative demeanour. On rounds, he wanted to know about the life of the patient, not just his vital signs. He talked face to face with his young patients, often sitting on the floor and playing with them.
He was also concerned with the patients' parents, spending time, for example, to understand the effects that a neurologically damaged child's condition had on their marriage and finances. And if he could not give them hope, he gave them answers.
The report says Gold continued his humane approach as advances like MRI's and CT scans revolutionised medicine. But he became distressed in the 1970s and '80s, he said, as he watched students and other doctors become too focused on technology and not enough on the people they were treating. "So one day in 1988," he said in the 2016 interview, "I was making rounds with the students and residents and a student presented me 'the brain tumour in 209.' And I said: 'The brain tumour? Isn't there a child involved in this? Tell me about the child, tell me about the family. Tell me how this is impacting on the family. Do you know any of this?'" They did not, he said.
At home that night, he told his wife of his concerns about where medicine was headed. As he recalled, she told him, "You know, Arnold, I'm tired of you griping about medicine. Do something about it or shut up." They began the Arnold P. Gold Foundation together in 1988, hoping to clone Gold's humane approach to patient engagement. They started white-coat ceremonies at medical schools in which students pledge the Hippocratic oath in the early days of their education, rather than at graduation, as is common practice – Gold felt that graduation was too late to set expectations for the clinicians they would become.
Arnold Perlman Gold was born in Manhattan on 8 August, 1925. His father, Michael, a Jewish native of Dublin, and his mother, the former Rebecca Perlman, were lawyers. As a youngster, Arnold read "Arrowsmith," Sinclair Lewis's 1925 novel about a doctor's search for truth.
He attended the University of Texas – Austin, but left to serve stateside in World War II as a Navy corpsman. He later graduated from the University of Texas, studied for a master's at the University of Florida in Gainesville, and earned his medical degree from the University of Lausanne in Switzerland.
During his internship at Charity Hospital in New Orleans, Gold tended to 30 children with polio who were in iron lungs. His mentor there, Dr Margaret Smith, "taught me a lot about patient-centred care, and she also led me into the field of paediatrics," he said in 2016. "I was originally going to be an internist, an endocrinologist," he said.
When he was chief resident at Cincinnati Children's Hospital, part of his work placed him in Dr Albert Sabin's laboratory while Sabin was developing the oral polio vaccine. While in Cincinnati, Gold rode horseback for the Frontier Nursing Service to treat people in rural Kentucky.
He returned to New York as visiting chief resident at the Babies Hospital at the New York Presbyterian-Columbia University campus (now Morgan Stanley Children's Hospital) before beginning his long career at Columbia in child neurology.
The report says Gold lived with facio-scapulohumeral muscular dystrophy, which affected his muscles later in his life and made it difficult for him to breathe. He treated patients until he was 88 and spoke at last year's white-coat ceremony at the College of Physicians and Surgeons at Columbia.
Gold recalled that in creating his foundation, his goal was to change the course of medical education. "My colleagues were very distressed," he recalled in the 2016 interview. "They looked at me as sort of, 'What's happening to Arnold?' And one of them even said to me, 'I think you're smoking opium,' and, 'How could you ever believe that you can change medicine?' People were not very encouraging."
But 30 years later, the foundation said, more than 170 medical schools and physician assistant programmes hold white-coat ceremonies annually. More than 260 nursing schools hold similar gatherings. The foundation has also inducted 30,000 students, residents and faculty into its Gold Humanism Honour Society to recognise their compassionate patient care. The designation became prestigious enough for medical students to include it in applications for residencies.
Dr Darrell G Kirch, the president and CEO of the Association of American Medical Colleges, said that the honour society "demonstrates that, increasingly, the medical profession recognises humanistic attributes such as empathy and compassion as being every bit as important as academic achievement."
[link url="https://www.nytimes.com/2018/02/02/obituaries/dr-arnold-gold-92-dies-made-compassionate-care-a-cause.html?emc=edit_th_180205&nl=todaysheadlines&nlid=42505380"]The New York Times report[/link]