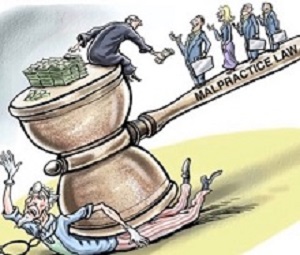 SA public sector medical malpractice claims often stem from 'failures of management and oversight of clinical care, while the in the private sector, greed is the driving factor, lawyers say.
As the medical litigation industry "explodes", as one medical malpractice attorney describes it, medical malpractice underwriters are questioning the sustainability of their insurance products, reports Business Day.
In an article in the August 2017 edition of Medical Protection Casebook, the chair of MacRobert Attorneys, Leon Kelbrick, said that in 2011-16, the number of claims against healthcare professionals in South Africa rose by 35%, and the value of the claims during this period had increased 121%. Kelbrick said when he started his career in law, a claim of R200,000 was considered large; but today claims of more than R20m are not considered excessive, and he has settled a claim of more than R34m.
The fundamental causes of escalating medical malpractice court cases are changes in the legal landscape, growth in contingency fee litigation, larger awards made by the courts and poor management at hospitals, says David Campbell, GM of GPLA, an underwriting management agent on behalf of Lloyd's of London in the report.
Attorneys have gravitated to medical malpractice claims as a source of revenue after changes in compensation offered by the Road Accident Fund. Some unethical practices are a symptom of this move. In one case, Campbell says, five identical summonses for R10m came for the same hospital; the only difference was the name of the plaintiff. "It's not the profession that creates the problem," he adds. "It's the context that creates the opportunity."
There is also a greater consciousness of legal rights, he says in the report. Global communications, electronic media, an expanding middle class and rapid scientific and medical developments have also influenced the rise in medical malpractice claims.
Changes to the legal framework have led to claims that are disproportionate to socioeconomic circumstances.
"The right to compensation should realistically be based on the same standard of treatment that would be provided by a similar competently run institution," says Campbell. "If the failed treatment occurred in a public hospital, then the right to compensation should be based on treatment at a similar institution."
The report says complaints to the Health Professions Council of SA have risen by 100% to 2,500 a year against doctors, dentists and other healthcare professionals. Patients used to claim for things such as "a retained swab, an operation on the incorrect leg or an operation on an incorrect patient", but now malpractice claims have become more complex and frequently involve multiple experts. "Wrongful life claims, wrongful birth claims, cerebral palsy, Down's Syndrome, and birth defect claims," are examples of new types of claims, Kelbrick says.
Health Minister Aaron Motsoaledi refers to the "pocket-lining phenomenon" of medical malpractice lawyers. Outstanding claims against government and provincial hospitals have reached between R50bn and R60bn. And Professor Alex van der Heever, chair of social security systems administration and management studies at Wits University's School of Governance, says in the report that the number of claims in the private sector that are not made public, are not insignificant.
Lawyers say that public sector cases often deal with "failures of management and oversight of clinical care". However, the report says, in the private sector, greed is the driving factor. Unskilled and unmotivated nurses are at the core of medical malpractice claims, says medical malpractice attorneys Joseph Inc's chief operations officer Andre Calitz. And doctors "over-servicing" clients by carrying out unnecessary surgery is another problem.
"It is called practising defensive medicine. There is always going to be a criminal element, but I don't think it is fair to suggest that medical practitioners are predominantly crooked," says Campbell. "A group of lawyers in a particular form of practice are the root cause of many of these problems," he says. Their interest is to boost claims as high as they can. Campbell says in Italy, the medical malpractice market was destroyed by 22,000 claims made in 2011 and 2012.
The report says domestically, obstetricians are leaving the profession because of the astronomical insurance they are required to pay to protect themselves against malpractice charges. South African Association of Obstetricians and Gynaecologists president Dr Johannes van Waart says in 2013, insurance against potential malpractice suits cost R250,000 a year; it is R850,000 in 2017 and expected to be R1m within a year.
The frequency and severity of claims against obstetricians and gynaecologists have rendered them generally uninsurable by commercial insurers, says Malcolm Padayachee of the iTOO special risks medical malpractice underwriting team. Doctors in most fields of specialisation can be held responsible for their actions up to three years after a patient first becomes aware of a problem. For obstetricians, the liability is for 18 years from a year after the child's birth.
"Imagine a situation 17 years ago when a baby was born with cerebral palsy," Campbell says. "Then 17 years go by and the child's curator is informed that the child has a claim in its own right. The parents' claim expired after three years, but the child's right continues. Medical practitioners and hospitals in that situation have to pay 2017 rand. "How can insurers fund a claim brought about by some negligence on the part of a medical team which can be made in 19 years' time?"
The Contingency Fees Act of 1997 caps the percentage an attorney can take at 25%. However, it does not cap the amount that can be claimed or the advocates' fees, and to get to the Supreme Court of Appeal, Campbell said, "You are probably looking at net costs of between R3m to R4m." "Claimed amounts have increased to an extent where, last year, one hospital entity had two claims in which the amounts claimed were R100m. On a more general level, we are seeing that the starting point now is around R25m to R40m for cerebral palsy baby claims and the like."
In response to a survey that formed part of his study into the sustainability of medical malpractice insurance, Padayachee received 97 responses from doctors and specialists who said they were willing to have risk-management protocols imposed to reduce premiums. This would include online systems for storing patient records, since major hurdles in defending doctors from claims that are made many years down the line are inadequate, missing, or inaccessible records.
According to the report, Campbell says the solution lies in legislative reform; capping medical malpractice claims at R10m, implementing administrative training programmes at hospitals, introducing treatment protocols commensurate with socioeconomic conditions and limiting the prescription period to three years from the date of the negligent treatment.
Also required are tight management controls, improved clinical risk management and meaningful consequences for breaches of protocol or administrative incompetence.
"If you can address these issues, the dream of a National Health Insurance scheme can become the country's reality," Campbell says.
[link url="https://www.businesslive.co.za/bd/national/health/2017-09-26-in-depth-ethics-under-scrutiny-as-medical-malpractice-claims-soar/"]Business Day report[/link]